By Kelly Anderson Diercks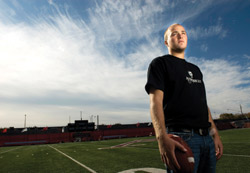 Division III athletics is all about balancing. It's about finding time to focus on both academics and athletics while still having time for family, friends, and hobbies. Augsburg's Jordan Berg is a great example of what it means to be a Division III athlete.
A Gaylord, Minn., native, Berg is currently a senior and captain on the Augsburg football team. At the conclusion of his junior year, Berg had already broken every Augsburg record for passing in a single season and was closing in on most of the school's career records. This season Berg has succeeded in becoming the greatest passer in school history, throwing for more than 6,500 yards in his career—a feat even more impressive when you consider he will only play football for the Auggies three seasons, as he transferred to Augsburg after one year on scholarship at the Division II University of Minnesota-Duluth.
Berg has been named Minnesota Intercollegiate Athletic Conference (MIAC) Offensive Player of the Week twice in his career as well as being named to the D3Football.com Team of the Week. He was selected as an All-MIAC second-team selection in 2007 and is currently on pace to break the all-time MIAC passing record of 7,290 yards held by Alex Kofoed of St. John's.
"One of the reasons that Jordan is so successful is his preparedness," says offensive coordinator and quarterbacks coach Drew Privette. "He is prepared on the field, in the classroom, and in his social life. If we have a quarterback's meeting and Jordan also has a big test in one of his classes, he'll find a way to reschedule the meeting, so he can take care of his first priority, his academics."
Not only has Berg seen great success on the field, but he also excels in the classroom. Berg is a physics major with a 3.8 GPA. In 2007 he was one of five Augsburg football players to receive MIAC Academic All-Conference honors. Berg has taken full advantage of the liberal arts education at Augsburg, taking classes ranging from chemistry, physics, and calculus to creative drama, American Sign Language, and Christian Vocation and the Search for Meaning.
Berg's adviser, Professor Jeff Johnson, chair of the Physics Department, says, "Jordan is an old-fashioned student. He works hard and really does well. Jordan does whatever it takes to learn the material and is very successful in what he does."
In addition to his academic and athletic achievements, Berg is a self-claimed "motor head." He loves working with and rebuilding engines and has completely restored his own Harley-Davidson motorcycle. This love for Harley Davidsons and the lifestyle that goes with motorcycles has also grown into a passion for drawing. Berg can often be found sketching a hot rod during class or in his free time. In fact, Berg designed the custom paint job on his Harley, was asked to design t-shirts for the football team, and has created a new Auggie logo for the Augsburg Student-Athlete Advisory Committee. Additionally, he has been asked by his coaches to paint a mural in the football locker room. One of Berg's more unique talents is that he designs tattoos. He has designed two for himself and a few others for teammates. He takes great satisfaction in being able to take an idea and put it to paper and really see the design come together.
Berg says his mother has been his inspiration. She has always encouraged him to be involved with the creative arts. And although she is not always keen on flames and skulls, she does like that he designs tattoos and was thrilled to find out he is enrolled in a creative drama class this fall.
"Jordan is a unique blend of character, artist, and student-athlete. He is gifted in each of those areas and it is a joy to work with such a colorful and outstanding individual," says head football coach Frank Haege. It's just all part of the balancing act.
Kelly Anderson Diercks is Augsburg's assistant athletic director.
Photo Caption: Auggie quarterback and team captain Jordan Berg '09 embodies the essence of an NCAA Division III athlete–an athlete, scholar, artist, and motor head.