by Wendi Wheeler '06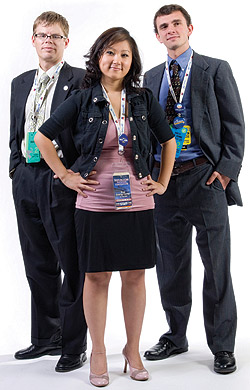 (L to R) Eric Franzen, Mai Lee, and Ben Krouse-Gagne found unexpected discoveries as interns at the Republican National Convention.
In the first days of September, while Gulf Coast residents battled Hurricane Gustav, more than 45,000 Republican delegates, party officials, volunteers, and members of the media converged on the Xcel Center in downtown St. Paul for the 2008 Republican National Convention. St. Paul hosted the 39th nominating convention of the Republican Party, the second nominating convention to be held in the Twin Cities.
Minnesota's participation in this aspect of the democratic process brought opportunities to the Augsburg campus. Because of its commitment to civic engagement and service learning, Augsburg was chosen by the Washington Center for Internships and Academic Seminars to host students and faculty from 48 colleges and universities across the country for a two-week seminar in conjunction with the convention. Twenty-three Augsburg students participated in internships through the program, each working in the preparation and planning stages to learn about the behind-the-scenes efforts involved with a national convention. Augsburg communication studies professors Robert Groven and Kristin Chamberlain served on the faculty of the Washington Center Seminar.
In the week before the convention, students attended seminars on Augsburg's campus on topics such as the history of political campaigns and conventions, the nomination process, convention planning and procedures, party organizations, campaign finance, and media coverage. During the convention, students either participated in internships, many with media outlets stationed at the convention, or remained on campus for additional seminars. Under the "Get Political" banner, students and the Augsburg community attended daily forums and convention briefings with speakers including columnist Arianna Huffington, Libertarian presidential candidate Bob Barr, Secret Service agent David O'Connor, and Nancy Theis, special assistant to the president and director of presidential correspondence.
Three Augsburg students shared their convention experiences—a young Hmong woman who changed her major from pre-med to political science, a graduate student who entered a state legislative race, and a politically liberal political science major who learned that Republicans and Democrats are more similar than he thought.
Getting Active in Politics (Ben Krouse-Gagne '11)
Changing Courses (Mai Lee '11)
Because I Can (Eric Franzen MAE '10)