By Libby Henslin '06, operations and admissions coordinator, Rochester location
"Social awareness is an important part of our mission at the Center Clinic. We believe that awareness is the first step toward social change."
Marty Alemán has a passion for public health. She is one of Augsburg's Rochester location nursing faculty, and she believes that "greater community and social awareness make a better citizen and a better nurse, no matter where they work."
Thus, it seemed fitting that she, along with the Augsburg nursing program, was chosen by the Center Clinic in Dodge Center, Minnesota, a small, rural, volunteer-staffed clinic, to receive their Social Awareness award at their annual appreciation event.
From her office at Olmsted County Public Health, Alemán coordinates a number of the county's public health nursing positions. As the Community Health II nursing instructor at the Augsburg Rochester location, she integrates her knowledge of public health and connections to community health agencies with the course content to be a catalyst for transformation in the lives of most of the Rochester Bachelor of Science in nursing (BSN) students. She loves it. She loves introducing her students to a side of health care that few of them have ever seen.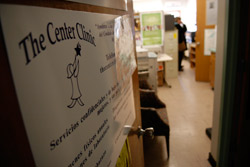 Community Health II is Augsburg's only BSN course with significant clinical hours outside of the classroom; all 48 hours must be spent in community health settings. Alemán notes that about 90% of Rochester BSN students are hospital nurses. "Some students have only worked in surgery where they see a very limited view of patient care. Community health nursing is not such a controlled environment," she says. It stretches and challenges the students.
Alemán helps students to navigate the challenges of a different healthcare culture and to connect the dots of relevance between their work in a large hospital to social justice in the community. To that end, she raises questions within the context of diversity about the uninsured, about poverty and patient needs upon dismissal from the hospital, and about the community resources to meet those needs. She also encourages students to consider health issues in public schools such as drug and alcohol abuse, sexual activity, bullying, and obesity.
Clinical hours bring the questions of the classroom into the realm of experiential knowledge. Students integrate these experiences, comparing them to their currently held beliefs, and seeing things first hand rather than in text. They return to class and talk about the experiences and how their current belief systems are being challenged.
For their clinical hours, students may choose from a number of cultural immersion options or community health settings in Olmsted County or in the county where they reside. Alemán is fluent in Spanish, having spent four years early in her nursing career living and working in Ecuador, and has coordinated and led immersion trips and home stays for students in Nicaragua and Guatemala.
It's obvious that Alemán has a special place in her heart for arranging student placements in county community health settings. She encourages them to divide their time among a variety of agencies and clinics. Her students can be found at the Good Samaritan Medical Clinic, Migrant Health Clinic, Christ United Methodist Church Health Fair, the county jail, and working with church parish nurses.
The Center Clinic, directed by Jan Lueth, who is also a public health colleague of Alemán, is a favorite placement for Alemán and her students. Lueth welcomes the students and describes the clinic as "a small non-profit agency staffed by volunteer nurses, nurse practitioners, and Mayo doctors and residents that provides family planning and limited healthcare services to the uninsured and underinsured, many of whom are Latino."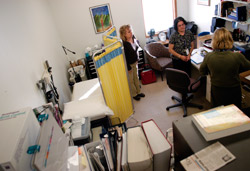 Some of the BSN students have chosen to continue volunteering at the clinic. One student returned for six months as a paid staff member. Since the clinic relies heavily on volunteer hours to stretch their limited revenue, Lueth says their services are invaluable.
"Social awareness is an important part of our mission at the Center Clinic," says Lueth. "We believe that awareness is the first step toward social change." Part of the clinic's motivation for giving Alemán and the nursing program the Social Awareness award was that "always their questions and comments challenge us to clarify what we believe and strengthen our determination to continue our mission," Lueth says.
When asked about Alemán's passion for social awareness, Lueth says, "only a professional like Marty, who truly empathizes and appreciates the complicated world in which our clients reside, and the positive effect that nursing students could experience by exposure to this, would have considered the Center Clinic as a possible clinical site for her students."
She continues, saying the clinic is "a world where, like a messy closet, you can make the conscious choice to close the door, so you don't have to look at it. But, you still know the mess is there. … Marty puts her foot in the door, so you have to look, have to experience the 'mess' at least for a moment."