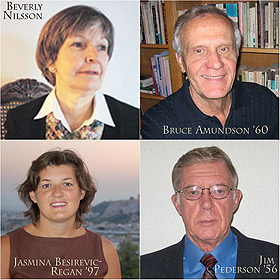 Homecoming Convocation, held Friday, Oct. 12, at 10 a.m. in Hoversten Chapel, will honor our Distinguished Alumni, First Decade, and Spirit of Augsburg awardees along with our 50-year club members and faculty and staff emeriti.
The First Decade Award
Jasmina Besirevic-Regan '97 came to Augsburg from Bosnia and majored in sociology. She continued at Yale University, earning both an MA and PhD. Since 2004, she has served as the dean of Trumbull College, one of Yale's undergraduate residential colleges. Jasmina has published numerous papers and teaches an undergraduate seminar at Yale on genocide and ethnic conflict.
Spirit of Augsburg Award
Beverly Nilsson, professor emerita of nursing, taught at Augsburg from 1977 to 2001, serving as department chair from 1978 until her retirement. Bev was instrumental in founding the bachelor's degree nursing completion program, establishing the Augsburg Nursing Center at Central Lutheran Church, creating Augsburg's Rochester Program, and developing Augsburg's master's program in cross-cultural nursing. She continues to volunteer at the Nursing Center and serves on the Advisory Council.
Distinguished Alumni Award
Dr. Bruce Amundson '60 has been a leader in the Peace Corps, Job Corps, and in rural community health programs in Washington, Idaho, Montana, and Alaska. He has worked with over 400 rural U.S. communities to assist them to strengthen and salvage critical local health services. Presently he works to advance the integration of medical care and mental health care in Washington State. Bruce has been a long-time advisor to members of the U.S. Congress on healthcare issues and is an active member of Physicians for Social Responsibility.
Distinguished Alumni Award
Jim Pederson '56 has a long and notable list of posts with the State of Minnesota, House of Representatives, and Public Safety. He has advised clients on legislative strategy and legislative relations. For 15 years, Jim has been a consultant for the Minnesota Historical Society, St. Anthony Falls Heritage Board, playing a key role in the restoration of the Stone Arch Bridge and creation of a Northeast Minneapolis Firefighters Hall and Museum. His volunteerism extends to his church and community.
The Homecoming Convocation's recognition of distinguished members of the Augsburg community is only part of the festivities planned for Homecoming 2007. Visit the Alumni page to find out more.