Interviewed by Jennifer L. Hipple, Weekend College Student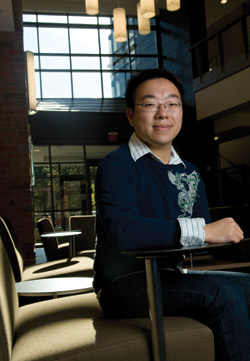 B.S., social work, with a minor in religion
Patrick Flood, a 2008 graduate, reflected on his four years at Augsburg…
"During opening convocation in 2004, the freshmen marched to the chapel as professors lined the path, clapping and welcoming us. They didn't know us yet but they were there to support us. After four long years, many of those same professors once again lined up on Commencement day, clapping and congratulating us on a job well done. I couldn't have imagined on that first day what the impact of this would be.
How I became an Auggie: It was important for me to stay in the ELCA family, since my mother is a Lutheran pastor. Attending a small private liberal arts college in an urban setting also appealed to me. (What really sold me, however, were Augsburg's skyways and tunnels that make life much more comfortable in the dead of winter!)
Augsburg highlight: During my junior year I had an opportunity to study abroad by taking a spring semester course—Social Work in a Latin American Context—through the Center for Global Education (CGE). The program was centered in Cuernavaca, Mexico and focused on experiential learning, global perspectives, and social and economic justice. During the semester I took a Spanish language class, three classes in social work, and completed an internship at Las Palomas, a local nursing home. … I learned a lot about the differences between our cultures. In Mexico it's much more traditional for the elderly to be cared for by their children; they become part of the nuclear family structure. The number of elderly in nursing homes is much lower than in the U.S. The Augsburg impact: Conversations with professors and students had a very positive influence on me. My religion class with Professor Mary Lowe challenged my thoughts and beliefs. Her enthusiasm rubs off on students and pushes them to think critically and analytically about the Bible and how that can translate into bigger issues.
Next steps: Although I am a social work major, I was a student worker in Augsburg's Institutional Advancement office for four years. I learned about the importance of giving back to the community through philanthropy and stewardship. Because of those experiences and one-on-one mentoring, I'm interested in pursuing an entry-level job in development. Wherever life takes me, I feel well prepared for the journey, thanks to Augsburg.