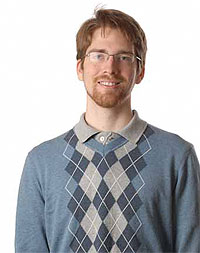 Brian Krohn '08 arrived at Augsburg with plans of being a film major and eventually became a chemistry student. In November he was selected as a Rhodes Scholar—Augsburg's first.
Krohn, a native of Cloquet, Minn., was one of 769 initial U.S. applicants from 207 colleges and universities for this year's Rhodes Scholars. After making it through an interview process and being selected, Krohn became one of 32 Americans who will study at Oxford University beginning in fall 2009. There, Krohn will focus on environmental change and management in order to combine public policy expertise with the scientific knowledge he has gained at Augsburg.
In the summer of 2006, Krohn began research into new ways to produce biodiesel fuel. He acknowledges that he didn't really expect to break any new ground, but he wanted to give it a shot.
The combination of Krohn's research, the teaching of chemistry professor Arlin Gyberg, and Augsburg alum Clayton McNeff led to the discovery of the Mcgyan Process to produce biodiesel in a cleaner and more environmentally friendly way.
"For me, Brian's work on the biodiesel project is a great liberal arts story," President Paul C. Pribbenow said. "There's a connection between a student with a question, a faculty member, and an alum. They work on a problem and come out with a response that, in this case, is pretty groundbreaking.
"Brian stands for the well-rounded education that we provide for all of our students. We're proud of him and proud that his Augsburg education prepared him," Pribbenow continued.
In addition to his work with biodiesel, Krohn is a Goldwater Scholar who was a founder of the Honors Review, a new journal for student scholarship at Augsburg. He organized the inaugural Agre Challenge, an event in which teams were challenged to build a catapult to fling a 20-pound sandbag various distances.