by Jennifer Hipple, Weekend College Student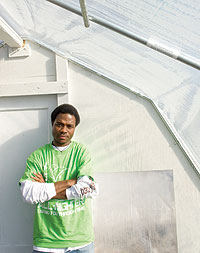 Richmond Appleton is passionate about giving back to his communities—the Twin Cities and his birthplace of Liberia. Early in his Augsburg career, he was a biology major and planned to attend medical school. However, when the environmental studies program began, Appleton knew this was the path he should take. He became the first student to formally declare the major.
Appleton has overcome a great deal in his life. As a young boy, he contracted polio and was paralyzed on his left side. He often had no access to medical care, but his parents took him to native healers. "There were no social services or hospitals," he says. "There was nothing to count on in emergencies." Over time, he recovered the use of his arm and leg.
When civil war broke out in Liberia in the early '90s, his family fled to the Ivory Coast. Appleton's mother was separated from them, and he also lost his father, brother, and sisters for four weeks because he couldn't run fast enough to keep up with them. Eventually the family was forced to Ghana where they stayed in a refugee camp until they immigrated to the U.S. in 2004.
A desire to make a difference influenced Appleton's decision to join the environmental studies program where classes in ecology and biodiversity fuel his interests in social work and public service. Although he wants to help his country, he likely won't return to live permanently. He says Liberia is rebuilding after years of violence and destruction, but that much remains to be done. "People are sick from the effects of a polluted environment."
While at Augsburg, Appleton has been active in the neighborhood. He chairs the Augsburg Student Activities Council diversity committee and serves as a residence life community adviser. In January, he traveled to Cuernavaca, Mexico, with students from the Scholastic Connections program to learn about sustainable agriculture practices in Mexico.
Appleton plans to graduate in December and is researching graduate programs in environmental studies. "I am interested in public policy in urban areas, conflict management in war torn countries, community development, agriculture, sustainability, and bio-agriculture." Appleton plans to study sustainable food production and how it can minimize the human impact on the environment.