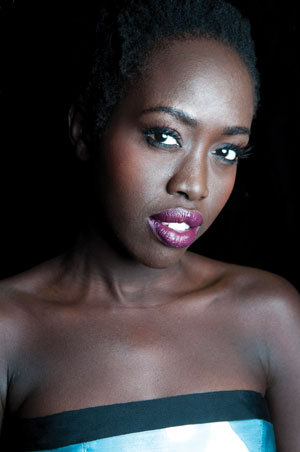 And, if you ask this Augsburg College alumna about her past few years, she'd likely add to the list of descriptors, "a person blessed by an enormous leap of faith."
During her final semester at Augsburg, Kuoth Wiel '13 landed her debut film role in "The Good Lie," a drama that tells the story of a family-like group of Sudanese refugees who are offered shelter in the United States more than a decade after militia attacks in their home country left them orphaned and homeless.
While the characters themselves are fictional, the film is based on the experiences of thousands of real refugees—people sometimes dubbed the "Lost Boys of Sudan"—who immigrated to the U.S. in the thousands before Sept. 11 prompted authorities to suspend a resettlement program.
As People magazine suggests, Reese Witherspoon is the film's biggest name, but the real stars of "The Good Lie" are her castmates.
In the movie, Wiel plays the character Abital, the 19-year-old sister of one of the Lost Boys. In reality, Wiel has personal ties to the conflict in Sudan. She was born in an Ethiopian refugee camp to Sudanese parents and lost her father at age 3 after he was killed while working as a United Nations medic in the Sudanese Civil War. She immigrated to the U.S. in 1998, spent her childhood in Faribault, Minn., and as a young adult moved to Minneapolis to attend Augsburg, study social psychology, and model part time.
Today, Wiel calls West Hollywood, Calif., home. She has appeared in more publications and on more television shows since the film's release at the 2014 Toronto International Film Festival than she can recall, and she's driven to use her brush with stardom to serve her community and spread messages of hope and empowerment among people who have been displaced due to global conflict.
Auggies on and off campus have followed Wiel's personal storyline since she earned her movie star status, so we're delighted to share a brief reflection on Wiel's experience in her own words.
Q&A: Meet Kuoth Wiel '13
Not all students at Augsburg or anywhere else, for that matter, receive the opportunity to act in a feature film. How did this come about?
I have to give thanks to the power of social media. A friend of mine saw the opportunity to audition on his Facebook page and forwarded it to me. They were looking for Sudanese actors and actresses around the U.S. and around the world. I sent in my bio and then they sent me the script. I read it and fell in love. Then I sent in a video made on my MacBook of me going over my life; it was nothing professional. I didn't hear back for a month, but [finally they said], "Okay, we want you to meet with the director." A week later, I flew to Atlanta to rehearse with the cast, and that's how it all began.
When you decided to say "yes," sign your contract, pack your bags, and head off to Atlanta, what did people say?
I had already told my mother and my girlfriends. My mother—she was at first taken aback by it. She said, "Are you going to finish school? You only have one month left, so why are you going to leave school just like that?"
I felt like I gave it to a higher power; I can't control this. Luckily, I was in a position where I had finished all my exams, and I had finished everything except for my final essays for my seminar class. I was very fortunate to be in the position…where my teachers were very excited for me and allowed me to Skype to stay on track.
Why do you think it was important for "The Good Lie" to cast Sudanese actors?
It is the experience of being in a war. My character and I had parallel worlds but lived in different times. She was a Lost Girl; I was never away from my parents in that sense, but we share the same story of going through this traumatic event and wanting to leave it.
In the film you play Abital, who you mentioned was a Lost Girl. How did she fit into the storyline?
Abital becomes a significant figure throughout the story in that [the Lost Boys] try to find her again because they are separated from her when they come to America.
How did the director or other members of the film crew help you get into character and deepen your understanding of this person?
It's about knowing the background for each character; they made sure that we knew our story. The director really helped me in controlling my emotions and knowing when to remind me to call on my background as a refugee or recall something that I had lost in my life.
How did your own life experiences allow you to relate to the character?
It helped a lot. I mean the journey definitely put into perspective how far I have come from Sudan to Ethiopia and then to America. I didn't remember it very well because I was a child, but now I know what this conflict was—it put into life the story of people who I can relate to.
What was a typical day like for you on the film set? Or, was every day completely different?
You're given a different scene each day…sometimes you wake up as early as 4 a.m., and sometimes you don't [wake up] until noon. And, so, it all depends on what time they want to shoot.
I'd wake up in the morning and then have a van come pick me up to go to set. Once you get there, they do the hair and makeup and the wardrobe and then, after that, you stay in your trailer until they come get you to do the scene.
Sometimes they give you a few hours [to] stay in your trailer and get into character. They didn't want a lot of interaction with other actors there. It was important to make sure you just concentrate and get yourself physically and mentally ready for the next scene.
Did you feel that "The Good Lie" was a job, or did you think, "How could this possibly be work?"
For me, I felt like it was a job. Not a job in the sense where you show up and mechanically do things, but it was a job where you are responsible to give this character life like a real person. I felt like I owed that to this story. Sure, you get to meet cool people, but it was a responsibility for me to portray this person—to show the world how this person lived—and it was my responsibility to do it well.
The best-known actress in this film is Reese Witherspoon. Were you pinching yourself when you met Reese?
I love her. I think I was a little shocked. When you meet someone who you admire, it becomes a totally different experience. She was very nice, actually. She came and introduced herself to me, and we just talked. She's very down to earth.
Is acting something you want to pursue in the long run? Can you tell me about your vision for the future?
I love it. Right now I'm exploring different realms of acting. I'm doing improv. I want to learn how to regulate my emotions in a better way so that I can do it in different scenes. I would really love to perfect [acting], that's why I'm studying it in greater depth.
What has been the most surprising aspect of working on "The Good Lie?"
I would say the traveling. I traveled a lot. A lot. I literally lived in airports…I had to get used to adjusting to different situations and knowing what to bring, what not to bring, what to look out for, and stuff like that. And, when we went to South Africa, that was my first time back to Africa so that was a really good experience for me. I just felt that anywhere in Africa was home.
Things have been busy for you the past couple of months—to say the least—but what do you hope to achieve through your humanitarian work in the future?
Right now we are working on raising awareness. The producers have set up The Good Lie Fund, which you'll find after the film—TheGoodLieFund.org. This raises money for people in the refugee camps right now. Our main priority is to raise money for aid. We're also working with UNICEF. When we were in Nashville we sent a message for the kids who are [in refugee camps]. We talked about our own experience in the camps and tried to give people hope.
An Augsburg education emphasizes that vocation is not simply finding a job but, instead, using your passions and talents to serve the world. How has this experience shaped your calling in life?
I remember writing about that—initial thoughts on what I wanted to do—my senior year. I knew I wanted to give back to my community, but I also wanted to use [my vocation] as a message of empowerment for women because there are girls, like me, in refugee camps who probably don't know that there's a better life out there. I always tell people I came from a place where I thought there was nothing left. But, I'm here. So, for me, I think it's to raise the message of hope for women.