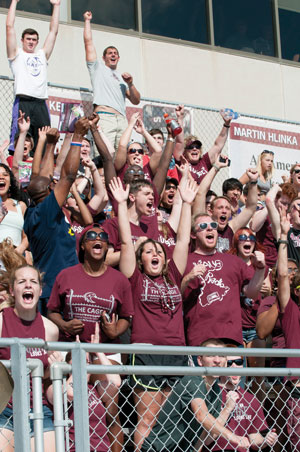 Thank you for joining us for our Homecoming 2014 celebration. We look forward to seeing you at next year's events, October 8-10.
If you are interested in serving on your alumni reunion committee or volunteering to help plan Homecoming 2015 events, contact alumni@augsburg.edu.
Alumni Award Recipients
First Decade Award
Honors an Auggie who graduated during the past 10 years and who exemplifies the mission of the College.
VICTOR ACOSTA '04
An Augsburg physics major, Acosta completed his PhD in atomic, molecular, and optical physics at the University of California, Berkeley, in 2011. He is a research engineer with Google X.
"I want to thank the StepUP® Program… the McNair Scholars Program…and the Physics Department for some of my fondest memories."
Spirit of Augsburg Award
Honors alumni and friends of the College who have given of their service to substantially impact the well-being of Augsburg's mission and programs.
JACQUIE BERGLUND '87
Berglund, a political science and communications major, in 2000 founded Finnegans, a charitable beer company that donates 100 percent of its profits to programs that alleviate hunger.
"This place—Augsburg College—really was where I found my calling and it was truly where I decided I wanted to make the world a better place."
GARRY HESSER
Hesser is the Sabo Professor of Citizenship and Learning Emeritus at Augsburg and also teaches in the Master of Arts in Leadership and Honors programs.
"If there's been a theme, a set of gifts here at Augsburg…it's been a sequence of being invited in."
Distinguished Alumni Award
Honors alumni in recognition of a significant achievement in their vocation; for outstanding contribution to church and community.
MICHAEL R. GOOD '71
After 36 years in real estate, Good became the national campaign chair for Augsburg's Center for Science, Business, and Religion. His inspirational drive has created new momentum for this essential building.
"It's great to be called. And it's great to be called an Auggie."
DEAN R. KENNEDY '75
Kennedy, founder of Texakoma, one of the most respected small, private oil exploration companies in the United States oil and gas industry, continues to be one of Augsburg's most generous supporters.
"A common question that I get asked is, 'How did a guy from Fridley get started in the oil business?' and I say the seed was started right here at Augsburg College."
REV. MARK S. HANSON '68
This fall, Hanson joined Augsburg as a Distinguished Fellow in the Bernhard Christensen Center for Vocation. He has served as presiding bishop of the Evangelical Lutheran Church in America, president of the Lutheran World Federation, and pastor for three congregations.
"The future of Augsburg depends on all of us encouraging our children and grandchildren…to root their lives in this community of learning and service."