by Betsey Norgard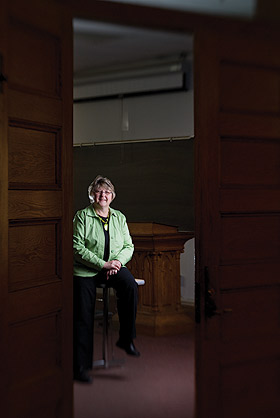 Joyce Miller considers herself a nursing "pioneer" at Augsburg. She was in the first group of nurses in the bachelor degree completion program in Rochester in 1998. Then she was in the first group of nurses to begin the leadership track in the Master of Arts in Nursing program in 2002, and now she's in the pilot group of students in the post-master's degree program that will become Augsburg's Doctor of Nursing Practice upon accreditation.
At each point in her educational journey, she expanded her worldview and discovered a caring, healing paradigm. She began to understand a nursing model that considers a broader relationship with patients, in which nurses don't treat just a patient's physical symptoms, but rather the whole person—mind, body, and soul—keeping aware of their social and cultural needs.
In 2004, when a faculty position opened in Rochester, Miller saw an opportunity to give back to Augsburg. "Having gone through the Augsburg undergraduate nursing program myself, I am able to relate to what it's like being a student," Miller says. "This definitely helps guide how I teach. I try to evoke excitement in learning by exploring new ways of thinking and transforming their nursing practice."
She teaches two of the first-year nursing courses that students take in the bachelor's program—Trends in Nursing and Nursing Theory and Research. In the Trends course, the students have the opportunity to visit the Augsburg Central Nursing Center at Central Lutheran Church in Minneapolis, a center that provides free health care to the community.
"For many students, that's the first exposure to homeless individuals," Miller says. "Most students in the program work in a hospital setting and are unfamiliar with community healthcare needs and concerns. I want them to begin to experience healthcare issues beyond the medical model."
Both as student and professor, Miller continues to take advantage of experiential opportunities. This past winter she traveled to Nicaragua with the students taking a community health immersion and says the experience "not only changed them, but myself, too." In her post-master's program, she studied non-traditional healing practices among indigenous populations in Oaxaca, Mexico. This spring during an inner city immersion in downtown Minneapolis, she spent the day with a homeless person.
On top of her full-time teaching at Augsburg, part-time study, and part-time clinical research position at Mayo Clinic in Rochester, Miller also serves on Augsburg's Alumni Association Board of Directors, just recently completing a year's term as president.
"When I joined the board five years ago, I thought it was a great way to give back to the College" Miller says. "The opportunity to serve on the board and become president has been a phenomenal experience."