For most of the year, we see Auggie student-athletes on the field, on the court, or on the ice where they display their tenacity and strength. And we see them on campus, learning in the classroom, or volunteering in the community.
But once a year, Auggie student-athletes trade their uniforms and gear for suits and dresses at the annual Auggie Awards. This festive event gives students, coaches, faculty, and staff the opportunity to celebrate the year's accomplishments on and off the field.
Meet the student-athletes who were honored at the 2009  Auggie Awards. Congratulations and Go Auggies!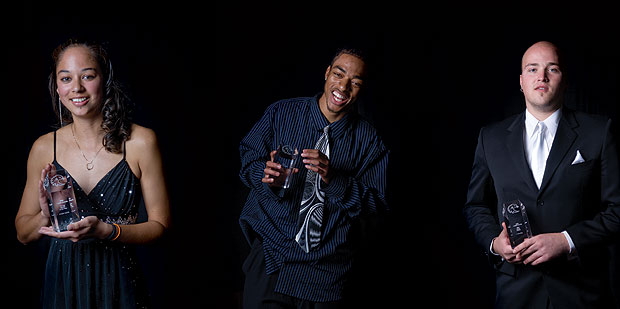 FEMALE ROOKIE OF THE YEAR
Jennifer Castillo, Softball (left)
Castillo led the Auggie softball team this season with a .403 batting average. She started all 43 games and earned All-MIAC and MIAC Rookie of the Year honors. Castillo was one of just three first-year players to be named All-MIAC and was ranked ninth in the conference in overall batting average, eleventh in on-base percentage, and led in defensive assists (104).
MALE ROOKIE OF THE YEAR
Nick Ward, Track and field (center)
Ward won the MIAC outdoor title in the 100-meter dash (10.97 seconds) and placed sixth in the long jump. His 100-meter dash win marked the first title for Auggie men since 2005, and he is one of only two MIAC male first-year athletes to win titles in the outdoor meet.
MALE HONOR ATHLETE
Jordan Berg, Football (right)
As quarterback of the Auggie football team, Berg earned All-MIAC honors and was named to the D3football.com All-West Region second team. Last season, he broke the single-season school record with 297 completions in 499 attempts for 3,226 yards and 25 touchdowns against 14 interceptions (attempts, yards, and touchdown totals all second-best in single-season in school history). He was also a Gagliardi Trophy regional finalist.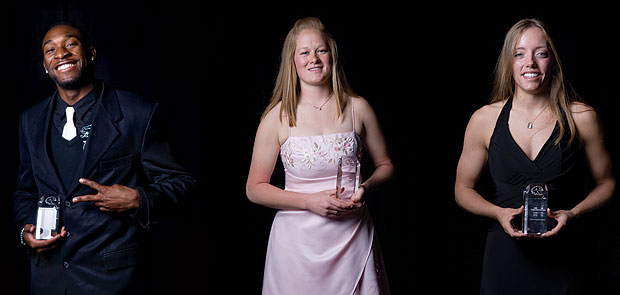 MALE OUTSTANDING ATHLETE
Royce Winford, Football (left)
Winford earned All-MIAC and MIAC Player of the Year honors this season as a wide receiver/cornerback. He also made the D3football.com All-West Region first team and All-America first team and was named the D3football.com West Region Offensive Player of the Year. He tied school records for career touchdowns (41) and receiving touchdowns (40), and was second in school history in career receptions (247) and receiving yardage (3,282).
FEMALE OUTSTANDING ATHLETE
Maggie DeGroot, Soccer/basketball (center)
DeGroot earned All-MIAC honors and made the All-MIAC Sportsmanship Team this season for soccer. As goalkeeper, she also made the NSCAA/Adidas All-Central Region second team and earned a NSCAA/Adidas Scholar All-Central Region honorable mention. DeGroot holds Augsburg career records for goalkeeper wins (37-19-16), career goals-against-average (0.68), shutouts (36) and career win-loss percentage (.627).
FEMALE HONOR ATHLETE
Tiffany Magnuson, Hockey/softball (right)
Magnuson was named All-MIAC in women's hockey and softball. In hockey, she led the team in every scoring category this season—nine goals, 10 assists for 19 points. She was named to the All-MIAC first team for the fourth straight season and was also honored with the MIAC Sheila Brown Award, given to a senior who displays consistent sportsmanship and contributes to her team's success.
TEAM AWARDS
MALE OUTSTANDING TEAM – Soccer
FEMALE OUTSTANDING TEAM – Softball
MALE MOST IMPROVED TEAM – Golf
FEMALE MOST IMPROVED TEAM – Softball
ACADEMIC TEAM OF THE YEAR – Women's cross country
MALE ATHLETE WITH HIGHEST GPA – Jason Chrudimsky, Cross country/track and field
FEMALE ATHLETE WITH HIGHEST GPA – Tori Bahr, Cross country/track and field