Each summer, undergraduate students at Augsburg College work directly with faculty mentors to complete individually designed research projects and creative activities. Auggies seeking to enhance their education gain rich, hands-on experience by participating in research opportunities sponsored by the College, funded through grants and private gifts, or offered through federal programs.
Students from all disciplines can participate in summer research. This year, their topics included designing a tool to sample motor vehicle pollution; examining immigrants' influence in community organizations and politics; cloning and characterization of Daphnia magna, a water flea; and analyzing the effects of the No Child Left Behind Act on Minneapolis youth, among many others.
During the research process, students often use specialized materials and technologies, investigate complex and specific concepts, and explore existing scholarship and literature.
Here are the answers to the question, "What is it?"
---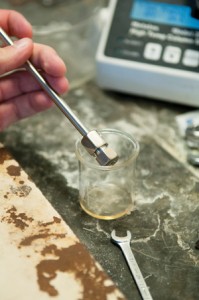 Q: What is it?
A: A column that contains a catalyst and through which a stream of reactants move. Reactants are substances that undergo change during a chemical reaction, and "flow chemistry" is a process that gets its name from the movement of these materials.
Alan Medina-Gonzalez '16
Major: Chemistry, Minors: Biology and Mathematics
Research mentors: Z. Vivian Feng, associate professor of chemistry; and Michael Wentzel, assistant professor of chemistry
Alan Medina-Gonzalez '16 chose to participate in summer research because it granted him the opportunity to spend more time in the lab optimizing a chemical reaction, which is a fun—albeit time-consuming—puzzle he enjoys solving. "I wanted to see what it was like to work on a project all day long versus only going into the lab four hours per week as part of a class," he said.
Medina-Gonzalez's research involved setting up chemical reactions using flow chemistry—a process that helps make reactions more "green" by allowing chemists to lessen waste generation and to improve energy efficiency and safety. His research goal included producing a variety of molecules, including acetaminophen—the primary active ingredient in Tylenol and other medicines—to demonstrate the uses of flow chemistry in the pharmaceutical industry. 
---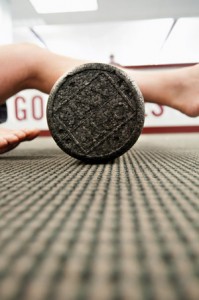 Q: What is it?
A: A foam roller, a tool that breaks up fibrous tissue in order to increase muscle elasticity and circulation flow.
Briana Felton '14
Major: Exercise Science, Minor: Psychology
Research mentors: David Barrett, assistant professor of health, physical education, and exercise science; and Tony Clapp, associate professor of health, physical education, and exercise science
Briana Felton '14 chose a summer research project that will help to prepare her for the dream of attending graduate school to study physical therapy. Felton is a member of the Augsburg women's soccer team, and she loves sports and fitness. Athletes commonly use a foam roller on their muscles for self-myofascial release—a process that applies pressure to trigger points within muscle tissue and is thought to cause the tissue to relax and become more flexible. 
Although the use of foam rollers has become a common practice in therapy and fitness centers, few peer-reviewed studies have examined its effectiveness. For Felton's research project, she conducted a study in which middle-aged adult males participated in an exercise program utilizing foam rollers. Felton then assessed the study participants' balance and functional movement patterns using industry-standard tests to see whether their scores improved over the course of the study. Higher scores have been shown to correlate with a person's decreased risk of injury. 
The results:
Felton's study found that the Functional Movement Screen, the assessment used to gather comparison data for individuals' fitness before and after the foam-rolling regimen, had a significant increase in its composite scores. On average, scores from pre- to post-test increased by 2.06 points out of 21. Although the composite scores illustrated a significant increase, not all of the individual tests showed such an increase. Study participants were also asked to self-evaluate perceived pain, and there was no significant increase for any of the 10 survey questions.
In the future, Felton is interested in replicating this study with females in the same age group as her summer 2014 study, which was limited to males. She also is considering whether selecting a population with more known deficits and, therefore, more room to improve could influence the research results.
---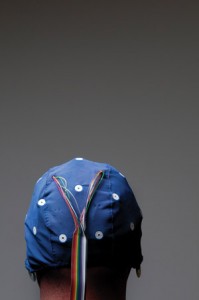 Q: What is it?
A: An electroencephalogram (EEG) recording cap, which is used to capture the brain's electrical activity while at rest or engaged in mental activity.
Brad Marcy '15
Major: Biopsychology, Minor: Chemistry
Research mentor: Henry Yoon, assistant professor of psychology
Research conducted on substance use disorders often extends to either the biological or the behavioral aspects of addiction. This summer, Brad Marcy '15 took on the challenge of combining both of these aspects into a single study incorporating behavioral information—in this case, a person's age of first alcoholic drink (AFD)—and biological data, which was derived from brain patterns collected through EEG scans.
Marcy and other Augsburg psychology students gathered data by working with student volunteers, including those in the College's StepUP® program, which serves students who are in recovery from addiction. Marcy's research project involved processing and analyzing participants' EEG data in order to identify telltale signs of being at biological or genetic risk for dependence in these brainwave patterns. He then examined whether an association exists between this biological information and AFD. By evaluating these variables, Marcy can later assess their usefulness in refining the diagnosis of substance misuse.
---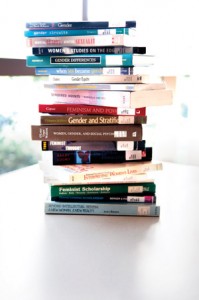 Q: What is it?
A: The examination of journal articles, images, and academic texts—illustrated here—are key aspects of student researchers' literature review process. A literature review discusses published information in a particular subject area.
Awale Osman '15
Major: Communication Studies, Minor: Women's Studies
Research mentor: Adriane Brown, assistant professor of women's studies
"I've always wanted to be a teacher," said Awale Osman '15, a McNair research scholar whose project almost perfectly aligned with his desired career path. Osman began his undergraduate education at a community college before transferring to Augsburg, and his research project involved examining the establishment and evolution of women's studies, the emergence of gender and masculinity studies, and current dialogue regarding the field. This work allowed him to combine his interests in communications and women's studies into a project that enhanced his academic skills.
Osman would like to return to a community college one day—this time as a professor instead of as a student. Osman chose his research topic in order to establish a foundation in the research he hopes will be incorporated in a future doctoral program that will, eventually, lead to a teaching role in higher education. "I realize I have to be grounded to be successful in my track," he said. "So, I'm going for it."
---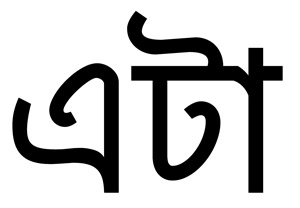 Q: What is it?
A: The Bengali pronoun "Ētā," which is similar to the English pronoun "it."
Priti Bhowmik '15 and Bram Oosterlee '16
Majors: Computer Science
Research mentor: Shana Watters, associate professor of computer science
As international students, Priti Bhowmik '15 and Bram Oosterlee '16 were attracted to research linked with the official languages of their home countries. In 2011, Bhowmik left Bangladesh to attend Augsburg, and she seized the opportunity to use her background in the Bengali language in combination with her computer science major. Her research project fell in the field of computational linguistics—a branch of linguistics in which computer science techniques are applied to the analysis of language and speech. She explored whether the pronoun "Ētā" has the same cognitive status as the English pronoun "it." That is, whether a Bengali speaker, in determining what Ētā refers to in a sentence, uses his or her short-term memory in the same manner that an English speaker does when determining what the word "it" refers to.
Oosterlee, a student from the Netherlands, performed a similar study by examining the cognitive status of the Dutch pronoun "het." Bhowmik and Oosterlee's work ultimately will contribute to developing systems that enhance how computers extract information, summarize text, and translate language. One example of the usefulness of these processes is that they increase the likelihood of returning accurate content descriptions when doctors use digital medical reference materials to find information that pertains specifically to a disorder.
---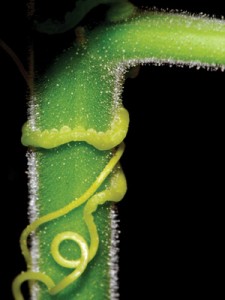 Q: What is it?
A: The parasitic plant dodder (Cuscuta pentagona) attached to a host plant from which it acquires all its water and nutrients.
Lucy Bukowski '16
Major: Biology, Minor: Environmental Studies
Research mentor: Bill Capman, associate professor of biology
Augsburg College students have studied the interactions between dodder and its host plants since 2008, and this summer Lucy Bukowski '16 worked on an experiment testing the hypothesis that a decline in the health of the host plant triggers the dodder to flower. Bukowski's project benefitted from the help of a plant pathologist at the University of Minnesota-Twin Cities who offered greenhouse space, thus providing a larger growing area and better growing conditions for Bukowski's research.
Online-exclusive content: More about the dodder project
Bill Capman has mentored Augsburg College students conducting hands-on research using the dodder plant both to fulfill their undergraduate coursework and to gain experience through the College's co-curricular programs. In Bukowski's case, spending the summer working on an individually tailored project offered a structured yet challenging opportunity to gain exposure to the steps comprising sophisticated academic research, which include conducting a literature review, collecting and analyzing data, presenting key project takeaways to a live audience in a setting that simulates a research conference, and more.
Bukowski's project built upon research by a series of previous Augsburg College students during the past 10 years whose work focused primarily on patterns of host plant resistance to dodder. Faculty members often lead subject-specific research that incorporates new students year after year, adding depth and longevity to the investigation while also allowing students to contribute to a body of research that is bigger than their individual project.
Anika Clark '14 took part in research advised by Capman during the summer of 2013, and she said her experience was enhanced through the contributions made by preceding students.
"[By] looking at the methods of previous research done at Augsburg, I could optimize the methods for my specific question," she said.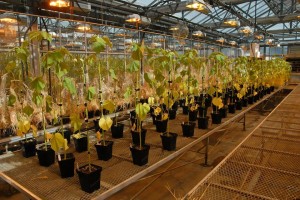 Clark's research spurred a unique—and fortunate—opportunity for Bukowski. Through the research presentation at the conclusion of Clark's 2013 project, a plant pathologist from the University of Minnesota became intrigued by the dodder research at Augsburg. He invited Capman to give a research seminar at the University of Minnesota on the dodder work and then offered the use of some of his greenhouse space as an improved setting in which to grow dodder and its host plant, velvetleaf, during the summer of 2014.
"Lucy got to work side-by-side with really big science," said Capman, explaining that the greenhouse is also used for research on wheat rust, soybean aphids, and other projects linked to global food security.
Access to a bigger and more uniform growing space allowed Bukowski and Capman to implement a large-scale project for the first time, building on an already fascinating series of studies.
Bukowski and Clark said they plan to attend graduate school in the future and appreciate the ways in which on-campus summer research at Augsburg has helped to prepare them for the next phase in their education.
"Prior to [the dodder] project, I had no research experience," said Clark. "I am so lucky that…I gained a sense of confidence regarding my abilities."
Bukowski hopes her first research experience will lead to additional opportunities prior to her graduation while also enhancing her graduate school applications and preparedness for its rigorous workload.
"This project shows I can work semi-independently and successfully on research," she said. "I know it will open up more doors for me in the future."
---
Experiential education through undergraduate research
One key way Augsburg College delivers on its commitment to experiential education is through undergraduate research projects in which Auggies employ their talents and passions. On campus, these projects are funded through several sources, including Augsburg's Office of Undergraduate Research and Graduate Opportunity (URGO), National Science Foundation and corporate grants, private donations, and the McNair Scholars program—a federal TRIO program funded by the U.S. Department of Education and designed to increase graduate degree attainment by students who are first-generation, low-income, and/or members of groups underrepresented in graduate education.