By Wendi Wheeler, '06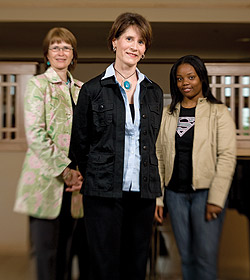 Imagine if we were to treat one another as sacred beings. Imagine a community where everyone feels welcomed and respected. The Wakanheza project teaches that there are simple actions we can each learn to welcome youth and help them feel appreciated in our communities.
The work of a teacher often goes beyond the classroom, outside the lab, and past the boundaries of the institution. At Augsburg, engaging with the community presents unique opportunities for faculty scholarship, and faculty find natural connections to live the mission of the College through community outreach.
For Christina Erickson, associate professor of social work, this outreach takes shape in the Wakanheza project. "Wakanheza," the Dakota word for "child," is most closely translated as "sacred being" in English. The Wakanheza (pronounced wah-kán-ja) project aims to prevent violence by creating welcoming environments for children, young people, and families.
In Ramsey County, Wakanheza is a project of the Department of Public Health that has been successfully implemented in a number of organizations including businesses, shelters, government agencies, nonprofit organizations, schools, faith communities, and in social service agencies.
In the public school system, Wakanheza principles were expressed in the way teachers and administrators communicated with students. They made conscious efforts to smile at students and to greet them throughout the day. Schools also created welcoming environments, particularly for parents who needed to bring small children with them to meetings. Books, tables, and rugs made safe play spaces for children in meeting rooms and waiting areas. Erickson asked to become a member of the project team after reading about it in the Ramsey County Update. She wanted to take on a research project, one she could work on with students, and Public Health needed a research partner.
Grit Youngquist '79, the Healthy Youth Development Program coordinator at Public Health, explains how Erickson's participation is helpful to the project. "All along, we've worked to incorporate feedback to be sure that our work is informed by research and that we are constantly learning," she says. But the department has had neither the personnel nor the funding to conduct the extent of research they would like.
At the time Erickson became involved, the project was beginning in six Title I public schools in the Saint Paul system. With Serita Lee '07, a social work major, Erickson conducted qualitative interviews with teachers and administrators. Erickson and Lee's research article, "A Community Prevention Approach to Peaceful Schools: Application of Wakanheza," will be published in the journal School Social Work in fall 2009.
Erickson says people respond to Wakanheza because the principles are intuitive. "It's not a class you take or a module you complete. It's infused into the lifeblood of the organization—the cook, custodian, and the executive director all practice Wakanheza." Because the program becomes integrated into an organization in this way, it is sustainable and changes as people, conditions, and environments change.
"I work with Wakanheza because it is developed by our community and for our community, and it utilizes all of the elements of evidence-based practice for community change," Erickson says.
Through her involvement, Erickson hopes to add to the body of knowledge in understanding peace-producing programs and to help disseminate the knowledge of Wakanheza to many groups and organizations. Her participation has been invaluable, Youngquist says. "Having peer-reviewed published research about Wakanheza gives the project more clout. In some organizations, this kind of credibility has opened doors for more conversations."
Donald Gault, Healthy Communities Section manager says Erickson has challenged Public Health to think more deeply about how Wakanheza works and encouraged them to implement the project in other ways. Both Gault and Youngquist say Erickson has been a generous and thoughtful team member. "She's always taking initiative and suggesting ways she can help the project," Youngquist says.