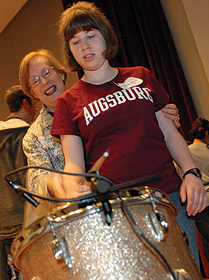 Roberta Kagin, director of the music therapy program, was honored in May for Outstanding Contributions to the Field of Music Therapy by the Department of Music Education and Therapy at Temple University. She has been pursuing her doctoral degree in music therapy and received the award that honors a graduate student who has made significant contributions to the discipline and profession of music therapy.
She was also honored by the Great Lakes Region of the American Music Therapy Association (AMTA) with Honorary Life Membership, presented at their convention in early March.
Kagin is the longtime director and one of the original architects of Augsburg's music therapy program, which was founded in 1975 and is the only program among Minnesota's private colleges.