Retiring after 43 years—and still in love with teaching
by Wendi Wheeler '06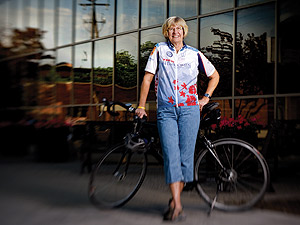 It could be said that Joyce Pfaff '65 loves many things, like biking and running all over the country, sailing in the Caribbean, or hiking in Colorado. But none of these activities brings her as much joy as teaching.
Her love for teaching, though long lasting, was not immediate. As a student from 1961 to 1965, Pfaff majored in health and physical education; she and a group of high school friends had planned to get their degrees and then work together in the same school. When it came time for her student teaching experience, however, Pfaff discovered that the classroom was not for her.
She "ran away" to Europe following graduation in order to escape her parents' insistence that she find a teaching job. How she got back to Augsburg, she says, was "totally an accident."
When she returned to the states in late August 1966, she believed she'd stayed away long enough to avoid getting a teaching job in a public school. But Pfaff was desperate for work, and Ernie Anderson, the health and physical education department chair, was desperate for a swimming and gymnastics instructor. He called Pfaff, and she agreed to take the position—but only for one semester.
Just a few weeks into the term, she was back in Anderson's office asking what she needed to do to keep teaching at Augsburg forever. It was her students, she said, who caused Pfaff's change of heart.
This spring, Pfaff retired after 43 years of teaching at Augsburg College. At her May retirement celebration, she thanked her former students for making her teaching dream come true. "You were not the high school girls who would come to class wearing their nylons under their shorts, trying to avoid getting their hair messed up or ruining their makeup with sweat," she said. "You actually enjoyed sweating and working out."
This enthusiasm extended beyond the classroom to the volleyball court, gymnastics mat, basketball court, and softball diamond. As students, Pfaff and others had been involved with the Augsburg Women's Recreation Association, a pre-Title IX opportunity for women to be involved in organized athletic activities. Augsburg had also had a women's basketball team, the Auggiettes, started by LaVonne Peterson '50. Because there was not an organized intercollegiate women's athletics program, the Auggiettes played in the Minneapolis park leagues and eventually played other college teams in the area. In the 18 years Peterson coached the team, they won 154 games and lost only 6.
In the mid-1960s and into the '70s, Pfaff's students demanded to play. Nancy (Soli) Mollner '75 and Marilyn (Pearson) Florian '76 came to Pfaff's office and asked when volleyball practice would start. "I said 'Tuesday' because I didn't have the heart to tell them we didn't have a team," Pfaff said. So the team began practice the following Tuesday.
Pfaff knew nothing about coaching volleyball, but she led the team to the Minnesota state tournament. "They were great, and they just kept winning." At the end of the season, Pfaff said she wanted to get the team a "real" coach. She hired Mary Timm, who would go on to coach many teams, including the most successful women's softball team in Augsburg history. "We paid her a pittance," recalls Pfaff, "but she didn't care."
Though Title IX had been enacted by that time, women's athletic teams faced opposition from athletic directors who felt women's teams competed for funding and resources. Pfaff said the female athletes had to beg for practice time in the College's facilities and were sometimes kicked out by the men. Female coaches and athletes made or supplied their own uniforms and sold concessions at men's games to help pay their expenses.
Mollner was unable to attend Pfaff's retirement party but shared her thoughts in a letter read at the reception. Mollner thanked Pfaff for providing opportunities for women to participate in athletics. "You made it possible for the athlete in me to emerge," Mollner wrote. She noted how Pfaff coached when there wasn't a coach, found uniforms when there were none, and how she charged ahead when Augsburg women needed a champion in court. She added, "Augsburg women's athletics is your legacy."
Several of Pfaff's colleagues and former student-athletes spoke at her retirement celebration, sharing lessons they had learned from Pfaff. Joyce (Engstrom) Spector '70 said she learned that she, as a little person, would not be exempt from physical education courses, despite a note from her doctor. Pfaff simply would not take "no" for an answer.
Taking her first HPE course was not only fun for Spector, it was "the beginning of developing more self-confidence." She went on to join the Women's Recreation Association at Augsburg and to participate in canoeing and camping trips. As did other students, Spector stayed in touch with Pfaff after graduation.
Jane Helmke '83 learned from Pfaff that there are no barriers, only challenges. "Joyce cared that her students got it right," she says. She cared so much about Helmke passing her life-saving test that Helmke jokingly said Pfaff intentionally tried to drown her. "Teaching was not something she did. It is a part of who she is."
In her 43 years at Augsburg, Pfaff served as an instructor, department chair, director of women's athletics, and a coach. When the College was reevaluating its liberal arts program, Pfaff helped ensure that health and physical education courses had a place in the program. She developed the Fitness for Life and Foundations of Fitness courses and taught a popular intermediate cycling course that explored the many biking trails of the Minneapolis-St. Paul metro area.
Pfaff also designed and taught, with her husband, Doug, an interim sailing course in the Virgin Islands. She taught an exercise class for Somali women in the Cedar-Riverside community. And in the fall of 2008, she and Doug went to the United International College in Zhuhai, China to teach and develop a fitness center for faculty, staff, and students.
At her retirement reception, after she and several friends had completed a 43-mile bike ride, Pfaff shared joyful memories of teaching and a reminder of the challenges she and other women faced in Augsburg's history. "I am hopeful that our current coaches and athletes know they are standing on the shoulders of Augsburg women athletes and their coaches from the past who struggled and fought so very hard for the privilege to participate on an intercollegiate athletic team."
Though she is officially retired, Pfaff says she will stay close to Augsburg and will perhaps come back to teach. Those who know her well know that it would be nearly impossible for Pfaff to stay away from a place she loves so dearly.