By Jeff Shelman
Even through difficult times, ELCA presiding bishop Mark Hanson '68 finds great joy in his calling and seeks to stay focused on God's work in the world.
Mark Hanson calls it a "kicking and screaming" calling. The son of a parish pastor, Hanson had no interest in following his father into ministry.
Sure, Hanson went to Union Theological Seminary after graduating in 1968 from Augsburg with his wife, Ione (Agrimson) '68, but that was only because he received a scholarship to try it for a year. Even when he finished up at Union, Hanson went as far as to stand in line to register to begin graduate school classes in psychology before he realized that wasn't' what he wanted to do with his life.
"I ended up going to therapy for six months to figure out what was going on in my life," Hanson says. "And it was only after six months of therapy that I realized I was fighting, for all the wrong reasons, the call to ministry."
Now, nearly 40 years later, Hanson finds himself as the presiding bishop of the Evangelical Lutheran Church in America at one of the most challenging times since the Lutheran Church in America, the American Lutheran Church, and the Association of Evangelical Lutheran Churches merged to form the ELCA in the late 1980s.
The nation's financial instability has led to a downturn in contributions to the church. The nation's changing demographics have left the ELCA as a graying organization with its strength in parts of the nation that aren't growing. And, in the wake of votes taken at a Churchwide Assembly in August on topics of human sexuality and homosexual clergy in committed relationships, there are many individuals and congregations pondering whether the ELCA is the place for them.
And despite the current challenges facing the ELCA, Hanson loves his job.
"I find great joy in what I do," Hanson says, while sitting in his 11thfloor office that overlooks Chicago's O'Hare International Airport. "I use joy very intentionally. Joy, for me, has its source in my faith. I literally find great joy in this call. I told a group of pastors that I have the best call in the church and what was fun was that a bunch of them lined up to argue with me about why theirs is better. I liked that."
But Hanson acknowledges that these times are challenging. And that's why Hanson has spent—and will be spending— a significant amount of time engaging in conversation, even if the actions at the Minneapolis Convention Center make things a little awkward and uncomfortable.
"I think that in anxious times that have dimensions of conflict in them, the temptation is to go into enclaves of likeminded people to both reinforce the convictions one holds with those likeminded people, and often to articulate that those whom you are not in agreement with are so wrong," Hanson says. "I have worked to be very connected relationally.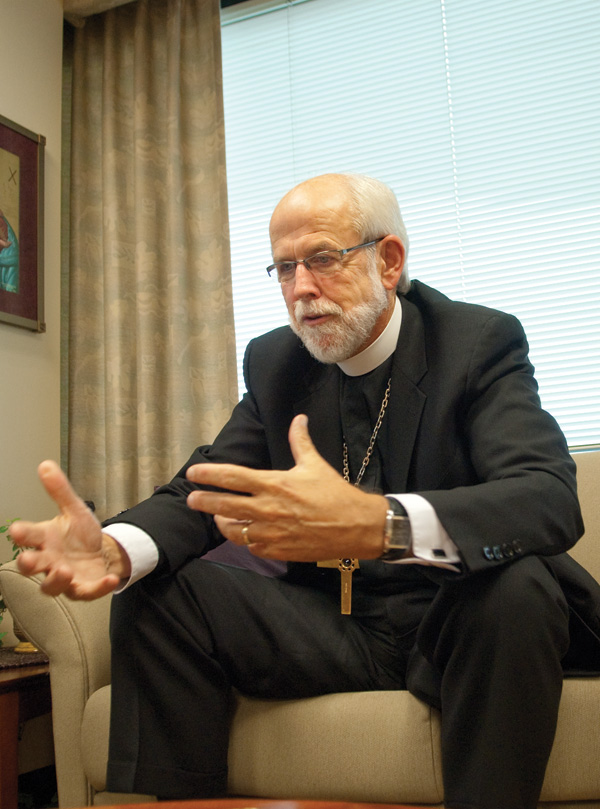 "In a culture that is so polarized, especially around issues of personal morality, and tends to be increasingly fractious, contentious, and too often mean-spirited, can we exemplify in our witness another way to live—together and honoring our differences, but in the context of our unity?"
Jim Arends, a 1974 Augsburg graduate and current bishop of the LaCrosse [Wisc.] Area Synod, says one of Hanson's biggest strengths as presiding bishop is his ability to communicate in general and to listen in particular.
"It is going to help, it can't but help," Arends says. "He respects you. I don't think I've ever seen anything even close to disrespectful. With his authority and height, he's still able to make people be comfortable and relax around him. That's tough with the height of his collar and the big cross he needs to wear."
How does he do it? Hanson says some of it is because of what he learned at Augsburg. Because while there are challenges within the church, there are far more significant issues—poverty, disease in third-world countries, and health concerns among them—that the ELCA is trying to tackle.
"The call for us as Christians is not to be turned inward in conflict with each other and miss this moment to be engaged in God's work in the world; Augsburg gave me that perspective," he says. "Augsburg always reminded me that whatever is going on with you, within your family, within the church, there is a world that calls you."
That was true in the mid-to-late 1960s when Hanson studied sociology, and it is true now as Hanson also watches Augsburg as a parent. Four of his six children have or currently are attending Augsburg. His daughter Alyssa, an alumna of the College, is also teaching math in the Weekend College program.
"When Ione and I were at Augsburg, we were invited, encouraged, challenged to immerse ourselves in the city, Cedar- Riverside, North Minneapolis, and that has not stopped," he says. "Our daughter who is a senior there now has been to Central America twice. The immersion and context have grown from the immediate Cedar-Riverside neighborhood to now the world.
"I'm all over the world looking at schools of higher education. We have great colleges and universities in the church, but I think Augsburg has really positioned itself where I would want to see a college of this church to be."
And as Hanson progressed from parish pastor to bishop of the Saint Paul Area Synod to, now, presiding bishop, Hanson sees a thread that goes back to Augsburg.
"My whole life has been shaped by the intersection of intellectual curiosity, faith, and how faith and intellect shape one for a life in leadership," Hanson says. "The phrase I use for what I got from Augsburg and Union is an unquenchable curiosity of faith and life. I've never stopped being curious. I think Augsburg fostered that. I'm going to be free to ask questions and to serve my neighbor, particularly the one who is struggling with issues of justice and poverty."
And Hanson has plenty of opportunities to be curious as presiding bishop. While he and Ione have traded the area around Lake Harriet for Chicago's Edgebrook neighborhood, he's rarely there. It's tough to be at home when you travel for work about 80% of the time.
"There are some days when I've gone to the airport where I've given the United desk my driver's license and said, 'I forgot to look, where am I going again?'" Hanson says with a laugh. "That's pretty bad. I'm prepared for where I'm going, but there's a lot of travel."
That travel, in the upcoming months, will have a lot to do with continuing communications, building relationships, and leading a church that has members asking serious questions about the future. While the conversations and e-mails aren't always positive from individuals concerned about the ELCA's actions, Hanson remains upbeat.
"I am proud to serve in leadership right now," he says. "I lead 70 million Lutherans in the world and lead the largest Lutheran Church in the United States; that's just an amazing thing that I am called into that sort of leadership. If the criticism begins to take a personal toll, then I can no longer be an effective leader. I think that the gospel is too good news for me to get so discouraged that I can't, with great passion, proclaim the good news of Jesus."