By Jeff Shelman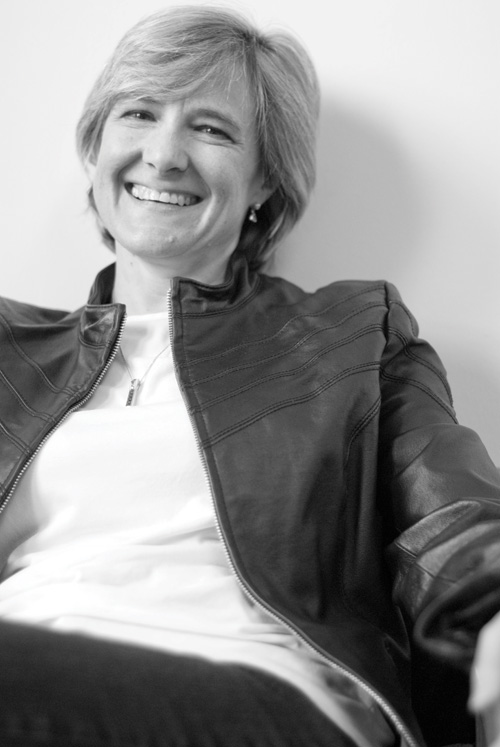 It was a summer of mood swings and wide-ranging emotions. In May, Lisa Jack found herself on the cover of the Los Angeles Times' Calendar section. The Augsburg psychology professor had a camera around her neck as she sat cross-legged and dressed in black in the California sun. Her 1980 photographs of now-President Barack Obama—which were originally published in Time magazine—were about to go on display at a hip West Hollywood art gallery.
She had become the photographer she wanted to be at the time she took those photos when they were both undergraduates at Occidental College. There was now enough buzz about her work for singer-songwriter Seal to check out the photos. Her photographs captured what she has described as Obama's youth and playfulness. And she knew she wanted to continue telling stories through pictures.
That's why Jack began taking photographs again for the first time in many years.
New camera in tow, she spent part of her summer in North Dakota shooting photos of professional rodeo cowboys and the livestock they ride. She began conversations about some photography projects. She was excited about rediscovering what she had once thought would be a career.
"Once I purchased the camera, I went to practice at the [University of Minnesota's] Raptor Center," Jack said. "When I put everything in my computer, I said, 'Oh my God.' I didn't lose any vision."
All was great, right?
Not so fast. Because that part of the summer seems so long ago.
While the 36 photos of Obama are now on display at Occidental, and there is talk of a Paris showing of the photos that until two years ago were housed in a basement box, Jack is far less interested than she was even this summer.
That's because real life suddenly reappeared.
On July 25, doctors told Jack's mother that she has ovarian cancer. In examining her family history, Jack and her sister were then told that they are genetically predisposed for the disease. And because there isn't a way to screen for ovarian cancer, the only way for Jack to protect herself would be to have surgery herself.
"It's an ugly, horrible, heinous disease," Jack said. "They call it the silent killer. I've done a U-turn into a cancer activist. But maybe it was the point in finding those photos, to have some sort of platform."
With Jack needing to help provide care for her mother in New York and planning for a significant medical procedure of her own, Jack was forced to adjust her teaching load at the last minute. Jack was not able to teach an AugSem first-year seminar and is limited to one psychology internship course for upper class students.
"I was adamant that I teach this semester," she said. "I have to have a life. I can't be all cancer all the time. And I love to teach. I have a class of seniors and I know them all. It'll be fun."
Because while Jack's love of photography was rekindled when she unearthed the nearly 30-year-old photos of Obama, she still wants to teach. With an extremely outgoing personality and non-stop energy, Jack loves the classroom setting.
"The majority of students, they enjoy being engaged and challenged," Jack said. "I love challenging them and to be challenged."
While Jack's photos have been seen across the globe and she has been interviewed by outlets ranging from The New York Times to the television show Extra, Jack has never heard a word from Obama or anyone at the White House.
Jack, who has had two chance meetings with Obama in recent years, is all right with that. She understands the job he has to do and that the photos are from a long time ago. And she also has some new-found perspective. The events of last summer took psychology professor Lisa Jack on an emotional journey.