By  Paul C. Pribbenow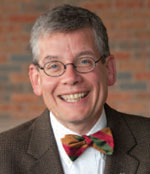 Over the past two years, the Augsburg community has been engaged in a lively and rich conversation about our character and identity. Augsburg last modified its mission statement nearly 20 years ago, and although much that defines Augsburg's distinctive identity as a college of the church in the city has remained constant, there also have been some remarkable changes. The expansion of nontraditional undergraduate programs, several new graduate programs, campus sites in Rochester and Bloomington, significant work around the world, and continuing initiatives to meet the needs of diverse students have combined to make Augsburg a more complex and, I would argue in addition, a more innovative and faithful college.
Given the reality of Augsburg's current missionbased work, the College community explored together how we might state our mission in such a way as to affirm our abiding values and commitments, while also to articulate how the College's circle of influence and impact has expanded. The result of those explorations is a wonderfully nuanced and meaningful new mission statement, enthusiastically adopted by the Board of Regents at its spring 2010 meeting.
Augsburg College educates students to be informed citizens, thoughtful stewards, critical thinkers, and responsible leaders. The new mission statement begins with a bold claim of our aspirations for our students as we send them out to live their callings in the world. As citizens, stewards, thinkers, and leaders, Augsburg graduates bring their education and experience to bear in all aspects of their lives and work.
The Augsburg experience is supported by an engaged community, committed to intentional diversity in its life and work. This important statement of our selfunderstanding is an explicit reference to our values as a participatory community—very much in line with our Lutheran Free Church heritage—dedicated to the common work of educating all of our students. At the same time, we reaffirm our abiding sense of the importance of intentional diversity—diversity of experience, background, and thought—that is supported by our theological, academic, and civic legacies.
An Augsburg education is defined by excellence in the liberal arts and professional studies, guided by the faith and values of the Lutheran Church, and shaped by our urban and global settings. This closing sentence lifts up our core values: excellence across all academic programs, the particular gifts of our Lutheran faith, and the central role that our place in the world plays in the education we offer.
The circle has been widened to reflect how Augsburg embraces its distinctive role in higher education. I could not be more pleased with the participation of the entire community in crafting this new mission statement.
As we move into the next academic year, I am excited to announce an opportunity for all Augsburg alumni and friends to learn more about how our mission sets in place a clear map for our future. Beginning this fall, we will launch Commission Augsburg, a series of conversations that bring together those across the country who care about Augsburg to explore three strategic pathways for Augsburg's work in the years ahead:
We will create and sustain a culture of innovation and excellence.
We will help all of our students to succeed.
We will tell Augsburg's story in word and deed.
Please watch for opportunities to gather and to learn more about the key initiatives the Augsburg community intends to pursue in order to live out its mission and to honor its distinctive saga as a college of the Lutheran Church. Your perspectives will help shape Augsburg's future.