By Jeff Shelman
May 1 Commencement
416 undergraduate day students and physician assistant graduate students
Speaker—Governor Tim Pawlenty
Honorary degree—Father Fernando Cardenal, SJ, educator and activist, Nicaragua
Marina Christensen Justice Award—Jessica Spanswick
Jessica Spanswick graduated with a major in international relations and a minor in peace and global studies. She has been a Sabo Scholar in civic engagement, a Hoversten Peace Scholar, a Peace Prize Forum Peace Scholar, and a Lilly Scholar. Locally, she has worked with grass-roots organizations on environmental issues and has tutored Kenyan and Somali immigrants in a neighborhood program. Spanswick studied abroad in Namibia, and while there she worked on HIV/AIDS events and water rights issues. The Marina Christensen Justice Award honors a student who has demonstrated a dedication to community involvement as characterized by the personal and professional life of Marina Christensen Justice, who reached out to disadvantaged people and communities.
June 27 Commencement
492 weekend/evening and Rochester undergraduate students, and graduate students in business, education, leadership, nursing, and social work
Speaker—Congressman Keith Ellison
Honorary degree—Peter Heegaard, founder of Urban Adventure
Richard J. Thoni Award—Michele Roulet
Michele Roulet graduated with a major in studio art and a minor in religion. In immersing herself in student life at Augsburg, Michele provided leadership, community spirit, hospitality, and innovation within the adult programs. She served as Weekend College Student Senate vice president and president and as a student commissioner in Campus Ministry. Her leadership created the First Word gatherings, an on-campus faith community for adult students. In the wider community, she has worked with programs to combat hunger. The Richard J. Thoni Award is given to a weekend student who exemplifies the spirit of community involvement demonstrated by Rick Thoni's career at Augsburg.
Click to view slide shows and a video of Governor Pawlenty's commencement address.
It's all about family at Augsburg
Families have always been a big part of Augsburg—second- and third-generation Auggies, Auggies following the paths blazed by older siblings, and couples who met at Augsburg and inspired their children to attend.
The June 27 Commencement, however, featured a new twist: two families of parents and children from Augsburg's Rochester location graduating together. The first is a mother, father, and daughter, all earning bachelor's degrees in nursing. The second featured a mother and two daughters who studied business administration together.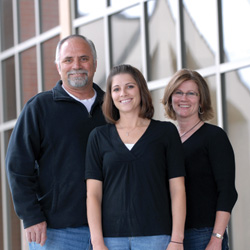 Jeff And Suzi Burt And Crystal Studer
Jeff Burt was the first member of his family to enroll in Augsburg's nursing completion program. He was working at the Mayo Clinic when he began taking classes at Augsburg in 2000. He stopped about three-quarters of the way through the program to allow his wife, Suzi, to enroll in a two-year nursing program at Riverland Community College in Austin, Minn. In fall 2008, Suzi Burt and Crystal Studer, one of the couple's daughters, enrolled at Augsburg, largely because of Jeff's positive experience.
Studer is a nurse at the hospital in Austin. "Augsburg's been great," she says. "It's made me a more well-rounded nurse, and the faculty is phenomenal."
A little more than a year after Suzi and Crystal began, Jeff returned to the program. "Mayo is in the process of going bachelor'sonly for RNs," Jeff says. "If you have an [associate's degree in nursing], you'll be required to go back. I just thought it was the best thing to do."
All three say there are benefits to having family members in the program at the same time. Suzi and Crystal were frequently in the same class, and since they also live across the street from each other in Blooming Prairie, Minn., they were able to share textbooks. They have also encouraged and motivated each other as they worked to balance work, school, and family.
"As a married couple, it's nice to be in the same thing because you know what each other is going through," Suzi says.
While excited to finish, all three found the program both rewarding and beneficial. "It's been better than I thought," Crystal says. "In your first two years, you learn a lot of skills. In these two years [at Augsburg], you learn why we do what we do. The content has all been really useful, and it has inspired me."
Carol Demulling, Sarah Demulling, and Heather Dekok
Carol Demulling and her daughters Sarah Demulling and Heather Dekok all ended up in Augsburg's business administration program for the same reason—they all knew the education they had wasn't going to be enough.
While all three have positions at Mayo Clinic and the two daughters have two-year degrees, they wanted more opportunities for advancement. "When I started work in the '70s, you could have a high school education and work your way up," Carol says. "To make moves now, you need education."
Her daughter Heather was a little more blunt. "I graduated with a two-year degree in business in 2005," she says. "And I realized that a two-year degree doesn't do anything." They all say their Augsburg education has been practical from the beginning. Dekok works in the international office at Mayo Clinic, and what she has learned about different cultures has been immediately applicable.
"I work in an office full of women," she says. "Some of the countries we deal with, they frown upon women in the workplace. You realize why you get some of the attitudes that you do at times." Carol developed a complicated spreadsheet for a class project that is still being used by members of her office in the evaluation of grant proposals.
As they finish at Augsburg, they're happy to have experienced college together and appreciate the people they met through the process.
"I didn't really realize until the last two trimesters how many relationships we've built here," Carol says. "People in the Mayo system, people at IBM. I've really enjoyed that and getting to know these people. We all have something in common."