When Maureen and Harold Thompson realized their daughter Anne was not going to graduate from high school with her friends, they were devastated but not surprised. They knew that something was wrong and that their daughter needed help.
Anne went into treatment for drug and alcohol addiction and then began attending daily recovery meetings. During this second phase of her recovery, she worked hard to complete her high school graduation requirements. Anne impressed her teachers and others with her hard work, and her parents thought the situation was under control. This sense of security and relief quickly faded when they discovered that Anne had relapsed.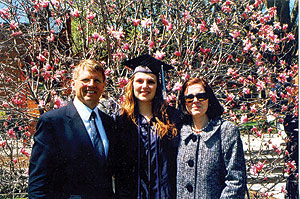 Anne returned to treatment, this time at the Hazelden Center for Youth and Families, where she learned about Augsburg College and the College's StepUP program for students in recovery. Anne entered StepUP in 2004 and graduated from Augsburg in 2008. She is now a graduate student in higher education and student affairs at the University of Connecticut.
"We feel that StepUP has allowed our daughter to attend college, continue with her recovery, and experience college life. Anne has learned to deal with the stresses of projects, schedules, papers, and exams while developing a safe and solid support network. She worked hard in class, and she has worked hard on her recovery. We don't think this could have happened anywhere else."
Maureen and Harold remain thankful for all that Augsburg did for their daughter and continues to do for other students. That's one of the reasons they consistently support the StepUP program, The Augsburg Fund, and more. "The StepUP program reinforces
the belief that each program participant is accountable. They are accountable to themselves, to their peers, and to the StepUP staff. We believe that the program provided an environment that allowed Anne to blossom and grow, and allowed our family to heal."
"StepUP allowed me to go to college," Anne says. "College is hard for students in general, but students in recovery have all the same challenges that others have and more. This program allowed me to have a 'traditional' college experience, which would otherwise be unavailable."
Maureen also noted, "It has been often said that someone with an addiction impacts at least four other people. We believe that StepUP not only helps the student, but it also helps the family, and for that we are eternally grateful."