By all accounts—his own included—sophomore Gottlieb Uahengo '13 had a difficult first semester at Augsburg College.
Making the move to Minneapolis from his home in Namibia meant many changes. He missed his family and friends and got sick five times from the food. He was introduced to Mountain Dew and the effects of over-consumption. "I didn't sleep for several days," he says. And when he witnessed his first snowfall, a fellow student asked him, "Are you alright? You look disturbed."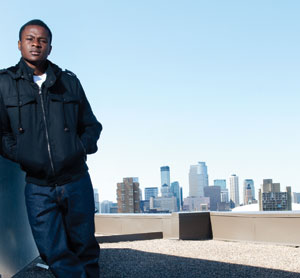 Uahengo is a Legacy Scholarship student. His father graduated from the University of Minnesota and came to work in Augsburg's Physics Department while his wife, Fredericka '90, completed her degree in education. Gottlieb was actually born at Fairview Riverside Hospital but lived most of his life in Oshakati, Namibia, where his father is a pharmacist and his mother serves as the rector of Ongwediva Teachers College.
When it came time to apply for college, Uahengo's father said, "I'm sending you to Augsburg." Because Uahengo wants to be an engineer, his father wanted him to study in a small school with a good physics department. "My father holds professors [Mark] Engebretson and [Jeff] Johnson in high esteem," Uahengo says. "He told me I would get more out of my education at Augsburg than at a large, public university."
His father also told him to be prepared for the challenge of college life. "He said the best way to overcome adversity is to become part of the community, to take a leap of faith." And that's exactly what led to a better second semester and a successful first year at Augsburg for Uahengo.
Greg Holker, Augsburg's men's soccer coach, said Uahengo looked frightened and overwhelmed when the two first met last summer. "I wasn't sure he would amount to much as a soccer player because he seemed frail physically and psychologically," Holker recalls.
After a tentative start, Holker says the first-year player definitely made an impact on the team. "He scored a big goal against Buena Vista and took off in training from that point on," says Holker. "He sought out improvement and soaked up as much information as he could. Rarely do I see a person that determined to learn and learn quickly."
Rebekah Dupont, whom Uahengo calls his mentor, says he displayed the same tenacity in his academics as on the soccer field. Dupont worked with him in Augsburg's North Star STEM (Science, Technology, Engineering, and Mathematics) program. He participated in the calculus workshop, a class in which students work together on challenging problems. He also got involved in a research project, something not many first-year students take on.
"Gottlieb has very high expectations for himself, and I think this made adapting to so many new things all at once a challenge," Dupont says. "As he feels more comfortable and confident, those high expectations and strong work ethic will serve him very well."
In addition to conducting research during the school year, Uahengo is working on a summer project with another student and professor Ben Stottrup of the Physics Department. This fall he will be an officer with Augsburg's International Student Organization and will continue to play soccer. He also hopes to compete on the track team as a sprinter in the spring term.
"When I set my mind to something, it's hard to sway me," Uahengo says. "I am always looking for a way to be engaged."