In 2002 Augsburg received a $2 million grant from the Lilly Endowment to integrate a theological understanding of vocation into the life of the College over a five-year period. In 2007 the grant was renewed for $1 million to cover an additional three years. As of summer 2010, the funding from the Lilly Endowment has ended. The College has now established the Augsburg Center for Faith and Learning in order to sustain a number of the programs of the Lilly Endowment grants and to support new initiatives on vocation.
Mark Tranvik, associate professor of religion and chair of the Religion Department, was director of Exploring Our Gifts. He reflects about the impact of Exploring Our Gifts on Augsburg's curriculum and experience.
Q: Why did Augsburg apply for the Lilly Endowment grant?
A: We should be clear that the Lilly Endowment grant didn't introduce vocation to Augsburg College. Augsburg began as a seminary, and it had a sense of calling embedded into its DNA. Throughout much of its history, students, faculty, and staff came to the College out of a deep sense of calling. They saw their work here as an expression of what God wanted them to do with their gifts and talents. I think some of that sensibility was lost at a lot of our church colleges during the 1970s and '80s, Augsburg included. But the idea of vocation never went away, and the Lilly Endowment money provided the school with an opportunity to bring new energy and imagination to the concept. In other words, it was natural for Augsburg to apply for the grant, given our heritage.
Q: Why do you think the Lilly Endowment grant has been successful?
A: The group who worked on the original application, led by Carol Forbes, Academic Affairs, and Bruce Reichenbach, Philosophy Department, did a wonderful job in making sure the proposal "fit" with the culture at Augsburg. Instead of "top-down" planning, they made sure to solicit proposals from a wide variety of groups on campus. They received more than 30 proposals for projects and were able to whittle that down to 16. When the money actually arrived to fund the projects, a campus-wide conversation had already been going on for some time. In my mind, the genius here is the way this is consistent with the ethos of the school. Augsburg is a college deeply rooted in the traditions of the Lutheran Free Church, and the egalitarian spirit of that church still pervades this community.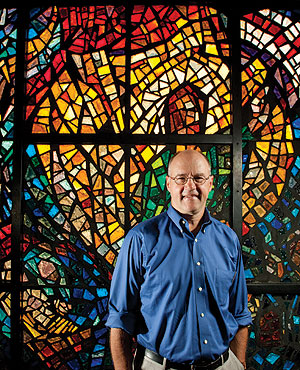 Q: Didn't a lot of schools receive Lilly Endowment grants? What's distinctive about Augsburg's?
A: The Lilly Endowment's initiative on vocation was incredibly generous. More than 80 colleges and universities, many of them church-related, received grants. And to no one's surprise, the grants seemed to work especially well at Lutheran schools. This is because the theology of vocation was developed in new ways by Martin Luther and the other reformers in the 16th century. Those places that trace their heritage back to the Reformation found it easier, in general, to talk about vocation on their campuses.
One of the distinctive things about Augsburg is the way the College has been willing to integrate a theological understanding of vocation into its core curriculum. This has been one of the fruits of our discussion about vocation on campus. All Augsburg students are required to take two religion classes that have vocation at the center—Religion 100 and 200, Christian Vocation and the Search for Meaning I and II, respectively. Furthermore, all students are asked to think about vocation again in their senior seminars. So, you could say that vocation serves as the "bookends" for the Augsburg educational experience. And we also hope that students will be asked in other classes to think about their sense of calling. Of course this will happen, but it's more dependent on the inclination of individual instructors.
Q: What about the specific vocation of ministry? How has the grant helped students who are thinking about working in the church?
A: One program of the grant that has worked well in this area is the Lilly Scholars. Every year, 10 juniors or seniors were chosen to take part in a full-credit seminar dedicated to thinking theologically about vocation and receive a scholarship from the grant. The main prerequisite for the course is to be interested in studying about vocation in-depth. And some of these students do not sense a calling in the institutional church, which is fine. But over half of the participants (about 50 over the eight years) have decided to study theology after receiving their degrees at Augsburg. This is one important way the College continues its long tradition of developing leaders for the church.
Q: It is especially important for colleges to document their successes. Is there evidence that the programs of the Lilly Endowment grant have actually made a difference?
A: Augsburg has been fortunate in that it was selected, along with Luther College and Augustana College of Rock Island (both of whom also had received Lilly Endowment grants), to participate in a study by the Wilder Foundation that assessed how effectively vocation had been integrated into these schools. The results were gratifying. They showed significant progress made in helping students view their lives through the lens of vocation. For example, students who had exposure to Lilly Endowment programs were more likely (50% to 23%) to see their life as a "calling," with a sense of purpose, than those who were not exposed to the grant. Furthermore, 91% of the class of 2007 reported that their understanding of vocation deepened while at college.
Q: The Lilly Endowment grant on vocation seems to be strongly rooted in the Christian tradition. Yet Augsburg also stresses the importance of diversity and the acceptance of people from a wide variety of faiths and backgrounds. How do you answer those who suggest that this stress on vocation is done at the expense of diversity?
A: That's a great question and one that many of us have struggled with during the time of the grant. I think I would answer it on two different levels. First, the emphasis on vocation is a way in which we are trying to be faithful to our mission statement and its claim that Augsburg will be "guided by the faith and values of the Lutheran Church."We are a college of the church, and that is nothing about which we should be ashamed.
Second—and this is the point that is often misunderstood—I would argue that our Christian faith and emphasis on vocation do not lead to exclusivity and the formation of a community of the like-minded. Jesus spent a good deal of his ministry breaking down walls and crossing so-called "forbidden" boundaries. In a similar vein, I would argue that an emphasis on diversity naturally flows from our Christian faith. We are not diverse in spite of being Christian. Rather, we are diverse because we are Christian. Now this can make life messy, especially for those who insist on nice boxes with
neat straight lines. But as Christians we gladly welcome the "world" to our campus and the plurality of faiths and beliefs that come with it. We promise we won't "coerce" anyone to be Christian (as if that would work!), but we do ask that a respectful and public discussion on faith occur. And we also insist that both sides be open to be challenged and changed.