By Wendi Wheeler '06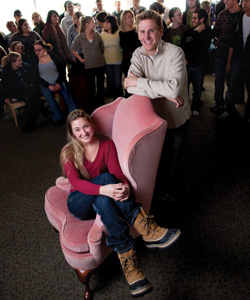 Note—In order to be respectful of the students in the StepUP program, their last names are not used.
Going to college was never a part of Emily A.'s future plans. She dropped out of high school and eventually got her GED. When she first heard about StepUP®, she was in her late twenties and living in a sober house in St. Paul. "I thought my time had passed," Emily said. "College was one of the mountains I just wasn't going to climb."
But she called Augsburg and made an appointment with Patrice Salmeri, StepUP program director. "All the time she was talking to me, I was saying, 'Yeah, yeah. Sounds great,' but I had no intention of applying."
Then she met Chris Belbeck '06, an admissions counselor and a StepUP alumnus. "He asked me, 'What are you waiting for?' and he wasn't taking no for an answer." So before she left campus that day, she had started filling out an application.
Four years later, Emily graduated with honors from Augsburg this spring. "I didn't have any goals when I was using," she says. "But StepUP has taught me that I have amazing drive and potential." Without StepUP, Emily says she doubts she would have even tried going to college.
Since 1997, the StepUP program has helped students in recovery from addiction to alcohol and other drugs learn similar lessons about themselves. To date, more than 400 students from across the nation have participated and have maintained an 85% abstinence rate while in the program. They are successful in sobriety and in the classroom, earning a collective 3.2 GPA at Augsburg.
For many StepUP graduates, the thought of going to college was at one time unimaginable— never mind staying sober in school and getting good grades. But the StepUP community has given many students in recovery the opportunity to contribute to society in ways they never thought they would.
The community is the program
Several colleges and universities sponsor 12-step meetings and provide academic support or counseling services for students in recovery. But StepUP goes further by offering chemical-free housing for students in what they refer to as a collegiate recovery community.
"The community is a safe place where you feel supported," says Scott Washburn, the program's assistant director. The students guard and protect the safety of the community by holding each other accountable.
While they are involved in StepUP, students meet individually with a StepUP counselor each week. They are required to attend two 12-step meetings per week and to maintain an active working relationship with a sponsor. Students also attend a weekly StepUP community meeting where they hear from outside speakers, discuss program business, share service opportunities, and celebrate even the smallest of victories.
"Getting an A on a math test or just making it to the first day of class, those are chances for us to celebrate," says Salmeri. "The little things really make a difference."
Achieving success—in sobriety, academically, and in the community— is part of the StepUP culture. "We build positive community norms that are geared toward succeeding, growing, and doing well," Washburn says. "That's why it's different. That's why it works."
The other component of StepUP that makes it stand out from traditional recovery programs is that the program is constantly shaped by student input. In particular, students serve on the leadership team, which meets regularly with staff to share what is happening in the community and to keep the program moving in the right direction.
"The students really take initiative to make changes for the better in the community," Salmeri says. This mature partnership, where staff and students work together, gives students the confidence to develop into leaders. Salmeri adds, "I can see the potential in them, and it is our role to help them realize it within themselves."
A perfect fit
The idea for StepUP began when two students at Augsburg approached Don Warren, the former director of Augsburg's Center for Learning and Adaptive Student Services (CLASS), to ask for his help. The students shared with Warren how being in college was difficult for them. They struggled not only with the usual day-to-day challenges of college life but also with staying clean and sober.
Warren turned to Dave Hadden, then the educational and vocational liaison at Hazelden, for his help. Washburn, who worked with Hadden at that time, said Hadden had developed an educational and vocational packet for patients coming out of treatment "to get them thinking about their direction in life," Washburn says, but they didn't have a college to recommend.
In fact, Washburn says, "We would discourage young people from going to college straight out of treatment. We told them they needed a year of sobriety first and a really solid foundation."
Warren and Hadden's idea for a residential program that would offer counseling and support proved to be just the foundation students needed to transition from treatment to college. In the fall of 1997, 23 students moved into Anderson Hall to begin college and the StepUP program. Thirteen years later, the program serves 72 students who live in Oren Gateway Center, a chemical-free facility that is also home to the StepUP staff offices.
Washburn believes the StepUP program and its students have flourished at Augsburg due in part to the values shared by the program and the College. "Augsburg's culture is about providing access and helping all kinds of students get the support they need to be successful," he says. "That's perfect for students like ours."
Also, as a private liberal arts college of the ELCA, Washburn says the Augsburg community is open to conversations about spirituality. In 12-step programs, students learn to rely on a higher power or a God of their understanding. "We work really hard with students to help them define their meaning and purpose …" Washburn adds.
Part of that purpose is being of service to others, another value in line with Augsburg's mission. "We help students find a vision and see that no matter what they do, they can make a difference in the world," Washburn says. Making a difference means being of service to the community— not just the StepUP community or the recovery community but at Augsburg, in the city, and throughout the world.
Success through service
Being a part of the StepUP community helps students maintain sobriety because it gives them a chance to help others. Being "of service" is an essential component of any 12-step recovery program, whether it is by sponsoring others, sharing in meetings, or even making coffee.
Tyler P. has learned that success in college can come through helping others, not just from studying. After he faced serious consequences from his drug use, Tyler entered treatment at Hazelden. One of his friends from treatment, the only one he knew who had stayed sober, was in StepUP. Tyler saw that the young man was a good student and that he wasn't getting high or drunk. For Tyler, that kind of life was hard to imagine.
He enrolled at Augsburg in 2008 and now participates in the StepUP community, sharing his experience with other men as a sponsor. "I've earned more As through being of service to others than when I white-knuckled it for eight hours cramming for a test," he says.
In recovery, Tyler has seen students transform their lives. "I've seen guys go from not being able to sweep the floor when they first get sober to being able to run meetings, get on the dean's list, and participate in life."
And Tyler's life has also been transformed. "I was not an all-star student in high school, but I've found a lot of success here." He's been on the dean's list for three semesters and has developed a network of sober friends. Most importantly, Tyler says being a part of the community has given him the chance to practice the principles he's learned in his recovery program.
A new way of living
Salmeri says StepUP also helps students learn that they are leaders and role models, not only for other students in recovery but for all members of the Augsburg community. Students can serve in formal leadership positions in StepUP, in student government, as a member of residence life, or by participating in athletics. But many also become role models to their peers simply by becoming the people they were meant to be.
When Julia G. first learned about the StepUP program, she had only been sober for a few weeks. As time passed and she neared the six-month mark of her sobriety, the minimum requirement for acceptance into StepUP, Julia realized that going back to college was possible for her.
While in the program, students in StepUP are required to live on campus. This meant that Julia, who had been living in a sober house where she was the youngest resident, would now be the oldest woman in her residence hall.
For the first month, Julia says she felt out of place because of the age difference. "I thought I was unique because I had more life experience," she says. "I judged the other girls."
Eventually Julia began to realize she was more like the other students than she had thought. "We all had different experiences, but we also had something very important in common." That sense of belonging helped Julia form "intense, involved relationships" with the other students. "For the first time in my life, I was a trustworthy person. It meant a lot to me that the other women looked up to me."
Today Julia has a degree, a career she calls "fantastic," and a relationship with her nine-year-old son. And she's stayed sober for seven years. "I really turned into myself at Augsburg," Julia says. "StepUP showed me that anything is possible."
Moving in the right direction
Over the years, StepUP has provided a safe, supportive community for hundreds of students. The program has allowed them to achieve the goal of college graduation while also staying clean and sober—a goal that was at one time overshadowed by their addiction. And the confidence students gain in StepUP keeps them going in the right direction after they move on from Augsburg.
Witnessing this achievement is a great joy for Salmeri and the other StepUP staff. "The privilege of my position as director is to witness the growth of each student as they experience the transition into mature adults," she says.
For 10 years, Salmeri says her dream job was to work for Augsburg in the StepUP program. "After eight years of working here, I can still say it is my dream job. I feel honored and humbled to work with the students and their families."
"I am your biggest fan"
Every year the StepUP program celebrates the accomplishments of its graduates— those who have completed their studies at Augsburg as well as those who have completed their residency with StepUP and will move off campus. The StepUP graduation ceremony is a special time set aside to recognize the outstanding achievements of the StepUP students and for the Augsburg community to hear their inspirational stories.
The theme, chosen by the students on the StepUP leadership council, was "I am your biggest fan."
These are sentiments shared by Patrice Salmeri, StepUP program director, at this year's ceremony:
"… let this statement sink deep into your soul. Write it on a rock. Etch it on a tree. I am your biggest fan. I am rooting for you all the way. And it has been this way since your first contact with the StepUP program. Through the ups and downs, the difficulties and celebrations, life's twists and turns—I am your biggest fan!
Your legacy here at Augsburg and the StepUP program has already been left, and it is more than enough! Whether it was a kind word you said or being a consistent friend in another's life, you may never know. But each of you has left their mark on this place and it is forever changed because of your presence."
A tradition at the StepUP graduation is for a student to read from "The Awakening," an anonymous poem about recovery. This is an excerpt from the poem:
You learn that, for the most part, in life you get what you believe you deserve … and that much of life truly is a self-fulfilling prophecy. You learn that anything worth achieving is worth working for and that wishing for something to happen is different from working toward making it happen. More importantly, you learn that in order to achieve success you need direction, discipline, and perseverance. You also learn that no one can do it all alone and that it's OK to risk asking for help.