By Jeff Shelman
So try to jog your memory bank and answer this question:
Just when was the last time you were on the Augsburg campus? And we're talking about really being on campus. You know, park the car, get out, walk around, go into a building. Because giving a little wave when you see the sign atop Mort as you cruise down Interstate 94 doesn't count.
Has it been a year? Two? Five? That's all right. We're not going to judge. Everybody is busy, you don't always get to Cedar-Riverside, we get that.
But we also know that sometimes you just need a little inspiration. And that's why you need to keep reading. Because while you only need one reason to come back to campus and remember the role that Augsburg played in shaping your life, we're going to give you 10. So stop by, check the place out, see how much it has changed.
And be an Auggie.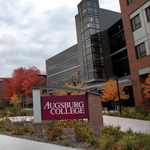 1. Oren Gateway Center
If it has truly been a while since you've been on campus, well, this is Augsburg's new front door. Located on Riverside Avenue, the Oren Gateway Center is the newest building on campus. The multipurpose building has classrooms, residences, offices, meeting rooms, and common spaces. And if you want to learn about alumni programming, our Alumni and Constituent Relations folks are located on the third floor.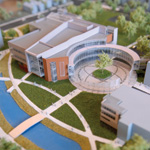 2. Campus model
Yes, we know the Augsburg campus has a new look to it. But it isn't a finished product either. In the lobby of Oren Gateway Center is a model that depicts what Augsburg's campus master plan looks like. You can see where the planned Center for Science, Business, and Religion will go. Once that is built, Augsburg's urban campus will have green space from 20th Avenue to Kennedy Center.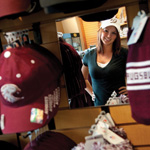 3. Get some gear
Let's be honest, that Augsburg sweatshirt in your closet is looking pretty grungy, isn't it? We can fix that. The Augsburg bookstore in Oren Gateway Center has many ways for you to show off some Auggie pride. A hat for the golf course? Check. A sweatshirt for fall weekends? Yep. Cool workout gear for the gym? We've got that too.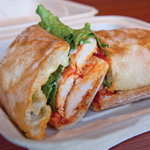 4. Eat
The food available on campus is no longer how you remember it. It isn't mass produced and boring. It actually has, you know, flavor. The folks at Nabo, in Oren, will make a fresh sandwich or salad right before your eyes. There's also homemade soup and even sushi. At the A-Club Grille in the lower level of Christensen Center, the options range from burgers to chicken sandwiches to wings, and fresh fries are an option. Our choice? We love Nabo's Buffalo Chicken Sandwich (left). You'll just need a few extra napkins.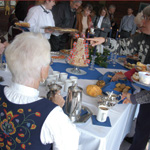 5. Velkommen Jul
On the topic of eating, who doesn't need some sweets as you head into Advent? Stop by campus on Friday, Dec. 3, and take part in the Augsburg tradition that honors our Scandinavian heritage. And if anybody can make treats the way your mother and grandmother did, it is the Augsburg Associates, a group of volunteers who support the College.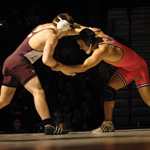 6. Athletic events
For each of the past two years, Augsburg has been the most improved athletic program in the MIAC, and teams are making the playoffs with much greater frequency than ever before. Why not load up the family and watch some of our student-athletes show their Auggie pride? Our defending national champion wrestling team takes on rival Wartburg in the Battle of the 'Burgs on January 18, 2011. There's a home football game each Saturday in September. Other schedules can be found at athletics.augsburg.edu/.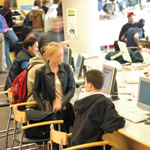 7. Christensen Center
We know how you work. You have a meeting somewhere in Minneapolis, it ends, and you proceed directly to Starbucks or Caribou. Right? If you're near campus, why don't you stop by Christensen Center? It's a little different than last time you were here. Cooper's will brew you up some good java and you can get a wi-fi password at the info desk. And you might meet some current Auggies.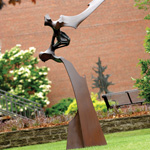 8. Art on campus
There's the Gage Family Art Gallery in Oren Gateway Center. There's the Christensen Center Art Gallery. And there's also a student gallery on the main level of Christensen. Stop by, see some of the cool stuff from local and Augsburg artists in the galleries and across campus. Exhibit information can be found at www.augsburg.edu/galleries.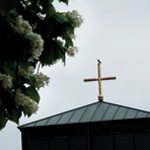 9. Daily Chapel
There are days when you just need a little reflection, a reminder of what is really important. At Augsburg, there is time set aside to do just that. On Mondays, Wednesdays, and Fridays at 10:20 a.m. and on Tuesdays and Thursdays at 11:20 a.m., a 20-minute chapel service is held during the academic year. While daily chapel is considered a given by Auggies, it is very much a rarity for liberal arts colleges. Stop by and take a break from your busy day.
10. Homecoming
If you are only going to make one trip to Augsburg in the next year, make it for Homecoming weekend, Oct. 15-16. Among the highlights is the expanded Taste of Augsburg prior to the football game against Concordia Moorhead. After the game with the Cobbers, stick around for the Auggie Block Party and see old friends and classmates.