Gage Family Art Gallery
FLOW CHART: DRIFT by Joe Page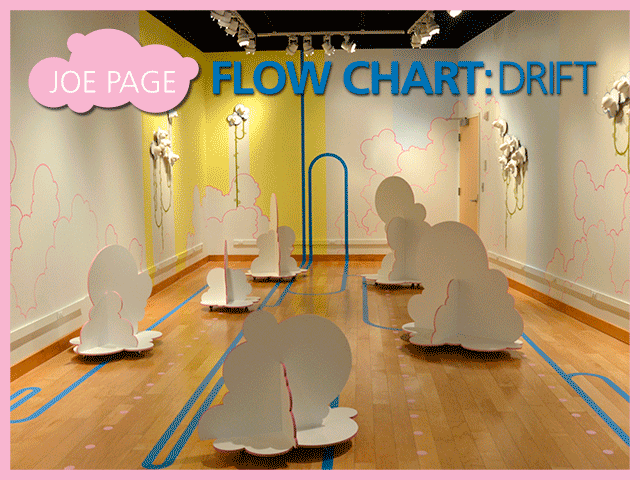 The pop-infused, mixed media installations of Joe Page's "Flow Chart" series propose landscapes that are both physically interactive environments and distant cartographical maps. Fluctuating pathways, points, and vibrant color fields sprawl in all directions, propelling the viewer along an immersive journey of varied rhythm, scale, and space within the gallery.
November 4 – December 18, 2014
Artist Talk: November 3, 8:30 – 9:30 a.m. Oren Gateway Center, Room 113
Artist Bio: Joe Page received his BA in Studio Art from Knox College in Galesburg, IL and his MFA in Ceramic Art from the New York State College of Ceramics at Alfred University. He currently lives and works in Edwardsville, IL where he is head of ceramics at Southern Illinois University.
Artist Statement: The escapist allure of immersive environments drives my work, orienting the viewer in a place of comfort and curiosity. The vibrant colors, reductive imagery, and illustrated movements within the "Flow Chart" series of installations are deceptively simple, derivative of early video games, pinball machines, mass transit maps, and schematic diagrams. Within this framework, one soon begins to uncover the world's underpinnings: a rules-based system of sculptural parameters, compositional logic, and spatial relationships.
Gage Family Art Gallery – map
Hours: M – F, 8 a.m. – 8 p.m.; Sat. & Sun. 9 a.m. – 5 p.m.
Image: Flow Chart: Vortex, porcelain, vinyl, polystyrene, mdf, wire, 2014
Christensen Center Art Gallery
Entrance to Wood
Stephanie Hunder
Hunder creates images that are records of actual objects – branches and grasses inked and pressed into paper with an intaglio press or recorded as photograms on sensitized paper. Although mimicking scientific recording in some ways, the resulting prints are gestural and expressive, forming a subjective place within a skeleton of reality.
Reception: Friday, November 7 5:30 – 7:30 p.m.
November 3 – December 18, 2014
Artist Bio: Stephanie Hunder teaches printmaking and digital media at Concordia University in St. Paul, MN, where she is Gallery Director and Professor of Art. Originally from Minnesota, she received her BFA (1993) and MA (1997) from the University of Wisconsin–Madison and her MFA (2000) from Arizona State University. Hunder's prints depict natural objects, such as plants and insects, sometimes in conjunction with manmade structures. Her work investigates the relationships between form, function, and meaning, presenting imagery that could be seen as iconic, symbolic, or scientific. She uses a variety of digital and photographic printmaking media, altering objective-style photographs with personal marks and subjective colors.
Artist Statement: Natural forms speak to us in metaphors – a moth emerging from its cocoon, seeds blown on the wind… Nature holds a place in our most basic understanding of the world and forms the foundation for the language of our thoughts. The subjective, inner world of the mind mimics the objective, outside world – nature, bodies, spaces. I use printmaking and photography to make a record of actual objects, yet I find the resulting prints expressive, gestural and mysterious. Collaged together, they question pictorial space and natural symbolisms –linear branches physically carve and emboss the flat paper, then fall into deep illusionistic shadows, forming a subjective place within a skeleton of reality.
Christensen Center Art Gallery – map
Hours: M – F, 8 a.m. – 8 p.m.; Sat. & Sun. 9 a.m. – 5 p.m.