Gage Family Art Gallery
Tara Sweeney
CLOSE TO HOME: A Visual Journal
An almanac of observations in watercolor and ink paired with original text explores the extraordinary in the ordinary.
August 25 – October 23, 2014
Reception: Friday, Sept. 5, 5:30 – 7:30 p.m.
Artist Talk & Demonstration: Tuesday, September 9, 12-2 p.m., Adeline Johnson Conference Center, adjacent to gallery, first floor of Oren Gateway Center
Studio visit with Tara Sweeney
Artist Bio: Tara Sweeney was born in Minnesota and lives in Saint Paul. She has worked in the Twin Cities' visual arts community for over thirty years. Her distinctive body of work explores figure, identity, and sense of place. She is associate professor and art department chair for Augsburg College, where she has been teaching since 1991. Prior to this she was executive art director for Minneapolis –St. Paul Magazine and an award-winning book illustrator and designer. She earned a B.S. in Studio Art and a B.S. in Textile Design from the University of Wisconsin (1978), and an M.F.A. in Visual Studies from the Minneapolis College of Art and Design (1997). Her work has been widely exhibited and is held in public and private collections.
Artist Statement: Combining art making and writing is integral to this intimate series in watercolor and ink. To be honest, I didn't intend to continue for six years when I began "Close to Home" late in November of 2009, but it was so much fun that it acquired a life of its own. I don't consciously try to find subject matter. I wait until something captures my attention. The more ordinary it is, the better. Each entry begins with drawing and writing from direct observation. Reflection also plays a crucial role. To tell my stories I stay inside the lines if it works and invent freely when something else works better. It requires that I pay close attention and stay open to possibility until the process of observation, memory, and invention feel complete. Creating this way is messy, surprising, and deeply satisfying. tarasweeneyart.com
Part of the Fall Art Tour!
Gage Family Art Gallery – map
Hours: M – F, 8 a.m. – 8 p.m.; Sat. & Sun. 9 a.m. – 5 p.m.
Christensen Center Art Gallery
THE FAIR UNKNOWN
Josie Lewis
Using thick layers of resin and fragmented fashion magazines, Josie Lewis creates intricate dimensional collages that reference cellular biology, starscapes, kaleidoscopes, and explosions.
Reception: Saturday, October 4, 1 – 5 p.m. Part of the Fall Art Tour!
September 2 – October 23, 2014
Artist Bio: Josie Lewis was raised in northern Minnesota on the shores of Lake Superior in an octagon shaped house. Her work has been widely exhibited in the Twin Cities area and nationally. She has an MFA from the University of MN and currently lives in North Minneapolis with her husband and daughter.
Artist Statement: I make semi-sculptural slabs of epoxy resin and found paper collage. I use cut fashion magazine images that are intricately layered between multiple pours of resin. My attraction to these magazines consists of a complex push-pull of distaste mixed with formal relish. Like an archivist, I dig, sift and edit. The magazine is milled into a kind of analog pixilation wrought by my scissors and utility blade. I seek to draw attention to the source material while simultaneously damaging it almost to the point of elimination. The glossy magazine becomes a glossy and heavy slab; shredded, exploded, inside out and backwards. I am administering a its rebirth to a more perfect object: solid, definite, personal, precise and terribly permanent. The resin slabs are seductively handmade and aggressively beautiful. josielewis.com
Christensen Center Art Gallery – map
Hours: M – F, 8 a.m. – 8 p.m.; Sat. & Sun. 9 a.m. – 5 p.m.
Student Art Gallery
FINE: Reflections on Resilience
A collaboration between Augsburg College & PEASE Academy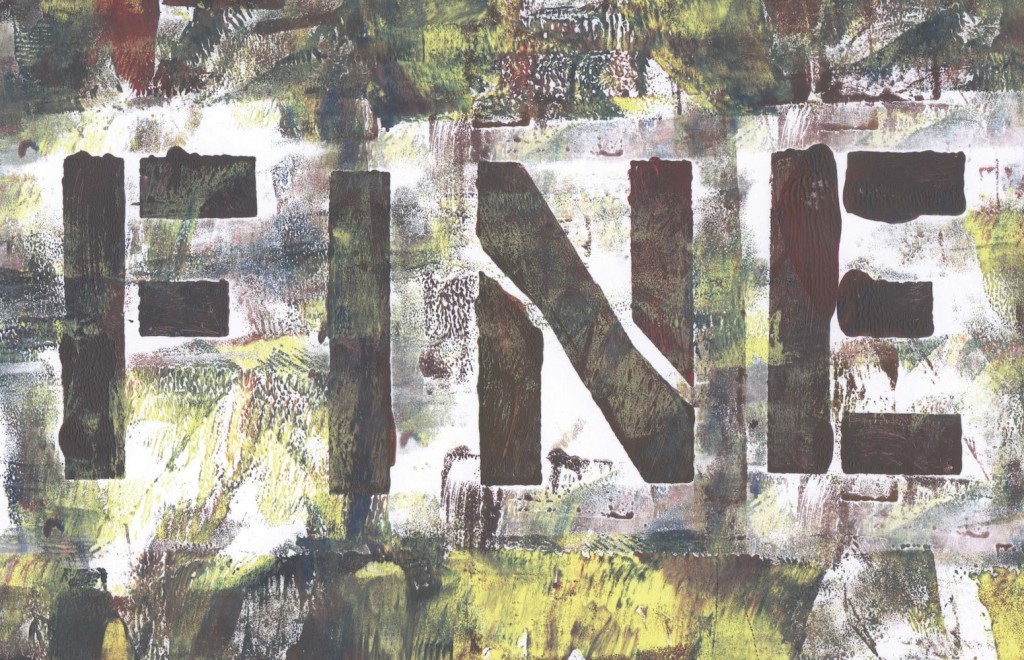 FINE: Reflections on Resilience
Reception: Friday, September 5, 6 – 7:30 p.m. Music by the Kennedy's: Meg Miura and Dave Chapman
Over spring semester, 2014, Augsburg College Graphic Design I and Typography students collaborated with students at PEASE Academy, the oldest sober high school in the U.S., to explore what it means to be resilient. Themes such as addiction, recovery and common challenges that all humans face were expressed through creative writing, collage and the design of a zine.
This project was made possible with support from University of Minnesota's Buckman Fellowship for Leadership in Philanthropy. Fellows Lois Libby Juster and Julie Longo conceived and facilitated this project.
Lois Libby Juster has a Soul Centered Energy Mind/Body Integrated Health and Healing
practice. She uses art as a tool for both her clients and herself to access moments of transformation that mark the path of healing. As a Buckman Fellow for Leadership in Philanthropy at the University of Minnesota, she used poetry and collage as tools for healing in her project. Her focus has always been to make a difference in people's lives in a way that will make the world a better place for everyone. Her passion for making a difference in the world has taken her to many countries to be an advocate for human rights, education and women's issues. At 80, Lois Libby continues to be an active learner, teacher and healer and is collaborating in the writing of a book on WellALLogy.
Julie Longo is a practicing graphic designer and Graphic Design Adjunct Faculty at Augsburg College, University of Minnesota College of Design, and Minneapolis College of Art and Design. Her primary professional and educational interest is in collaborative community-based design. Longo is also an active member of AIGA and serves on its Design for Good Committee.
Student Art Gallery, Christensen Center – map