By Wendi Wheeler '06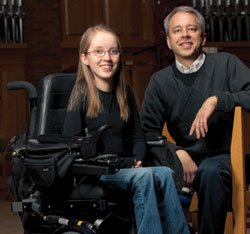 For Katie Nelson '14, the Augsburg experience is just beginning. But for her dad, Rev. Karsten Nelson '83, it is simply continuing.
When it came time for Katie to consider college, of course her father suggested Augsburg. In fact, he had been grooming her to be an Auggie since she was a child. "We were planting the seed when she was three years old," Karsten says, "by throwing Augsburg sweatshirts on her."
But Katie was reluctant to enroll at her dad's alma mater. On the day she came to campus for a visit, it was a dreary fall day. "I was thinking, 'You know, dad, this is clearly your school. How in the world would I ever make it mine?'"
Karsten says he remembers that first visit. "I was excited to give her a ride back home and find out what she thought. When she said she didn't think it could be her school, it was one of those disheartening times where you say, 'Oh no.'"
After visiting several other area schools, Katie decided on Augsburg in part because of the location and the strong sense of community, but also because of its disability programs and attention to access for disabled students.
"I love that Augsburg has tunnels," Katie says. She knew she wanted a small campus with a close-knit community, a diverse campus with many opportunities, and an open and friendly place. "And Augsburg was definitely it."
In her first year of college, Katie has certainly made Augsburg hers—making new friends, getting involved as a tutor for neighborhood Somali residents, and even hosting weekly Disney movie-watching parties in her dorm room.
Karsten Nelson was a student at Augsburg in the early 1980s, studying communication. He went on to graduate school at Luther Seminary and currently serves as pastor at Our Redeemer Lutheran Church in St. Paul. He has also served on Augsburg's alumni board.
"There are a number of changes," he says, noting that the buildings, the diversity of the student body, and the academic atmosphere are different than when he was in school. He also likes to tell Katie that the kitchen of the house where he used to live is in the same spot as the front doors of Oren Gateway Center.
At the same time, Karsten says, a lot of things have stayed the same. "It has continued to be a place that has a great grounding of faith for people to explore and to wonder and to be challenged," he says.
Today Karsten is enjoying returning to Augsburg and seeing it through his daughter's eyes. "It's really fun to see Katie in her own setting with friends and connections." He says that after one semester, Augsburg has exceeded his expectations in providing a sense of community, intellectual stimulation, and a foundation in faith for his daughter, "as well as her own growth and independence," he adds. "Augsburg has drawn out more from Katie than we saw for her." Katie receives services from
Augsburg's ACCESS Center, a unique program that provides services and support to students with documented physical disabilities. Her dad is grateful for the people who have provided assistance to her and allowed her to find independence. Katie says that not only the ACCESS staff but also her personal care attendants, her classmates, and people from the community are supporting her. "I can do almost anything on my own, and I have a lot more freedom to decide my own fate."
Both Katie and Karsten think of Augsburg as their home away from home. "It has been for me," Karsten says, "and I think it is becoming that again."