By WENDI WHEELER '06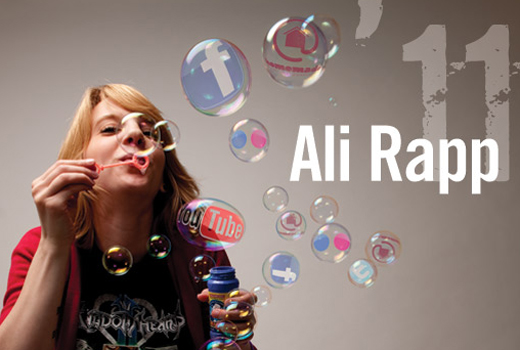 If you're a friend of Ali Rapp '11 and weren't a frequent visitor to the communication and film studies office where she worked on campus, you maybe "saw" her on Facebook and Twitter. And if you didn't attend a class or go to a local restaurant with her, you may have kept up with the goings-on of Ali Rapp's life—and maybe still do—through her blog, "No, I am a Cat."
Rapp was the social media intern for Augsburg's admissions office since 2007. In this position, she maintained her own blog and managed other student bloggers on Homemade, the College's unobstructed window on student life. The student bloggers kept prospective and current students entertained and up-to-date with real-life posts about classes, favorite professors, internships, experiences abroad, papers and projects, social events, and general commentary on life as an Auggie.
Homemade follows a national trend among college admissions offices to engage and recruit students using social media. A May 2009 article from The Chronicle of Higher Education cites data from the Center for Marketing Research at the University of Massachusetts Dartmouth. It shows that in fall 2008, 61 percent of admissions offices were using social-networking sites and 41 percent had blogs, up from 29 percent and 33 percent, respectively, in 2007.
Rapp thinks Homemade is an easy way to give new students a view of Augsburg that they might not get through visits with admissions staff. "Incoming students aren't dumb," she said. "They know that things go on that no one talks about. I think they appreciate our honesty."
Staying afloat in the social media bubble is more than writing and editing posts and reminding bloggers to blog. It's also about using other social media tools such as Facebook and the microblog tool Twitter to raise awareness of the blogs. Throughout her internship, Rapp became more adept at promoting Homemade using unique accounts on those social media sites.
Rapp said the key to staying on top of social media is to remember that it is always changing. "For me it's a matter of realizing I can't stop learning. If I stay off of Twitter and Facebook for too long, I will lose some of it."
To be sure, social media is growing in importance not only for recruiting new students but also for keeping current students, alumni, donors, faculty and staff, and the community engaged in the life of the College. Many campus departments including the Enrollment Center, Campus Kitchen, the bookstore, and the dining service rely on social media to keep students informed. Auggie Eagle is on Facebook, too.
In the fall, Rapp will begin graduate studies at the University of Minnesota in communication studies with a focus on critical media studies. She hopes to continue research started as an undergraduate on computer-mediated communication and to explore the role of social media in the communication studies field.
And just in case you're wondering, "No, I am a Cat" has no meaning. At least none that Rapp can remember. She doesn't have a cat at her Minneapolis home. She does, however, have a dog named Per. If you were following her social life through social media, you may have read about him on her blog, too.