By Wendi Wheeler '06 and Don Stoner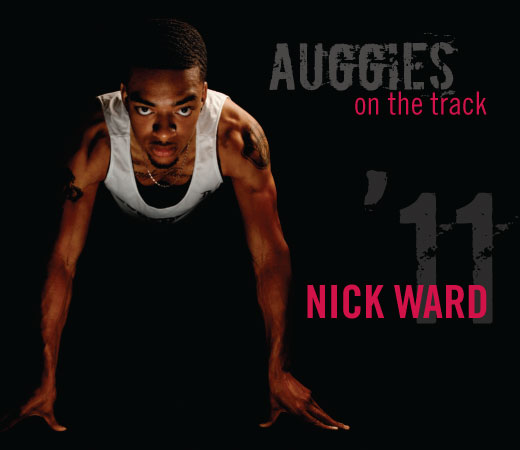 At Augsburg, Nick Ward '11 worked hard to be an all-around student-athlete—one who was as dedicated to his studies as he was to setting records on the track. In his last year of college, he put in extra time to add one more accomplishment to his list: All-American athlete.
A physics and mathematics major originally from Milwaukee, Wis., Ward says he had no intention of participating in college track and wanted instead to focus on academics. Then a couple of his first-year friends talked him into joining the track team.
Augsburg track and field coach, Dennis Barker, says Ward was a very coachable athlete and a good listener. "He always tried to absorb and understand the concepts behind what I asked him to do," Barker said. "I think that's partly the way he thinks as a physics student."
Barker was impressed with Ward's commitment. "I don't know anyone who studies as much as he studies," Barker said. He speculates that track offered a chance for Ward to let loose after spending long hours in the lab and the library. "I think track and field maybe comes more naturally to Nick than physics, but that never stopped him from excelling," Barker said.
Being a member of the Auggie track team turned out to be a good choice for Ward. One of the top men's sprinters in school history, he earned his first trip to national competition this season when he competed in the men's 55-meter dash at the National Collegiate Athletic Association (NCAA) indoor championships in March in Columbus, Ohio. In the preliminaries, he fell just one-thousandth of a second short of reaching the eight-person finals—and earning All-American honors—with a 6.448-second finish.
In 2011, Ward won the conference titles in the men's 55-meter dash (for the third straight season) and men's long jump (for the second straight year) at the Minnesota Intercollegiate Athletic Conference (MIAC) indoor championships, while finishing second in the men's 100-meter dash and winning a conference title as part of the 400-meter relay at the MIAC outdoor championships.
At the NCAA outdoor championships in May in Delaware, Ohio, Ward clocked a time of 11.07 seconds in the 100-meter dash to record a 20th-place finish in the event. As one of the top sprinters in Augsburg history, Ward ended his career having earned seven MIAC titles, 12 All-MIAC honors and eight All-MIAC honorable-mention honors, to go along with eight school records.
Off the track, Ward completed his studies with a 3.2 grade point average and conducted summer research in physics as a McNair Scholar and also through the North Star STEM Alliance program. He credits his academic success to faculty and staff who encouraged him, namely his physics adviser Ben Stottrup, Tina Tavera from the McNair Scholars program, and Rebekah Dupont who advises North Star STEM students at Augsburg.
"They pushed me throughout my whole college career, making me apply for internships and for research opportunities off campus. I guess they motivated me to keep going," he said. Ward applied to three graduate school programs and was accepted into the master's program in electrical engineering at North Carolina Agricultural and Technical State University in Greensboro.
"Nick has such a great attitude and is always so excited about the opportunities he has," Barker said. "I think he feels very fortunate to be at Augsburg, studying in a stellar physics department and being on the track team. I think he's enjoying life here."
After four outstanding seasons and a successful academic career, Ward's goal for the end of the season was to be named an All- American in the 100- and 200-meter dashes and in the long jump. Unfortunately his name was not on the NCAA Division III list, but that doesn't change the fact that Nick Ward is an impressive student and athlete.
For Ward, a somewhat shy young man, talking about his accomplishments is one thing that does not come easily. "I guess I'm just trying to be an all-around guy," he said.