By WENDI WHEELER '06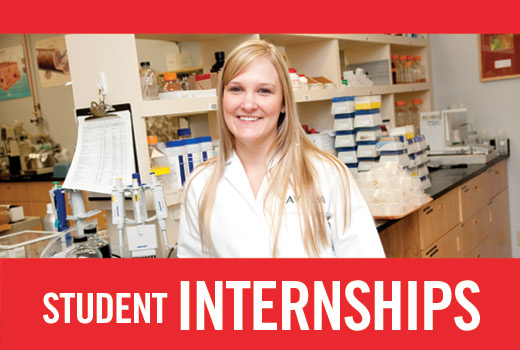 INTERNSHIPS, ONCE A NECESSARY STOP ON THE CAREER PATH OF ASPIRING PHYSICIANS, ARE NOW COMMON FOR MANY COLLEGE STUDENTS. WE TALKED TO FOUR AUGGIE INTERNS ABOUT WHAT THEY ARE LEARNING OUTSIDE OF THE CLASSROOM.
INTERNSHIPS PROVIDE VALUABLE OPPORTUNITIES for college students to gain hands-on experience in their fields. In addition to practical training, internships can give students an inside view of a business or industry and help them broaden their professional networks. The internship experience often validates a student's career choice, but it can also lead them to consider options they hadn't before.
Today an internship is part of many students' college experience and perhaps a must for those hoping to be hired after college. According to a May 2011 Washington Post article, internships are common for 75 percent of U.S. college students.
There are a number of reasons why students should and do take on internships, said Lois Olson, executive director of the Clair and Gladys Strommen Center for Meaningful Work at Augsburg. "Students get excited about what they are learning in the classroom and want to apply it in another setting." Often, she said, students will tell her that an internship experience helps them better understand lessons from the classroom. "They say, 'Now I understand why we needed to learn that.'"
One of the most significant reasons for doing an internship relates to getting a job after college. "A prominent message from employers is that they want practical applied experience related to a student's major on their résumé," Olson said. "They want to know they are making a good hiring decision."
In fact, completing at least one internship during college can have great value beyond the learning experience. According to the 2010 Student Survey published by the National Association of Colleges and Employers, 42 percent of graduates with internships who applied for a job received an offer compared with only 30 percent for students who had no internship experience. In addition, students with internships tended to receive higher starting salary offers.
As for internships leading to a job offer, Olson said technically a job cannot be promised in an internship situation. "Most students hope it will lead to a job," she said. Olson added, "The reality is that many organizations will look to their interns to fill open positions should the opportunity arise."
The prominence of internships and the rise of importance in the hiring process means students should start thinking about an internship early. Olson said students who want to do an internship in their junior year should start the process of planning in their sophomore year. "The competition has really changed. It's not as easy as making a phone call anymore," she said. Because the process takes longer, Olson encourages students to dedicate as much time and attention to it as they would when applying for a job.
Here we profile four students whose unique and challenging internships have given them insight into their chosen career fields and also helped them grow as future leaders.