By wendi wheeler '06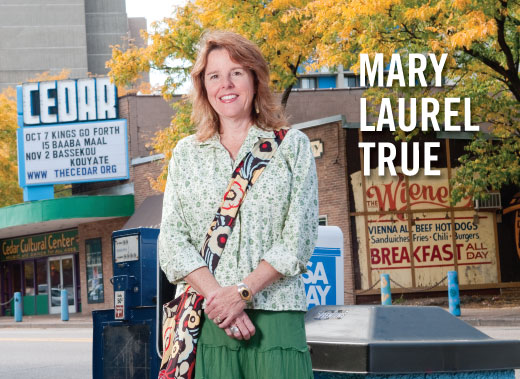 Mary Laurel True conducts business wherever she goes—whether she's headed to lunch at the Afro Deli on Riverside and 20th avenues, walking across campus for a meeting with a faculty member, or on the way home in her bumper-sticker-clad car. That's because True's "business" is connecting with the community, and as a 20-year resident of the Seward neighborhood, she has a lot of contacts.
True's relationship with the neighborhood and Augsburg began when she was still a college student at St. Catherine University. In 1979, she traveled to Cuernavaca, Mexico through the Center for Global Education. She later moved to the West Bank and became involved in local politics, and then she returned to Seward in 1989 after graduate school.
True was hired by Augsburg in 1990 as the coordinator of com- munity service learning. "At the time," she said, "nobody really knew what that meant for a college." Her job began by finding ways to add service-learning experiences to the curriculum, but she said it has morphed into much more. "I see myself, and I think the College does too, as someone who sees what's going on in the community and brings that to campus but also sees what the College has and brings it to the community."
Today, True calls herself a "resource broker" between Augsburg and the community. Her role as director of community service-learning involves connecting faculty to people and organizations where students can not only be involved in service but also meet their professors' learning objectives.
To that end, True partners with faculty in departments including athletics, biology, education, English, environmental studies, mathematics, physics, religion, sociology, social work, and studio art. She connects them to organizations such as Bethany Lutheran Church, Brian Coyle Community Center, Mixed Blood Theatre, Minnesota Indian Women's Resource Center, Our Saviour's Housing, and the Seward Montessori School.
True said she sees her role as a partner to the faculty, helping them become engaged with the community. "They use the community as a text," she said. She noted that the faculty's commitment to engaging with the world makes her work easy and enjoyable. "Our faculty come here because they want to be in the city. They believe we have a lot to learn from the community," she said.
As a Seward resident, True has become deeply involved with neighborhood organizations and causes. Because she is a neighbor to the organizations with which Augsburg partners, she feels it is important that she be trustworthy and committed. "If you spend most of your time in the community that you are going to be engaged with, then not only do you understand it deeply but you're also much more accountable."
True demonstrates her commitment through volunteer work with local organizations, including Bedlam Theatre, the People's Center, the East African Women's Center, and the Somali American Education Center. As an artist, she is also interested in the local music and arts scene, and she and her husband are involved with the Seward Co-Op.
"I really love this institution," True said. "I believe in the work that I do because I think Augsburg really walks its talk. I feel so proud of this place and of how the community values who we are and what we do here."
So if you see Mary Laurel True out talking to Somali women from the neighborhood resource center or stopping into the Afro Deli for lunch, she isn't out of the office avoiding work. She is simply doing her job.