By Wendi Wheeler '06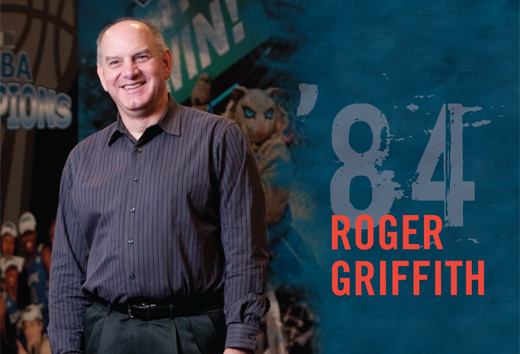 Last season, he didn't make any three-point shots, pull down any rebounds, or have any assists on the court. But Roger Griffith '84, executive vice president of the Minnesota Lynx, did have a great season—in part because the Lynx brought home their first championship title, and in part because of the team's dedicated fans.
Griffith came to the Timberwolves franchise in 1994 as a finance officer. When the Lynx, Minnesota's Women's National Basketball Association (WNBA) team, came to the state in 1999, Griffith took on the role of executive vice president. In that role, he is responsible for making decisions about the head coach and working with the coaching staff on player and personnel relations. He also maintains the team roster and oversees scouting and drafting functions as well as the signing of free agents. Basically, he said, his work supports the coaches so that they can focus on coaching.
And that is how he contributed to the Lynx' winning 2011 season. In October, the team completed its season, beating the Atlanta Dream in a three-game sweep of the WNBA championship series. It was the team's first championship and first appearance in the playoffs since 2004.
"The championship game was very nerve-wracking," Griffith said. The team was behind at half-time, but Griffith said they weren't worried. "We had always been a good second-half team, and we knew we had the skills and talent to pull ahead." They did, but nearly lost their lead in the final minutes of the game.
"It was stressful," Griffith said, "but it was also fun and exciting to see the large number of fans who traveled to Atlanta to support the team."
Griffith said the Lynx fans are one of the best parts of his job. "Last year, through the whole season, it was great to be able to sit in the stands and look away from the game to see how much the experience meant to the people," he said. "Our fans have been extremely loyal and supportive, and they got their payoff when we took the championship title."