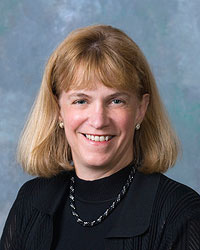 Jodi Harpstead, chief executive officer of Lutheran Social Service of Minnesota, was elected chair of the Augsburg College Board of Regents at its May 2012 meeting and began her term on July 1.
As chair of the governing board of the College, Harpstead will play a key leadership role in Augsburg's planning and fundraising initiatives. She will guide the Board's oversight of the College's strategic priorities, including:
Helping define the plan to build a signature academic building, the Center for Science, Business, and Religion;
Ensuring the quality and relevance of the academic offerings; and
Monitoring the development of a long-range enrollment plan for the College.
Harpstead has served on the Board of Regents since 2005.
In addition, the Augsburg Corporation at its September meeting elected four new members to the Board of Regents. Each member was elected to a four-year term. Newly elected Regents include:
Jennie Carlson, executive vice president of human resources for U.S. Bancorp;
Pam Moksnes '79, management consultant;
Curt Sampson, chairman and director of Canterbury Park Holding Corporation; and
Steve Wehrenberg '78, chief executive officer of Campbell Mithun.
Regents elected to second, four-year terms include Mark Eustis, Alexander Gonzalez '90, and Eric Jolly. Anthony Genia '85 was electedto a third, four-year term.
Thank you to Philip Styrlund '79, who retired from the Board of Regents after 12 years of service to the College.