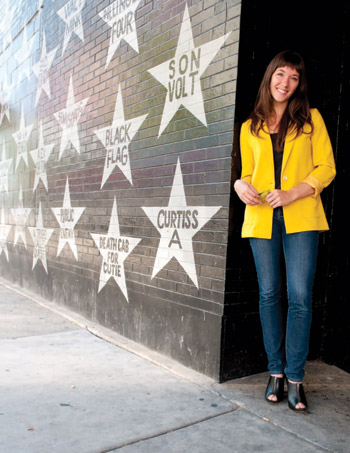 Since her graduation from Augsburg College, Sarah Elhardt '06 has gone from playing piano and French horn arrangements in Hoversten Chapel and Sateren Auditorium to performing experimental, orchestral indie rock at concert venues and music festivals across the United States.
In 2008, the multi-instrumentalist joined Minneapolis-based band Cloud Cult—a nationally acclaimed group recognized by Rolling Stone magazine for its commitment to the environment
Elhardt said her music education at Augsburg prepared her for performing on three instruments and singing during Cloud Cult shows, but she laughed when she acknowledged that during her time at the College she was more accustomed to "playing gospel praise" than rock music.
Preparation for meaningful work
Elhardt enrolled at Augsburg because she wanted to continue her family's tradition of attending a private Lutheran college. Originally from a northern suburb of the Twin Cities metro area, Elhardt sought to establish roots in the art and music scenes of Minnesota's most urban city.
She declared majors in music and marketing communication—degree programs that allowed her to develop skills required in a variety of careers. "I was always trying to figure out how music performance, teaching, and arts administration could be a part of my life," she said.
After graduation, Elhardt worked in arts administration at the Minnesota Orchestra and the Dakota Jazz Club. In 2007, she founded her own piano studio through which she instructs more than 40 students. Teaching allows Elhardt to positively impact her community while sharing her passion for music with a younger generation.
Yet, Elhardt said she also felt called to use her musical talents for performance. The opportunity to join Cloud Cult aligned with her vocational goal and her desire to be a thoughtful steward of the Earth's environment.
Cloud Cult: Music and mission
Cloud Cult, formed in 1995, was described in a 2008 Rolling Stone article as "extremely environmentally conscious: They tour in a biodiesel van, record in a geothermal-powered studio, and even printed their liner notes on recycled paper with nontoxic vegetable oils."
The band's green focus resounded with Elhardt. "I had found a way to play music and love playing music," she said. "I'm sharing a positive message around the world."
Cloud Cult performs in venues across the U.S., and many of the shows occur in environmentally friendly cities such as Boston, New York, Portland, and Seattle. Elhardt joined Cloud Cult on stage in Chicago's famed Millennium Park this past summer, and few venues seem a more perfect fit for a performance by the band. Millennium Park's creation transformed more than two dozen acres of
industrial wasteland into a world-class center for art and music. Cloud Cult crafts multimedia art during each of its performances, and the eight-person group includes two trained artists who start with a blank canvas at the beginning of each show, which adds a visual aspect to the concert experience.
Cloud Cult performances are opportunities to mix art forms, indie-rock, and environmental activism. Band members like Elhardt see their openhearted songs as a call to action toward a greener world.
"It's music with a purpose, not just another rock band," she said.