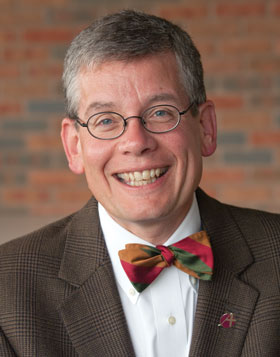 Campus is still buzzing with excitement about the generous $10 million donation that will support the Center for Science, Business, and Religion. This unprecedented gift profoundly honors the important work we do at Augsburg College, and it builds on a growing trend of external recognition for the role Augsburg plays in our community.
Another testament to Augsburg's value was earning the National Society for Experiential Education's 2012 William M. Burke Presidential Award for Excellence in Experiential Education this past fall (see "Around the Quad" in the fall 2012 Augsburg Now). The award honors the College's long-standing commitment to experiential learning—reaching across decades from the legends of our faculty, including Joel Torstenson, Vern Bloom, Garry Hesser, Mary Kingsley, Frankie Shackelford, and countless others, to a newer generation of teachers and scholars who come to Augsburg intent on ensuring that this distinctive educational experience will continue for future generations. I am proud to be their partner in this important work and to tell their stories far and wide.
Augsburg's commitment to engaging in and learning from the world is one that the College has sustained even through very difficult times. Four years ago, when Augsburg student Ahmednur Ali was fatally shot as he left the Brian Coyle Community Center where he was tutoring Somali junior high students, was one of those times—a time of immense sadness that challenged our mission and character as a College dedicated to serving our neighbors. It is fair to say that fear and anxiety could have led us to pull back from our community, but that is not what Augsburg did. Certainly we took the time we needed to heal, but then we stood together and recognized that our work in the neighborhood—work that is at the heart of our academic mission—was more important than ever, and that it was critical for us to return to our work so that our entire neighborhood might be safe, healthy, and prosperous.
And that—I am proud to say—is what we did. We formed a neighborhood partnership to address security and economic development and infrastructure needs. We forged additional partnerships with neighborhood groups and community agencies. And we spent time together, doing the work of improving our community.
Today, I can firmly attest that our neighborhood is safer, stronger, more vibrant, and more united than ever before. That, to me, is what our commitment to experiential learning is meant to achieve: education for our students, of course, and also a safer and more just community for all of us who live and work here.
Each fall, I offer our incoming students a simple message about "what is required of them" as they join our community. One of those requirements, I tell them, is to "do the work." Yes, the work assigned to them, but even more so, the work that they discern and pursue as important and meaningful. Our mission at Augsburg—"to educate students to be informed citizens, thoughtful stewards, critical thinkers, and responsible leaders"—is not just a set of nice aspirations, but a challenge to all of us to do the work that the world so needs done.
This issue of Augsburg Now includes many examples of the work our students and alumni do—on campus and in the world. I couldn't be more proud of our commitment to real-world experiences—a commitment at the heart of our mission.
Auggies take their studies out into the world and enrich both their learning and the world around us. Our location, our active and highly connected faculty, our dedicated and generous donors, our commitment to linking the liberal arts and professional studies, and the important role Augsburg plays in the Twin Cities and around the world—all of these provide our students with experiences that deepen their learning and their preparedness for life beyond college. That's good for our students, and it's good for the communities where Auggies live and work.
PAUL C. PRIBBENOW, PRESIDENT