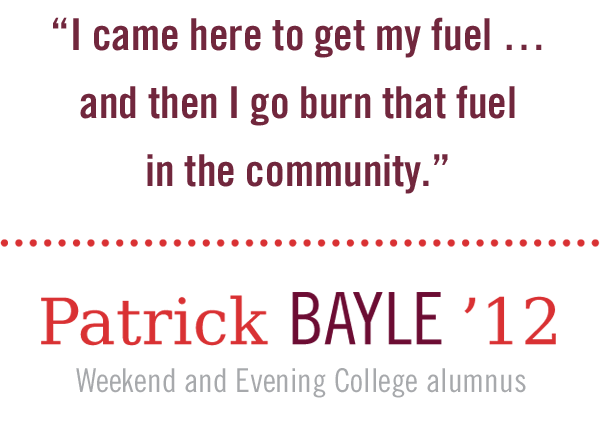 Augsburg offered Patrick Bayle '12 more than an education—the College gave him confidence to meet and later exceed his goals.
"I woke up at 44 years old with a chronic addiction issue, no marketable job skills, and no GED," Bayle said. "I was in early recovery from that addiction, and it was evident to me that I needed to go to school or at least do something that would allow me to begin to put together a career."
During 2003, Bayle was living in Cabrini House, a Minneapolis-based transitional housing program where he and other adults received support services to help them maintain sobriety. Residents were encouraged to set life-changing goals with program staff and to build connections to their surrounding community by developing a wide support system of neighbors and friends.
The recovery program empowered its residents to determine their personal and family objectives, and to take the steps needed to achieve them. Bayle consulted his case manager, and "she recommended that I take a look at Augsburg's weekend college program," he said. "It certainly looked like something that would fit into the plan I was putting together."
Back on track
After completing his high school degree equivalency in 2004, Bayle enrolled in the Augsburg Weekend and Evening College. He participated in Augsburg's TRiO program, funded by the U.S. Department of Education to assist students to overcome class, social, and cultural barriers to complete their education. Bayle qualified for TRiO as a first-generation college student and—as with all program participants—benefited from its academic, financial, and personal services.
"It's been an interesting haul to get my degree," said Bayle, who has encountered a litany of events since his first year at the College. "I've moved five times. I have experienced a triple-bypass. I've lost my mother and my brother. I've witnessed three of my nieces and nephews get married and start having families, and I've stayed sober the entire time."
Bayle also has secured four different jobs in the eight years he has attended Augsburg. From his first visit to campus, Bayle knew it could take longer than four years for him to earn his degree, but he was determined to finish school at his own pace.
Augsburg faculty members also encouraged Bayle to persist to graduation. Glenda Dewberry Rooney, professor of social work, was "one of the main reasons that I stayed my first year," Bayle said. "I got 'spooked.' I'd lived a very undisciplined life and having an academic career requires discipline. I didn't know how to do that."
But Dewberry Rooney was "an excellent motivator and teacher," Bayle said, and "she taught me that the journey is always inward—to ask yourself 'How do you make sense of the world?' and 'How would you help others?'"
Meaningful work
Bayle responded to Dewberry Rooney's question with action.
"It was pretty self-evident when I got sober that my life would be dedicated to helping others in that sort of endeavor, but that's broadened out considerably since then," he said.
Bayle has worked for organizations that serve the Twin Cities' recovery community since he began attending Augsburg. He has worked for Cabrini House and The Salvation Army's Minneapolis Harbor Light Center, which provides its clients with emergency assistance, shelter, chemical dependency treatment, and other services. Bayle also has served Prodigal House, a leading relapse-prevention treatment center, and he currently is employed by St. Stephens Human Services as a case manager.
As a communication studies major, Bayle uses the skills learned in his Augsburg classes each workday. "Communication informs my vocation at all levels," he said. "Tomorrow I may speak to our program's funders. The next day, I might work in a homeless camp or shelter," he continued.
Bayle has traveled to major cities across the United States to attend recovery events and to serve as a non-profit consultant. He said that his college education gave him the confidence to serve his community on local and national levels.
Augsburg has been "a springboard to getting engaged," he explained. "My ability to succeed academically—which is something I never thought I could do—has projected me outward from Augsburg. I came here to get my fuel…and then I go burn that fuel in the community."
Then and now
Today Bayle has achieved many of the goals he established for himself in the early days of his sobriety. He has developed a vast support system that is made up of "a network of friends and associates through Augsburg and my work," he said. "When I stand back and look at it, I'm as surprised as anybody."
In December 2012, he is slated to complete his degree—an accomplishment that demonstrates how persistence pays off even when work priorities, family pressures, health issues, and life intercede in the academic schedule of a non-traditional student.
"I don't think that I could have gotten a degree at a school that didn't understand us non-traditional students,'" he explained. "The strength of Augsburg's program is the fact that they've been doing it for a long time, and they understand the needs that adult students have.
"I'm an experiential learner; I'm not an academician," he explained. "I need to have experience with something for it to make sense to me. And I have had many great experiences at Augsburg."