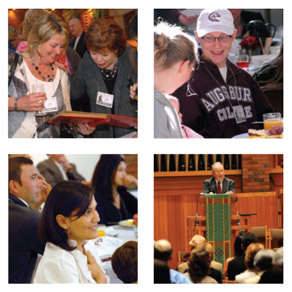 During the past few years, the Augsburg Homecoming festivities have expanded beyond the classic class reunions, and this year was no exception. Homecoming 2012 included a reception for recent graduates, a reunion of the famed Cabaret Singers, a new networking breakfast for Latina and Latino alumni, a Silver Auggie reunion for alumni who graduated more than 50 years ago, a football game watch reception hosted by the A-Club, and anniversary celebrations for the Master of Arts in Leadership program (25 years) and the Weekend and Evening College (30 years). More than 2,000 alumni and friends came to campus for Homecoming 2012 to reconnect with former classmates and professors and to enjoy the Auggie spirit.
Homecoming provides an opportunity for all Augsburg alumni to stay connected to the College. Save the date for Homecoming 2013: September 23 to 28. If you are interested in serving on your reunion committee or volunteering to help plan events, contact alumni@augsburg.edu. For more information, go to augsburg.edu/alumni for more information.
Homecoming 2012 photo slideshow (flickr)
2012 Alumni Awards
Distinguished Alumni Awards

Bruce Brekke '70
"I've always been proud to be an Auggie.To know that Augsburg is proud of me is very special. I meet successful people every day. Most are just like me: ordinary people. Don't ever let anyone tell you that you can't, you won't, you'll never. Thanks, Augsburg, for the most transformational years of my life."
Bruce Brekke is CEO of Heartland America, which opened its doors in 1985 with a mission of providing quality goods at affordable prices. Even though the company has grown (with more than 4 million valued customers), their commitment to their customers has not wavered. Initially conducting business out of his small, one-bedroom apartment, Brekke eventually transformed his one-man importing shop into a highly successful retailing/merchandising facility. Now headquartered in Chaska, Minn., Heartland America operates out of a 70,000-square-foot warehouse with two telemarketing locations in South Dakota. It is one of the nation's premier direct-marketing companies, employing 340 people. Brekke participates in a variety of charity events and has been a long-time supporter of the Children's Heart Foundation of Nevada and the Miracles of Mitch Foundation. For the past several years, he and his wife Nancy have been involved with the Humane Society by volunteering in the shelters and supporting its mission. He has been a strong supporter of Augsburg College over the years, attending music and athletic events and participating in the annual A-Club golf tournament. He has also been a member of the Maroon & Silver Society.

Richard Ekstrand '72
"The seeds planted in college really helped prepare me: Be a good steward; be humble; encourage others to succeed. These were the foundations for my company's ideology. Surround yourself with good people, and you and they will be successful."
An innovator in wireless communication, Richard Ekstrand served as the president and CEO for Rural Cellular Corporation (RCC), a publicly traded wireless service provider which he founded in 1990. Headquartered in Alexandria, Minn., RCC provided cellular, paging, long-distance, and PCS (personal communication services) to nearly 700,000 telephone customers in rural markets in 14 states. It was acquired by Verizon Wireless in 2008. A leader in the industry, Ekstrand was appointed in 2011 to the board of directors of American Solutions for Business. He has served as chairman of the Cellular Telecommunications Industry Association (CTIA) board of directors, a member of the executive board of the CTIAPac subcommittee, and chairman of the board of directors of the CTIA Wireless Foundation, as well as president of the Minnesota Telephone Association, the Association of Minnesota Telephone Utilities, and the Minnesota Telecommunications Association. He received the 1998 Ernst & Young Entrepreneur of the Year Award for Minnesota and the Dakotas in the Entertainment/Communications division, the 1998 CTIA President's Award for leadership in promoting safe and responsible use of wireless phones, and the 1997 GRTE/TSI Celli Award for outstanding contributions to the wireless industry. Ekstrand has also served on the Lowry (Minn.) volunteer fire department and in leadership posts at St. Paul's Lutheran Church, the Lowry Lions Club, and the Minnewaska Laker Foundation. He has been a strong supporter of Augsburg College over the years, serving as a member of the Maroon & Silver Society and A-Club.
John Selstad '67
"Augsburg played a formative role for me, but it was the people of Augsburg who influenced me most. We need to carry on that outreach; all 24,000 alumni must carry out the charge to serve our neighbor."
After four years in the U.S. Marine Corps piloting RF-4B Phantom jets and time serving as the drug and alcohol abuse prevention coordinator of Minnesota, John Selstad devoted the next 30 years to senior care, where he distinguished himself as an innovator of creative solutions to integrate the often-fragmented treatment of American seniors with health and long-term care needs. He joined the aging services field as the vice president managing the Ebenezer Society Community Services Division. There, he was instrumental in developing a health model called Seniors Plus, part of a national Medicare demonstration. In the following years, he became a founding board member and later the senior vice president of the National Chronic Care Consortium (NCCC), a forward-looking group of hospital networks and health plans that worked as a sort of national "think tank" to improve chronic care. Prior to his retirement in 2011, Selstad worked for the Minnesota Department of Human Services and Minnesota Board on Aging, where he was the lead staff member tracking implications of health reform for seniors and the aging network as well acting as legislative liaison and public policy support for the Board on Aging. Convinced that Alzheimer's disease and related conditions absolutely require both medical and non-medical care, and that we must integrate health and social service systems for the most efficient and effective treatment, he was a spokesman for PACE (Program of All-inclusive Care of the Elderly), as well as lead staff to the Alzheimer's Disease Working Group Report to the Minnesota Legislature. In 2011, Selstad received a Lifetime Service Award from the National Council on Aging (NCOA), and in 1992 was granted the Minneapolis Award for those who "have gone the extra mile to make Minneapolis a better place." He has been called upon to serve as a volunteer leader within the ongoing community collaboration to improve Alzheimer's care in Minnesota as well as ongoing health reform affecting seniors.
First Decade Award

Joyce Miller '02, '05 MAN, '11 DNP
"As nurses, we have lots of scientific knowledge to use in helping care for our patients, but the patients are the experts, not us. We need to walk alongside of them and understand their stories. Otherwise, how will we know what they need for health care?"
In a sense, Joyce Miller is a nursing pioneer at Augsburg. She was in the first group of nurses in the bachelor's degree completion program in Rochester in 1998, then one of the first group of nurses to begin the leadership track in the Master of Arts in Nursing program in 2002, and later, a member of the College's first post-master's degree program, the Doctor of Nursing Practice. During her doctorate program, Miller helped develop, at the Mayo Clinic in Rochester, Minn., a prenatal education program for Somali women that honors the wisdom and traditions of the Somali culture. In her educational journey, Miller explored non-traditional healing practices of other cultures. She studied holistic healing and energy practices and is a Reiki master practitioner. Miller has taught in Augsburg's undergraduate, graduate, and doctoral nursing programs. She also served on the Augsburg Alumni Board for six years in the roles of secretary and president.
Spirit of Augsburg Awards

Dale Hanka '60
"I volunteer because I care and because I can. I always say, "Give until it feels good." My family, faith, and my experience at Augsburg have all worked together to make my life successful."
Dale Hanka is a former teacher, real estate agent, financial planner, and bank president. Together with his wife Carolyn, he also owned and managed a title company. Now retired, the couple has acknowledged the importance of Augsburg College to their success by establishing the Dale and Carolyn Hanka Business Scholarship, providing encouragement and financial assistance to business students. Hanka is an active community leader who has served as president of his church's council and as president of the Madelia Golf Course board for 10 years. He is an active volunteer with the Boy Scouts, Rotary International (36 years), chamber of commerce, and the United Way. Hanka has served the College in a variety of capacities—as an active member of the Alumni Board for several years, a class agent, a member of the A-Club, and a member of the class of 1960 50-year reunion committee.

Dick "Pork Chops" Thompson '61
"You don't do [the things that earn you awards] because you want to get awards. You do them because that's what you've been taught to do. There are so many people deserving of this award. It's an honor to receive it."
Dick Thompson spent 30 years of his career as a teacher for the Minneapolis school district. He served as the head basketball coach at Minneapolis Lutheran High School, Minneapolis North High School, and Golden Valley Lutheran College. He completed his teaching and coaching career as the athletic director at Minneapolis Southwest High School. In addition, he was the co-founder of Mobile Sports Athletic Camps and president and owner of Playmore Travel. As a real estate developer/carpenter he built a home in Eden Prairie, two lake homes in the Remer/Longville area, and a 12-unit apartment building in Crosby, Minn. In the 1970s, Thompson was asked to serve as the president of the A-Club. He remained the intermittent president until the early 1990s. When he retired from teaching and coaching, he became a permanent fixture as president of the A-Club and served in that capacity until 2010. He was instrumental in raising funds for the organization and special projects like the press box and the Jeroy Carlson conference room. He remains a member of the A-Club executive board.
Athletic Hall of Fame
Congratulations to the alumni who have been inducted into the Augsburg Athletic Hall of Fame:
Allan Berg '68, football/men's basketball
Jennifer Coyle Rhoads '97, softball
John Evans '82, men's hockey
Jack Grengs '88, baseball
Kurt Habeck '91, wrestling
Anne Richter '86, volleyball/softball
Meg Schmidt Sawyer '00, women's hockey/softball
Timothy Tousignant '91, wrestling
2012 Coaching Excellence Awards:
Larry Hoff '66, football
Timothy Theisen '93, men's basketball