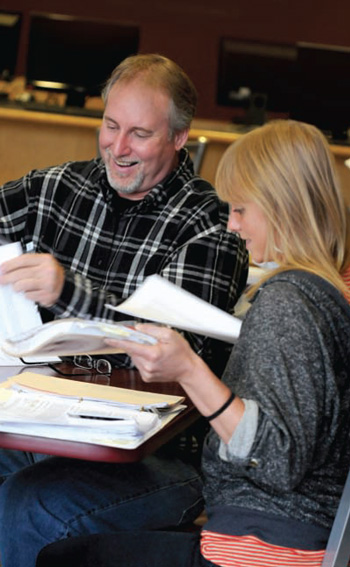 Augsburg's Weekend and Evening College for three decades has offered nontraditional undergraduate students the opportunity to obtain their bachelor's degrees through a schedule that accommodates full-time employment, parenthood, and the countless other time commitments present in an adult learner's life.
Augsburg was among the first colleges and universities in its region to offer classes in the evening and weekend format. The weekend and evening program was founded in the spring of 1982 with 69 students and a single major. Today more than 800 adult students are enrolled in 17 degree programs at Augsburg's Minneapolis location and Rochester campus. Since its founding, Weekend and Evening College has fulfilled a need for adult education in the Twin Cities' and Rochester's higher education markets, and it has aligned with Augsburg's commitment to intentional diversity.
"Like with all of the categories of diversity, there are inherent challenges and benefits," said Lori Peterson, assistant vice president and dean of graduate and professional studies. "We believe that our students come to us with gifts and that we—as an institution—are changed because of their presence. Nontraditional students have brought to us a greater understanding of what it means to value lifelong learning.
"We all have many vocations in our lives, and the vocation of a student can come at any time," she continued. "Nontraditional students allow the College to be deeply aware of what it means to say that we're an institution of learning for all."
The College continually has sought to offer students the "highest quality option in the Twin Cities' adult education market," according to John Schmit, former director of Weekend and Evening College and current chair of the English Department. At Augsburg, it's worth noting that adult learners are instructed by full-time faculty members whose expertise is key to students' exceptional education, Schmit said.
Today, as it did when Weekend and Evening College was founded 30 years ago, Augsburg seeks to provide innovative adult education that meets market needs. This year, in advance of the College's 2014 reaccreditation process with the Higher Learning Commission and in response to changes in federal regulations regarding minimum credit contact hours, Augsburg faculty and staff are exploring possible schedule and format changes that will enable the College to meet the education requirements, and—most importantly—to further the College's call to serve traditional and nontraditional students.
In this edition of Augsburg Now, we invite you to read how an Augsburg education shaped the lives of several Weekend and Evening Auggies.
Online exclusives:
30th Anniversary Breakfast
The Weekend and Evening College hosted an anniversary breakfast in conjunction with Augsburg's 2012 Homecoming week. Alumni, faculty members, and friends met in the Oren Gateway Center lobby to celebrate three decades of adult education. Guests reconnected with former classmates and met current students.