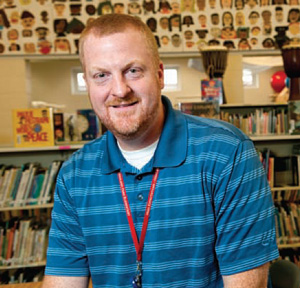 [Editor's note: The Spring 2013 issue of the Augsburg Now noted that Augsburg has had five Milken Awardees. This article has been updated to include two additional alumni, bringing the total to seven who have received the award since 1998.]
Since 1998, seven Augsburg College alumni have won the prestigious Milken Educator Award.
Steve Abenth '04, a fourth-grade teacher and choir director at Highland Park Elementary in St. Paul, was awarded the Milken Educator Award for the State of Minnesota this past November. Abenth earned his bachelor's degree in elementary education through Augsburg's adult undergraduate program.
The $25,000 award was established in 1985 by the Milken Family Foundation to recognize excellence in early- to mid-career educators.
Other Auggies who have won the award include Jacki Brickman '97, Tracey Cross '01, Maggie Knutson '91, Kelly Woods '98, Martha Spriggs '96, and Bradley Board '70.

Read more about Steve Abenth and the Milken Award on Inside Augsburg