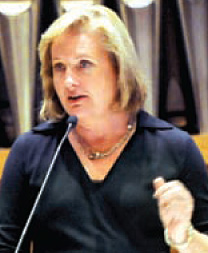 The Clair and Gladys Strommen Executive Speaker Series at Augsburg College, which brings local business leaders to campus to share insights and expertise, kicked off in November with Sally Smith, president and CEO of Buffalo Wild Wings.
Smith, who joined the company as chief financial officer in 1994 when it was a chain of only 35 restaurants, talked of establishing the infrastructure needed to create the nation's fastest-growing restaurant chain. The company now has nearly 850 restaurants in 48 states and Canada.
In February, Auggies heard from Chris Killingstad, the president and CEO of Tennant Company. Killingstad described how Tennant is pursuing its vision—through product innovation and employee engagement—to become a global leader in chemical-free cleaning and other technologies. Killingstad joined Tennant, a world-leading manufacturer of cleaning solutions, floor coatings, and industrial equipment, in 2002 and became CEO in 2005.