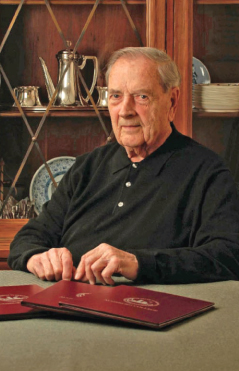 E. Milton "Milt" Kleven '46, active Augsburg alumnus, generous scholarship benefactor, teacher, businessman, Navy Reserve commander, and friend of Augsburg College, passed away April 11.
Kleven, son of a Norwegian immigrant mother and a Norwegian-American father, grew up two blocks south of Augsburg College. He enrolled in the College in 1940, but his studies were interrupted by World War II. Kleven returned to Augsburg after the war and graduated with a bachelor's degree in mathematics and a minor in physical education. He later earned a master's degree in vocational education from the University of Minnesota.
Kleven began his career teaching mathematics in the Minneapolis Public School District in 1946. He was an educator in Minneapolis for 34 years. In 1947, he founded Kleven Flooring Service, a hardwood flooring company that he led for more than 60 years.
"The impact on Augsburg students—past, present, and future—of Milt's incredible generosity will be felt for generations to come," said Augsburg College President Paul C. Pribbenow. "Growing up and teaching in Minneapolis, Milt understood what a full scholarship could mean to students from low-income families. He loved getting to know the students his family supported, and he was a strong advocate among his peers for greater scholarship funding for even more students."
Kleven and his wife, Dorothy, who met at Augsburg in 1943, were generous supporters of the College and student scholarships for more than 50 years. In 2001, he established the Dorothy Lijsing Kleven Scholarship in Choral Music, the College's first endowed President's Scholarship, providing a full scholarship to students interested in choral music. Dorothy was interested in choral music throughout her life. In 2007, the Kleven family created two additional endowed President's Scholarships: one in memory of Milt's and Dorothy's parents, Magnus and Kristofa Kleven, and David and Florence Lijsing; and a second in Milt's name—the E. Milton Kleven Scholarship in Public Service.
Kleven also helped to facilitate two other scholarships. The Margaret E. Andrews Scholarship was established by Kleven and his fellow trade and industry coordinators in the Minneapolis Public Schools to honor Andrews, who founded the district's Cooperative Education Training program. The Reverend Donald C. Carlson Scholarship, through the Normandale Lutheran Church Foundation, is named for Normandale's founding pastor, a 1942 Augsburg alumnus. This scholarship supports students from Normandale who attend Augsburg College. The Klevens also provided major support for the construction of the James G. Lindell Library. Kleven joined with Glen Person '47 and Dick "Pork Chop" Thompson '61 to provide funding to name the Jeroy C. Carlson '48 A-Club Hospitality/Classroom in the Kennedy Center, in honor of Carlson, their longtime friend.