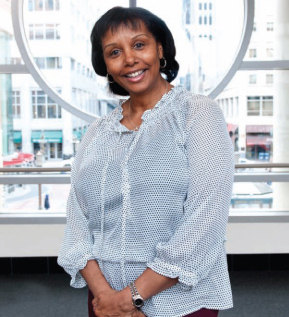 BY WENDI WHEELER '06 AND STEPHANIE WEISS
When it came time for Janice Murphy Gladden '14 to think about returning to college, she found herself taking advice from her college-aged daughter.
Several decades earlier, while studying at a junior college in Cupertino, Calif., she and Dan Gladden met. The two later would marry.
She would leave school to focus on being a wife and mother, and also would work to support the family. She would put on hold the education her father urged her to pursue while her husband developed his baseball-playing career, going from an amateur free agent to a major league star.
"It was one of those things where Dan had the opportunity," she said. "Someone needed to work. It's worked out really well, and we've been very fortunate."
Dan would become a champion left- and center-fielder for the Minnesota Twins, a core part of the dream teams that propelled the Twins to victory in two World Series.
A couple of years ago, Gladden decided that the time was right for her to return to college to finish what she started some 30 years ago. She talked with and listened to one of her two daughters, Whitney Nicole Gladden '12.
"My daughter had such a great experience at Augsburg," Gladden said, "so she encouraged me to visit."
Gladden met with an admissions counselor, and said she was hooked from the very beginning—even though the idea of again being in the classroom was daunting. Augsburg faculty and staff supported her and made easier her transition to life as a college student in communications studies, she said.
"I thought I'd be on my own, navigating this journey," Gladden said. "But there are so many ways to access services and help and to be connected.
"I feel valued in class. My thoughts matter, my opinions matter," she said. "As adult learners, we kick around our experiences, and I get to hear from people at Medtronic and Target and other places. I'm more well-rounded."
In addition to benefiting from the experiences shared by her peers, Gladden said her Augsburg education has helped her develop valuable workplace tools including stronger interpersonal and nonverbal communication skills that she is using in her career. For 18 years, she has worked for Target Corp. in the financial and retail services division.
While Gladden chose on her own to return to college, she also said the decision was made easier because her company encourages employees to continue to develop and supports pursuit of education. But perhaps one of the biggest influences stretches back through the decades to her days as a child growing up in California.
"My father would be so proud, so proud I stuck to it, no matter my age," she said. "Education was the biggest deal to him. It's what I remember him emphasizing when I was little: 'Education. Education. Education.'"
Gladden is less than a year away from finishing her undergraduate degree, and is thinking about what is next in her life. She said her positive experience at Augsburg has her pondering a graduate degree.
"I love Augsburg. I love the vibe. I like the peer networks. I like that it is small enough that even after 30 years I could  find a way to come back," she said. "I'm thinking now about getting a master's degree at Augsburg. I'd love to teach."