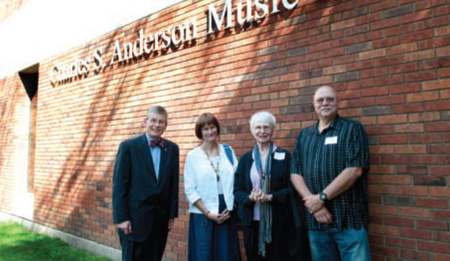 Augsburg College renamed its music building the Charles S. Anderson Music Hall to honor the legacy of the College's eighth president, who passed away June 14. Anderson oversaw significant growth in the College's enrollment, program offerings, commitment to its Lutheran heritage, and student diversity. He was a constant advocate for Augsburg and helped to establish the College's public presence in the Twin Cities. During his 17-year tenure, Augsburg launched the Weekend and Evening College (WEC) program, established the Center for Global Education, and introduced the StepUP® program for young people in recovery and the CLASS office for differently abled students.
"Charles Anderson's influence on the Augsburg community is deep and long-lived," said Augsburg College President Paul C. Pribbenow. "The priorities Anderson outlined and championed during his tenure continue to shape how we live out our institutional mission and celebrate life and learning in the city each day."
Anderson Music Hall occupies a central location on campus and houses an array of music programs that welcome students of diverse musical interests. More than 100 students each year pursue traditional liberal arts music studies as well as degrees in music business, music education, music performance, and music therapy. More than 350 music majors and non-music majors alike participate in the College's numerous vocal, concert band, symphony orchestra, and jazz ensembles.
Anderson's legacy also includes the College's beautiful annual Advent Vespers—celebrating the Advent season with a service of traditional and contemporary hymns, anthems, and carols. The celebration is one of the largest seasonal events in the Twin Cities, with 300 participants, including choral and instrumental performers, readers, a full liturgical party, and more than 10,000 worshipers annually.
Each year, two Augsburg music students receive the prestigious Orville and Gertrude Hognander Music Scholarship. Initiated during Anderson's tenure, Orville and Gertrude (Lund) Hognander, both 1936 Augsburg graduates, established the Hognander Scholarships in 1998 to provide up to full tuition for students with exceptional music performance and academic achievement.