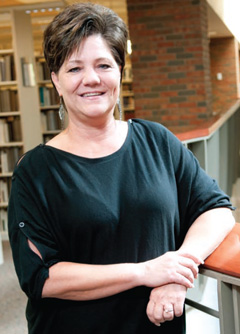 Augsburg College celebrated 56 Master of Social Work graduation candidates at the June 2013 Commencement, and it's quite possible that Christine Dawson '13 MSW was the only graduate who began her professional career as a mechanic.
Shortly after high school, Dawson joined the United States Marine Corps where she spent three decades and worked in two distinct military occupations.
While Dawson met her goals of traveling the world and doing something "most women didn't do" at the time, she felt called to serve the Marine Corps troops—rather than Marine Corps vehicles—and began a new assignment as a licensed alcohol and drug counselor. This role turned out to be a perfect fit because of her ability to help "people go on to live their best life and achieve their goals," she said.
Dawson completed a 17-year tenure with the Marine Corps and served an additional 13 years in the Army National Guard where she continued work as a mental health specialist. When she approached military retirement, she returned to school to earn a graduate degree at Augsburg College, which offered her the opportunity to advance in her civilian career and integrate her military experience into a challenging professional role. Augsburg, she found, was a place that understood her desire to live a purpose-driven lifestyle and to embed meaningful service within her career.
Military and veterans support
Many of Augsburg's students with military experience enroll in an undergraduate or graduate degree program to build upon the education and training that were part of their military service. For other students, Augsburg is a way to prepare for a civilian career that's unlike any past duties.
Some students who have served in the armed forces are eligible for state and federal financial aid assistance to help pay for college. At Augsburg, more than 100 students with military experience are working one-on-one with the College's Student Financial Services and Registrar's offices to successfully claim their education benefits and get individualized help navigating complex eligibility rules.
Augsburg College also directly supports these students by hosting an on-campus space for them to meet and by employing a Student Veteran Liaison who mentors peers and works to connect students with College resources.
"We're seeing more nontraditional-age students in our undergrad population and some of those people have been around the world and have served our country," said Lori York, assistant registrar and Veterans Affairs certifying official. "A veteran's sense of 'a call to serve' totally meshes with Augsburg, and we want to make sure they can make the most of their education here."
From call to campus
During four years of Marine Corps service, A.J. Anderson '15, Augsburg's student veteran liaison, led an amphibious assault team as the crew chief for vehicles that he likens to those that carried troops onto Normandy beaches during World War II. At age 25, Anderson had reconsidered his decision to attend a large public university and left school to become a Marine.
"I felt that joining the military was my calling for a little bit," he said. "Other people backpack in Europe or just take a break. I went to war."
Anderson served around the globe and later joined the Marine Corps Reserve military police unit at Fort Snelling in St. Paul before he began thinking about his long-term career.
He said his military experiences didn't translate into a civilian profession, but—through his service—solidified his aspirations. He resumed his education and in 2012 transferred to Augsburg with a plan to serve his country in a new way.
"I'm devoting my life to helping veterans," he said. "I didn't know I wanted to do social work until I got out of the military, so coming to Augsburg and working toward that goal is a big part of my life."
And, Anderson is getting a jump-start on this career through his student involvement.
"We know that peer mentors and peer leaders play an important role in students' achievement," said Ann Garvey, vice president of Student Affairs. "For example, student athletes serve on the Student Athlete Advisory Committee and Orientation Leaders welcome our new Auggies to campus. Our Student Veteran Liaison does outreach with a different group, but the premise is the same."
For Anderson, helping other veterans succeed at Augsburg College couldn't be a better fit.
"I want to give other students the tools I've been working with," he said, "and make sure they have the support I've experienced."
From assisting veterans on campus to one day serving them as a clinical social worker, Anderson's Augsburg education has prepared him for a meaningful career that aligns with his passions. And Dawson, who has been working with veterans for decades, shows that this path is clearly a worthwhile one.