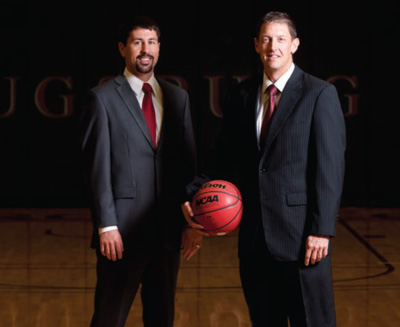 Nine years ago, Aaron Griess moved from the middle of the Pacific to the middle of the United States to become the Augsburg College men's basketball coach. It was a path back to his Midwest roots and to a culture that values college athletics.
"Living in paradise has its obvious advantages, but athletics just isn't part of the culture in the same way it is in the Midwest," said Griess about serving as coach at Chaminade University in Honolulu. "Here, lots of families go to games together, many kids grow up in organized sports."
Griess found in Augsburg not only a school that values the student-athlete experience, but also one whose mission reflects his own vision for coaching and leadership.
"Coaching gives me a chance to instill important principles of life in the athletes I work with," he said. "I want to provide these students tools that will help them succeed beyond the court.
"My vision of success in coaching is fairly unique in this profession," said the head men's basketball coach. "I want to build a sustainable program of first-class leaders who don't complain about challenges, and who solve problems. A team that consistently wins. A program that helps graduates land good jobs, and helps them understand the value of giving back."
Augsburg College Athletic Director Jeff Swenson said the program epitomizes what Augsburg College strives for throughout its teams.
"Coach Griess and his staff exemplify what we want to see in all our sports—student athletes who display great athleticism and who work hard to achieve in the classroom and in the community," Swenson said. "Griess' program has helped student-athletes become leaders on and off the court during their time at Augsburg—leaders who stay connected and who give back when they graduate."
Griess also requires that players take seriously their academics. "We communicate throughout each semester about their academic progress. We expect our student-athletes to know exactly where they stand in their progress toward graduation," Griess said. "They need to learn to be able to talk about progress or struggles, and to be able to communicate that with us, their professors, and families."
Mentoring and service work also are components used by Griess. Juniors and seniors help younger players understand the culture and values of the team. The team currently is part of an Adopt-a-Road program and is exploring the start of a reading program with a neighborhood school.
The impact of Griess' effort is visible in the players' grades, the team's standing, and the players' actions after graduation.
"Coach Griess' guys are known for their work ethic. We never have to worry about his student-athletes meeting eligibility standards," said Kelly Anderson-Diercks, associate athletic director and compliance director.
During his nine seasons with the Auggies, the team's overall winning percentage steadily has climbed to .750. The team, which is a member of the Minnesota Intercollegiate Athletic Conference (MIAC), has made it to conference playoffs four times, twice reaching the semifinals. In 2012-13, the team earned a spot in the championship game. In the past five seasons, the Auggies have won 65 percent of their games—the second-highest men's basketball winning percentage in the MIAC for that time period. Griess' work earned him MIAC Men's Basketball Coach of the Year honors during the 2009-10 season.
Assistant coach comes full circle
The impact of Griess' vision also can be seen in the growing number of players who contribute to the team and College after they graduate. One of the best examples of this can be seen in Charlie Scott '08, who now serves as Griess' assistant coach.
Scott, who hails from Ely, Minn., was recruited as a first-year student to Augsburg by former Coach Brian Ammann. Scott picked Augsburg because of its urban location, which he said allowed him to make campus as small or as large as he wanted. He played for Ammann for two years and for Griess for two years.
Griess and Scott both acknowledge that at the time Griess arrived at Augsburg, just as Scott finished his second year as an Auggie, Scott wasn't yet the leader he later grew to be.
"When we met, Charlie wasn't ready to be a team leader. He didn't completely believe in himself because he hadn't put in the necessary work. I talked to him about whether he wanted to be a leader," Griess said. "I wanted him to take himself seriously, and to use the tools he had. I knew the players would follow him, but he had to become our team's hardest worker."
Scott said he was ready, and he was in the weight room and gym every day the summer before his fourth year of college. He also talked to Griess every day, picking his brain for advice on how he could help the team and reach his potential.
"Coach sparked the drive and determination in me," Scott said. "When Coach shared his vision for how he wanted the team to be, I wanted to be part of that. I wanted to help the team accomplish its mission to be nationally known and respected as a first-class program and to cultivate student-athletes who understand the values of hard work, perseverance, honesty, integrity, and teamwork."
Scott was so committed to the success of the team that he wanted to stay involved even after his four years of eligibility expired. He served as a volunteer coach during the fifth year of college that it took him to finish his double major in finance and business management.
After graduation, Scott continued to volunteer while working full time in financial services. He gradually became a part-time coach. Then, when the opportunity to apply for the position of full-time, assistant coach opened up, Scott chased it. He was one of more than 100 applicants who wanted to work with Griess at Augsburg.
"I look for leadership qualities in my assistant coaches, no matter whether they are volunteers, fellows, or paid coaches. They have to be willing to learn and work," Griess said. "Charlie is the guy who jumps in and works as hard as anyone. He leads. He digs in."
Developing strong relationships with prospective families is one thing Scott is looking forward to as he works to fulfill his recruiting responsibilities.
"I have a huge passion for Augsburg, for basketball, for working with Coach Griess," Scott said. "I'm excited to meet prospective athletes and their families, helping them learn about Augsburg and our program, and decide whether Augsburg is the right place for them as it was—and is—for me."
While Scott exemplifies a student-athlete turned servant-leader, he's just one of Coach Griess' players who is finding a way to give back to a program and school that means much to them.
Some players give back by volunteering as Scott did. Others serve as a resource to students to help ready them for the working world, and some have hired qualified alumni to work at their companies, knowing they are hiring people with shared ethics and determination to succeed—qualities honed on and off the basketball court at Augsburg. Others give back in the form of gifts to the College.
Today, the two coaches are continuing to build a special program founded on communication, accountability, and service. They know that the program will support student-athletes in their studies and when they look for their first jobs. They also know that new recruits are coming to a college that will help them not only develop as an athlete, but also as a whole person.