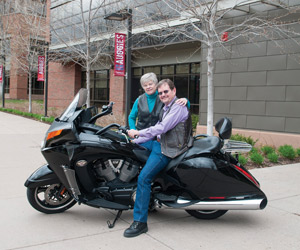 Whether they are traveling five states by motorcycle from Minnesota to Tennessee, he's teaching across two of Augsburg College's academic departments, or she's pursuing an undergraduate degree while raising toddlers, there's one thing Larry and Cheryl '89 Crockett know well: How to cross boundaries to arrive at a destination that expands their horizons and inspires others.
The Crocketts have a shared love for exploring the richness that exists at the intersections of seemingly different frontiers. For more than 30 years, Larry has served as an Augsburg professor of religion and computer science. During that time, Cheryl has experienced—both as a student and as an Augsburg volunteer—the rich conversations that cross disciplines at the College.
That's why the Crocketts decided to make a $50,000 estate gift to the Augsburg College campaign for the Center for Science, Business, and Religion (CSBR).
Both Larry and Cheryl recognize that students in today's world must engage in discussions and solve complex problems in a multinational world where science, business, and religion intersect. And, they're helping to pollinate those conversations by supporting the CSBR: Augsburg's boundary-breaking academic building.