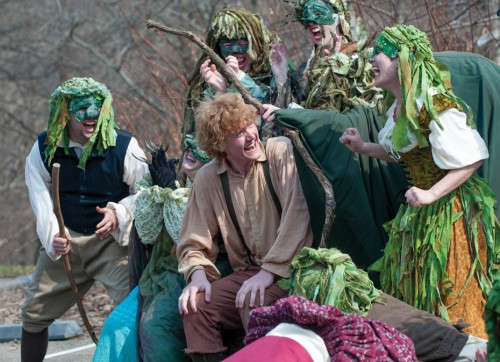 Imagine it's spring and you are at a site USA Today named as among the nation's 10 greatest places in America to smell the flowers. You start to meander along a footpath that will lead you through a natural habitat of trees and ferns to rolling prairie and lowlands, all while birds sing after a long winter.
As you round the corner from the Minnesota Landscape Arboretum's visitor center, you come across a small homesteader's cabin. It's nestled among the trees. A group of people, dressed as peasants from the 1800s, bicker with one another. You've just walked smack into the middle of the set of Peer Gynt, a play by Henrik Ibsen, being performed by students from Augsburg College and the University of Minnesota-Twin Cities.
The site-specific performance—a production shaped by the unique place in which it is performed and that relies upon existing landscapes and features to serve as the stage and sets—was the first time the two schools collaborated and probably the first site-specific production of this scale for Twin Cities' theatergoers.
"This adaptation demanded new partnerships between schools and with many theater artists—puppeteers, movement specialists, musicians, [and] fight choreographers. We pummeled students with new experiences and gave the audience a spectacular performance," said Darcey Engen '88, associate professor and chair of Augsburg's Theater Arts program.
Collaborating with the University of Minnesota allowed Engen and her counterpart, Luverne Seifert '83, to assemble the large cast required by the play: about 40 student actors in all. And the complexity of the script meant students would build new skills in collaboration, forge friendships, and nurture the beginnings of new professional networking relationships in the tightly connected world of Twin Cities theater.
"It seemed odd to Darcey and me that each night there were groups of students creating all of this amazing artistic energy, and they were only three blocks away from one another," Seifert said. "We thought the universe might like them to meet. We wanted to see new alliances formed and to create more opportunities for artistic intersections because theater and artists are best served when more and more connections can be made."
The staging of this classic Norwegian tale at a Minnesota landmark also was a testament to the academic excellence driven by Augsburg faculty and alumni who create multifaceted student-learning experiences.
"Faculty know that in order to develop students' abilities to think critically and to solve problems—essential 21st-century skills—we need to expose them to hands-on opportunities to work together, to interact with people who think differently from themselves, and to provide time to reflect upon and voice what they learn," Engen said.
Students co-create script
That multi-layered complexity drew students to the story. Boo Segersin '15, an Augsburg theater major pursuing minors in musical theater and Norwegian, said she was drawn in by the density of Peer Gynt.
"I read the play over winter break and wondered how we could do it. It's on mountains. It's in mountains. There are trolls. Just the landscapes were a challenge in themselves," Segersin said.
The students worked with Sarah Myers, Augsburg College assistant professor of theater arts, to adapt the script and halve the length of the play.
"I was nervous to work on the script, but one of the best parts was working—as a full cast—with Sarah to cut things down," Segersin said. "We found the 'red thread,' the core storyline that runs through the script, and, with that, found our way."
That thread allowed the students to take the play from the three-hour adaptation by famed Minnesota poet Robert Bly to a compact 90 minutes that was accessible to newcomers of all ages but that remained engaging and challenging for seasoned theatergoers. It's quite a feat when one considers that Ibsen's original was a hefty seven hours.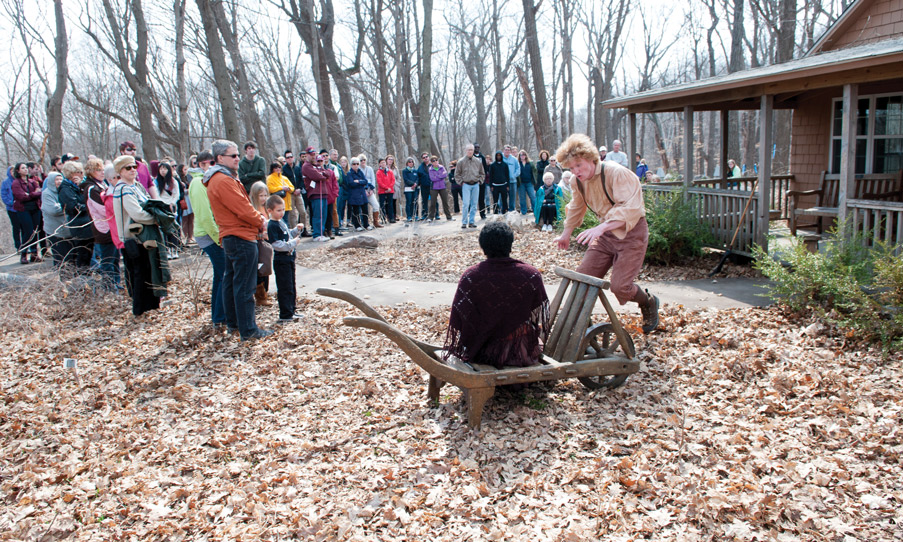 Navigating culture, cast, weather, and landscape
Wrestling with the script of the play—a story of loss due to procrastination and avoidance followed by redemption late in life—was just one of the challenges faced by students. They also had to identify features in the arboretum's landscape that could serve as sets, deliver their lines in open-air scenes with acoustics affected by the landscape and ambient noises not usually present in a theater, and learn original music, all while getting to know the culture and student performers from another school.
Then there were the logistics for which no planning can be done.
"Because of the variables involved, site-specific theater provides attendees the chance to see what is a once-in-a-lifetime performance and to leave having been an active traveler in the play," Engen said. "For performers, there's a textured chaos that you can't plan for and that forces you to think fast and improvise within boundaries. It leaves you exhausted and exhilarated at the end."
Being faced with those challenges was just what Engen and Seifert wanted for students. The two worked closely to co-direct students in this first-ever collaboration between the schools.
"Students learned to perform to the moment at hand," Engen said. "Sometimes that meant changing the energy and volume of lines to overcome wind or a noisy attendee. Other times it meant staying in character but improvising when a young child persisted in trying to break into the scene."
Segersin said that it was a rewarding experience to work with peers from the University of Minnesota and to perform for the nearly 1,000 attendees who visited the arboretum for the production.
"This beautiful thing happened: We became a team," Segersin said. "And now, sometimes, when I sleep, I dream about them."
Building professional networks
The relationships and networks, though, extend beyond just the student peers at the two institutions. Engen used the production to help students connect with other theater professionals.
"Students built experience in creative problem-solving with some of the Twin Cities' foremost theater professionals, including master puppeteers, musicians, and movement professionals," Engen said. "It was a chance for students to explore the many ways to work in theater and to challenge themselves to meld these disciplines."
Seifert added that making connections with artists across disciplines and fields is critical for the future of theater and the artists. 
"These students now can reach out to one another to collaborate on future projects," he said. "This model allowed us to give students an understanding of how major companies in regional theater increasingly are combining resources to produce shows."
That goal wasn't lost on Segersin, who was invited to work as a summer intern with Sod House Theater, a production company founded by Engen and Seifert. 
"We're still working out what it means. But I will have the chance to work with the performance of Peer Gynt at sites around the state, to meet professional Twin Cities' actors and local actors, and to network," Segersin said.