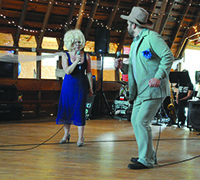 Augsburg College alumni and a current student jumped aboard "The Hoopla Train with Yard Master Yip and his Polkastra" at multiple stops of the show's Minnesota-based summer tour, which included performances in communities ranging from St. Cloud to New Ulm. The Auggies sang, danced, and acted in a Vaudeville-style production, using techniques honed on the stages of Augsburg College.
Described as "Lawrence Welk meets Hee Haw," the production was produced by Sod House Theater and spearheaded by actor and director Darcey Engen '88, chair of Augsburg's Theater Arts Department, and Luverne Seifert '83, actor and senior teaching specialist at the University of Minnesota.
The original show featured "acts performed by a touring cast with appearances by several Augsburg alumni friends along the way," according to Engen. "We were thrilled to be performing with Auggies in historic ballrooms and other venues across Minnesota where live music and dancing originated and many of our parents fell in love."
Engen and Seifert secured four Augsburg theater alumni and one current student to perform, including Lisa (Pestka) Anderson '86, David Deblieck '88, Kari (Eklund) Logan '82, Deb Pearson '83, and Riley Parham '18. Another Augsburg alumnus, Justin Caron '13, assisted with costumes.
For the alumni, participating in "The Hoopla Train" offered an opportunity to reconnect with longtime friends and to recall past Augsburg theater experiences.
"Some of my happiest memories were made on the stage at Augsburg," said Logan. "It was wonderful to be back together with some of the people who played a role in making them."