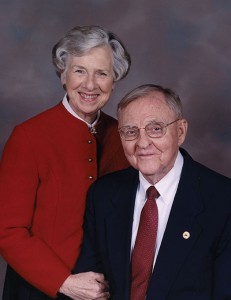 "Mr. Augsburg" has spent 44 years of his life—so far—inspiring Auggies to invest in the life of the College. Whether in his role as a student, parent, grandparent, or as alumni director and fundraiser for Augsburg, Jeroy Carlson '48 has inspired Auggies through the decades to remain connected to their alma mater.
The work, connections, and inspiration fostered and forged by Carlson led an anonymous donor to make a generous $165,000 lead gift to name a gathering space in the Norman and Evangeline Hagfors Center for Science, Business, and Religion in honor of Carlson and his wife, Lorraine. Augsburg College Regent Dennis Meyer '78 and Beverly (Ranum) Meyer '78 also were inspired by Carlson's leadership and dedication to the College and decided to make a second gift. The couple's most recent contribution of $25,000 will go to support the space named in honor of the Carlsons.
During his long tenure with Augsburg, Carlson helped countless students get their careers off the ground. "He never hesitated to pick up the phone to make a connection," said Dennis.
One of Carlson's introductions helped Bev make an important professional connection to launch her teaching career. "There were many faculty and staff members at Augsburg who provided career guidance and direction, but Jeroy stands out for us," she said.
"I admire the connections Jeroy developed with alumni and his ability to make things happen," Dennis said, noting that Carlson raised millions for the College. "When he called and asked for something, people gave because they had great respect for Jeroy, his love of Augsburg, and the people who contributed to its success."
Donors are invited to make a gift to the Jeroy and Lorraine Carlson Atrium Lounge—a designated space in the Hagfors Center where the Augsburg community will gather, foster relationships, and build community.
Great progress already has been made for this $250,000 initiative, which will end on December 31. There is just $60,000 left to raise to name the space. Please join fellow Auggies touched by the Carlsons' spirit of generosity and belief in Augsburg. Send your gift, marked "Jeroy Carlson Initiative," to: Augsburg College, 2211 Riverside Avenue, CB 142, Minneapolis, MN 55454. For more information, contact Kim Stone at stonek@augsburg.edu or 612-330-1173.