1950-1959  |  1960-1969  |  1970-1979 |  1980-1989  |  1990-1999  |  2000-2009  |  2010-2015 |  Graduate Programs |  Auggies Honored
---
1951
Einar Unseth '51 marked his 90th birthday on June 29. After farming with his father, Unseth served in the occupation army in Japan. He then attended Augsburg College and Luther Seminary. He served as a missionary to Japan with the American Lutheran Church (now ELCA), and later pastored Lutheran churches in Iowa, Michigan, Minnesota, North Dakota, and South Dakota. Unseth and his wife, Luella, recently moved to Lester Prairie, Minnesota. They have six sons, 22 grandchildren, and seven great-grandchildren.
1952
Dave Christensen '52 and his brother Duane Christensen '53 meet every morning to grab some coffee, buy copies of the Bemidji Pioneer and the Minneapolis Star Tribune, and catch up on the latest news. This tradition began in 1990 when Dave moved to Bemidji to retire. Dave taught school in Atwater, Minnesota, for four years and served in the U.S. Army before enrolling in Luther Seminary in St. Paul. Before retirement, he was a Lutheran minister at Adams, North Dakota; Warren, Minnesota; and Pelican Rapids, Minnesota. After Duane graduated from Augsburg, he served in the U.S. Army and then began a career in education as a band and choir teacher in Danube, Minnesota. He earned his master's and specialist degrees at the University of Minnesota, and then worked as a school principal in several Minnesota districts. Duane moved to Bemidji, Minnesota, in 1969 and started the Bemidji Regional Interdistrict Council, an agency that provided special education services to 18 area school districts. He headed the council for 18 years before retiring. In 1990, the brothers built Maple Ridge Golf Course south of Bemidji.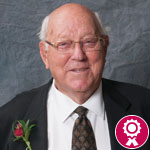 Harvey Peterson '52, a former member of the Augsburg College Board of Regents and a member of the Athletics Hall of Fame, received a Distinguished Alumni Award at Homecoming 2015. He was recognized for his distinct level of dedication, leadership, and achievement over the span of his career. He and his wife, Joanne (Varner) Peterson '52, are longtime, faithful supporters of the College. He was the CEO of CATCO, a truck parts supply company founded in 1949 by his father, Art Peterson. He has given unselfishly to his business and industry peers and associates, mentoring and advising many along the way.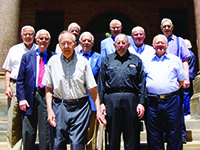 Glen Thorpe '60 hosted a celebration for his brother Gordon Thorpe '52, '55 to honor the 60th anniversary of Gordon's graduation from Augsburg Seminary and ordination at Trinity Lutheran Church, which was on June 12, 1955. Gordon served in parishes for 41 years. At the celebration, Gordon was joined by his classmates David Rokke '52, Carl Vaagenes '50, '55, and Bill Halverson '51. Also joining them to celebrate were Augsburg seminarians Philip Quanbeck '50, Allan Sortland '53, Morris Vaagenes '54, Jim Almquist '61, Paul Almquist '62, and Thomas Moen '62.
1957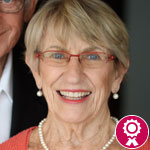 Grace (Forss) Herr '57 was recognized with a Distinguished Alumni Award at Augsburg's Homecoming in October, which also hosted a reunion for majors in home economics. Her award cited her entrepreneurial spirit, great generosity in establishing numerous scholarships, and longstanding commitment to Habitat for Humanity and the Guadalupe Center in Florida, where she lives with her husband, Doug. This past spring, the couple received the Spirit of Marco Island Award from a Rotary Club, which honored them for embodying the spirit of community through service.
1961
Karen (Erickson) McCullough '61 walked Hadrian's Wall Path, a nearly 80-mile trek, across northern England from Wallsend to Bowness-on-Solway.
1964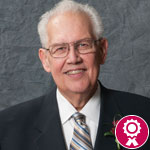 Mike Walgren '64 was recognized with a Spirit of Augsburg Award at Homecoming in October. He has been manager of the Augsburg Centennial Singers since 2001. With his wife, Carla (Quanbeck) Walgren '64, he lives out his vocation of being called to service. In his work with the Centennial Singers, professionally, and with his church, he puts his gifts and talents in service of the greater good—doing the difficult work with full engagement and without hesitation. He was recognized in 2001 with an Outstanding Professional Fundraiser of the Year award by the Minnesota chapter of the Association of Fundraising Professionals. He is an active member of Westwood Lutheran Church in St. Louis Park, Minnesota, where he sings in the choir.
1965 | Class Reunion Year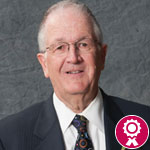 Augsburg College Regent Emeritus Dan Anderson '65 was recognized with a Distinguished Alumni Award at Augsburg's Homecoming in October, which also honored the 1965 men's basketball championship team on which he played. Anderson in 1977 was inducted into the Augsburg Athletic Hall of Fame for his accomplishments on the court, including leading the basketball team to three conference championships, setting records for career points (2,052 points), and being named conference player of the year three times. Anderson is chairman of AdvisorNet Financial in Minneapolis. He has served on the board of directors for charitable organizations, has worked locally for Habitat for Humanity, and is active in his church community.
Marilyn (Nielsen) Anderson '65 treasures her memories of Augsburg band trips to the West Coast and the Augsburg Cantorians' trips. She taught K-12 choir, band, music, and orchestra for 17 years and has written and published 25 children's books. She taught writing courses for the Institute of Children's Literature for 20 years. Anderson also has trained and showed dressage horses at international levels. If she could thank anyone at Augsburg, it would be James Johnson, her piano teacher, and Anne Pederson, who taught English.
MaryAnn (Holland) Berg '65 has had a life filled with music. She taught elementary music and piano for 20 years, and directed a championship barbershop chorus in Fargo, North Dakota, that took her to international competitions in London, Minneapolis, Philadelphia, Seattle, and St. Louis. She currently sings with the Fargo Moorhead Choral Artists, a group she's been with for 28 years. Her fondest memories of Augsburg include choir tours (especially the Norway tour in 1965) and serving as a student secretary for Leland Sateren '35. She and husband, Arvid Berg '65, cherish the memory of the Augsburg Choir singing at their wedding on November 21, 1964. Arvid has no doubt that Sateren inspired him to become a choral director and to strive for the highest performance standards he could achieve. Arvid's fondest Augsburg memories are of Augsburg band and choir tours, including a five-week tour with the choir to Norway, Denmark, and Germany. Arvid spent 30 years as head of the music department at Oak Grove Lutheran High School in Fargo. He also had a 25-year military career, the last 19 years with the 188th Army Band of Fargo. His current interests include fishing, hunting, traveling, music, and his church.
If she could, Adrienne (Strand) Buboltz '65 would thank the Rev. Waldemar Anderson '37 for encouraging her and three of her classmates from North Dakota's Portland High School to attend Augsburg. She fondly remembers serving on the freshman social committee, decorating Christmas trees, watching high school classmate Dan Anderson '65 play basketball, and meeting her future husband, Larry Buboltz '65, at Augsburg. She especially enjoyed being instructed by Chemistry Professor Courtland Agre and Leif Hansen, her German teacher. Adrienne graduated from Moorhead State University in 1974 and became a Certified Public Accountant. She worked in public accounting, was a corporate controller, and taught at a vocational school. She opened an insurance brokerage in 1991 after receiving her insurance and brokerage licenses, and she retired in 2005. Larry keeps busy as chair of Detroit Lakes Community and Cultural Center in Minnesota. He serves on a committee to bring a bike trail to the community. He became a city councilman in 1976, and served until he was elected mayor from 1988 to 2008. He likes to exercise, travel, play bridge, attend school sporting activities, and is active in Kiwanis. At Augsburg, Larry participated in the debate team and later coached debate at Detroit Lakes High School. He also taught history there until 1968. He joined Rural Minnesota Concentrated Employment Program, Inc. and became chairman in 2005. His high school band instructor, David Skaar '55, initially encouraged him to attend Augsburg.
One of the fondest memories Keith Dyrud '65, holds from his time at Augsburg is his work publishing the campus newspaper, The Voice. Faculty who most influenced Keith were Carl Chrislock '37 and Khin Khin Jensen, faculty in the history and political science department, and William Halverson '51 and Paul Sonnack '42, faculty in the religion department. Today, Keith enjoys writing history, construction, Norwegian studies, and outdoor activities. He lives with wife, Grace, in Lauderdale, Minnesota. They have six children and nine grandchildren.
Sharon (Kunze) Erickson '65 says she took an interest in a certain physics lab assistant and eventually married him—Ken Erickson '62, now retired from the Augsburg physics department. The couple lives in Cambridge, Minnesota, where Sharon taught first grade for 29 years. Sharon volunteers at their church and at the Cambridge Hospital when she isn't spending time with family and friends.
Helen (Friederichs) Griller '65 has lived in and enjoyed Arizona for the past 28 years, but she has so many special memories of growing up in Minnesota that she still thinks of it as home. Treasured memories from her Augsburg experience include good friends, the International Associated Women Students trip to Oklahoma, sporting activities, Sno Days, and Freshman Days. Her current interests and activities include four grandchildren, book clubs, reading, traveling, the Scottsdale Garden Club, and activities at her church.
Carmen Herrick '65 passed the Certified Public Accountant exam in 1989 and then worked in public accounting. In addition to obtaining a bachelor's from Western State College of Colorado, she attended the University of Oslo and Elverum Folkehøgskule in Norway, which afforded her the opportunity to travel throughout Scandinavia. Among her favorite Augsburg memories are living with 11 other girls in Kappa House, and her wonderful business education teacher. Current interests include learning Norwegian, playing bridge, lap swimming, and Silver Sneakers exercise classes. She has six grandchildren.
Don Hoseth '65 returned to Augsburg in 1971 to earn his elementary teaching degree and taught for 32 years in the Robbinsdale, Minnesota, School District. He has been retired for the past 12 years and keeps busy with his 12 grandchildren. He is grateful for the influence of numerous professors as well as longtime coaches Edor Nelson '38 and Ed Saugestad '59.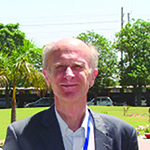 George Johnson '65 spent more than three years in Pakistan teaching science students who ranged from the undergraduate to the doctoral levels. He and his wife, Leslye, both hold doctorate degrees in biochemistry, and, with support from the Bradley Hills Presbyterian congregation in Bethesda, Maryland, worked with Forman Christian College University in Lahore, Pakistan. The Johnsons view this school as an oasis of tolerance, and they served people who are Muslim and Christian, rich and poor, male and female. The Johnsons' time in Pakistan convinced them how valuable it is for students and alumni to visit other countries to experience life and cultures. Before this teaching opportunity, George had a robust career in research science, often working in drug discovery and development. Read More
Jan (Mattson) Johnson '65 and husband, Tom, live in Alexandria, Minnesota, and enjoy seeing their five grandchildren when they visit the Twin Cities. The Johnsons lived in the Philippines for one year and in Maine for another while Tom was in the U.S. Air Force. As a student, Jan worked in Augsburg's Admissions office for Donovan Lundeen, who had visited her home prior to her decision to attend Augsburg. She relishes memories of singing under the direction of Leland Sateren '35
in the Augsburg Choir, and feels privileged to have traveled to Norway, Denmark, and Germany with the choir for five weeks after graduating. Jan's current interests include choir, golfing, quilting, reading, and travel.
For Charles McCaughan '65, Professor Emeritus of History Donald Gustafson was the faculty member who most influenced him as a student. McCaughan lives in Bagley, Minnesota.
Dennis Morreim '65 transferred to Augsburg after three years at the University of Minnesota. He remembers his advisor working to have all of his credits accepted, and he went from being a sophomore to a junior in one day. Morreim met his wife, Jeanne (Wanner) Morreim '66, during orientation week. She was working in The Grill. The couple has been married 50 years. Dennis earned his master's degree in divinity and a doctorate of ministry degree. He served churches in Manitoba and Minnesota for 38 years. During his time serving in Cloquet, Minnesota, he went to Honduras 17 times and helped to build eight schools in the Central American country. He spends his time now as a part-time chaplain at a local hospital and nursing home in Cloquet. He also is chaplain of the Minnesota State Senate.
Dwight Olson '65 can still make a mean grilled Spam sandwich and great Swedish pancakes, but can't lower his golf handicap. Olson lives in San Diego with his wife of 50 years, Lois (Monson) Olson '68. He founded Data Securities International and is listed in Wikipedia as the "father of technology escrow." He started Gamma Phi Omega at Augsburg and says that Phil Quanbeck, Sr. '50, professor emeritus of religion, was his most influential faculty member. Dwight and Lois have two sons and four grandchildren. He says that Lois agreed to marry him the day before graduation so that his family could afford to attend both events.
The Rev. Gary Olson '65 and wife, Jean (Pfeifer) Olson '64, reside in Maplewood, Minnesota. Gary spends his time in creative writing. He and Jean attend many school events for their three grandchildren. On occasion, he still preaches. Gary's memories from his time at Augsburg include the day when he was walking to class and walked past a sleeping male student whose dorm mates put his bed, dresser, lamp, and chair on the Quad lawn. Gary says that Esther Olson, a theater and speech professor, influenced him most as a student.
Pat (Steenson) Roback '65 and her husband, Jim Roback '62, feel blessed to have chosen Augsburg to get their teaching degrees and to have been surrounded by students and staff who got to know them and helped shape them as they chose their future paths. The faculty member who most influenced Pat was Martha Mattson, an elementary education faculty member. Pat recalls that, "She was an icon! What a wealth of information she was, and [she] knew so much about the world because she traveled and lived in many faraway places. She even had a few of us over to her apartment once to teach us tatting. She was very good at it, and we were not." Pat thanks all of the 1965 reunion committee members for their dedication, ideas, time, and hard work to make plans for Homecoming.
Larry Scholla '65 and Muriel (Berg) Scholla '67 live in Willmar, Minnesota, and winter in Naples, Florida, where they enjoy the beaches of Marco and Naples, as well as several biking trails. They have five grandchildren. Larry volunteers at Kandiyohi County Historical Society in Willmar, and enjoys doing carpentry and general maintenance. He treasures the memory of being part of the football and baseball teams, and is grateful for the influence of Ed Saugestad '59, who taught a kinesiology class.
The Rev. Clayton Skurdahl '65 spent 40 years in ministry, primarily in Colorado and Nebraska. His current interests include jogging/walking, gardening, traveling, and serving as a visitation pastor. He treasures his memories of Augsburg chapel times and says he was most influenced by Mario Colacci, a faculty member in the Department of New Testament Greek and Latin. Skurdahl also would like to thank Joel Torstenson, professor emeritus of sociology.
After David Swenson '65 completed a master's degree in physics at the University of Minnesota, he was hired by Honeywell Aerospace where he went on to meet his wife, Bonny. He spent seven years building and operating a space simulation chamber for testing radiometers that flew on satellites. In 1974, he left engineering and moved to Colorado where he partnered with Bonny's father to run a bicycle store, which they owned for decades. Among his favorite memories at Augsburg are influential professors, Concert Band, the Basin Streeters Dixieland band, basketball, tennis, physics experiments, and times spent with good friends. He and Bonny live in Longmont, Colorado, and David still works part time in the bicycle shop he once owned. In his spare time, he enjoys bicycling, hiking, travel, and music.
Loren Wiger '65 is in his fifth decade of teaching science. Most of his years were at Marshall Middle School in Marshall, Minnesota. He currently teaches at Southwest Minnesota State University, where he works with teacher candidates and teaches science methods courses. He has many treasured memories from his time at Augsburg including dorm life, where Dan "Big Dan" Anderson '65 was the model student-athlete. Wiger says he used the phone quite often to visit with his future wife, Ruth, who was becoming a registered nurse at Deaconess Hospital.
1968
The Rev. Mark Hanson '68 this fall served as Augsburg College's Special Assistant to the President for Mission and Identity, helping facilitate on-campus conversations regarding the ways in which the College's Lutheran Christian heritage and identity remain relevant to its academic mission and activities. This spring, Hanson will become the executive director of the College's Bernhard Christensen Center for Vocation, working to ensure that the center fully embraces its commitment to the theological concept of vocation.
1972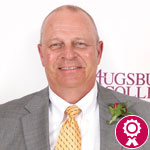 Luther Bakken '72 was inducted into the Augsburg Athletic Hall of Fame for his accomplishments as a thrower on the men's track and field team. His 50' 9" outdoor shot put throw from 1972 remains a school record. Bakken also played football while at Augsburg.
1974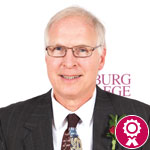 Accomplished high school wrestling coach Scot Davis '74 was inducted into the Augsburg Athletic Hall of Fame this year in recognition of his collegiate wrestling career. He earned All-American honors in 1973 for his sixth-place finish at the NAIA National Championships, among other accolades.
1978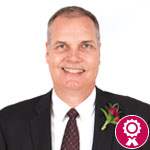 Augsburg Athletic Hall of Fame inductee Paul Meissner '78 is one of the top players in the history of Augsburg men's basketball. He is one of only 18 players to score more than 1,000 career points and remains a top 5 rebounder with more than 725 career rebounds. He also holds the school record for games played, with 114.
Bonnie (Lamon) Moren '78, wife of Jonathan Moren '78, retired in June after 37 years of teaching developmental adapted physical education to students with special needs in Bloomington, Minnesota, Public Schools.
David Raether '78 recently gave a TED Talk at TEDxAmherst on the campus of the University of Massachusetts Amherst. Raether's talk was based on his experience of homelessness after a successful career as an award-winning television comedy writer. The talk was derived from a widely praised essay he wrote called "What It's Like to Fail" that was awarded Best Nonfiction of 2013 by Longform.org and cited as one of the best pieces of journalism in 2013 by The Atlantic magazine. The essay also was featured in the Times of London Sunday magazine. Raether lives and works in Berkeley, California.
---
Augsburg alumni collaborate on touring theater production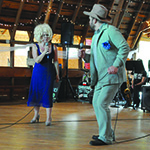 Augsburg College alumni and a current student jumped aboard "The Hoopla Train with Yard Master Yip and his Polkastra" at multiple stops of the show's Minnesota-based summer tour, which included performances in communities ranging from St. Cloud to New Ulm. The Auggies sang, danced, and acted in a Vaudeville-style production, using techniques honed on the stages of Augsburg College.
Described as "Lawrence Welk meets Hee Haw," the production was produced by Sod House Theater and spearheaded by actor and director Darcey Engen '88, chair of Augsburg's Theater Arts Department, and Luverne Seifert '83, actor and senior teaching specialist at the University of Minnesota. Read more. 
---
1982
As of July 1, Scott Ludford '82 is the senior pastor of Zion Lutheran Church in Shawano, Wisconsin.
1987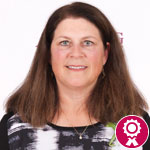 Augsburg women's basketball star Barb Blomberg '87 was inducted into the Augsburg Athletic Hall of Fame. She holds the fifth-highest career points total in program history with 1,023 points. Blomberg served as team captain in both basketball and volleyball.
Paul Rensted '87 was appointed Charles County, Maryland's director of human resources in August. Rensted has experience in all aspects of human resources management and conflict resolution and previously served as the director of human resources for the city of Annapolis. Rensted is certified with the International Personnel Management Association for Human Resources. His other professional affiliations include the U.S. Commission on Civil Rights State Advisory Committee; County Conflict Resolution Center Board of Directors; Baltimore Community Center Board of Directors; Public Interest Organization Governing Board; and Advocates for Herring Bay. He received his undergraduate degree in international relations and East Asian studies, and a master's degree in political science from the University of British Columbia.
1988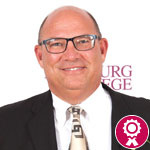 Brad Anderson '88 received Augsburg's Excellence in Coaching Award in recognition of his impressive career as a high school football coach. He won three Minnesota State 5A Championships and has been selected as class 5A "Coach of the Year" multiple times. He has coached several players who have gone on to NFL careers.
After serving for four years as the assistant principal of Robbinsdale Armstrong High School in Plymouth, Minnesota, Brenda (Bauerly) Damiani '88 joined Cambridge-Isanti High School in Cambridge, Minnesota, as its new principal. She obtained a special education emotional behavioral disability license from the University of Minnesota in Minneapolis and a master's degree in curriculum and instruction and multicultural education from the University of St. Thomas in St. Paul. Damiani continued her education, earning a K-12 administrative license from Hamline University in St. Paul. She is pursuing a doctorate in educational leadership from Bethel University in St. Paul.
After 24 years in the Pacific Northwest, Dan Wright '88 has moved back to Minneapolis with his wife, Kristen Haglund, and their sons Johan and Bjorn. Wright works from home as senior applications engineer at Nike.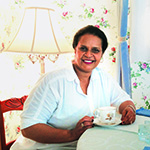 Wubitu Ayana Sima '89, '15 MBA is the owner of Lady Elegant's Tea Shoppe, a British tea room and store in St. Paul's St. Anthony Park neighborhood. Raised in western Ethiopia, Ayana Sima came to the United States to study in the mid-1980s, along with her two young sons. Since graduating, Ayana Sima has worked with the United Nations in Congo, Malawi, Switzerland, and Zimbabwe, and for the World Health Organization Regional Office for Africa. Back in the U.S. again, something was missing in her life without school, and she enrolled in Augsburg's MBA program. Her husband, Admasu Simeso, helps her manage the tea room. Read More
1992
In April 2015, Terri Burnor '92 received her master's degree in divinity with a concentration in women's studies from United Theological Seminary of the Twin Cities. In September, she began a 10-month ministerial internship at First Unitarian Universalist Church in Portland, Oregon.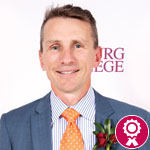 Mike Pfeffer '92 was inducted into the Augsburg Athletic Hall of Fame in recognition of his outstanding career as a lightweight wrestler. In 1992, he earned both MIAC Champion and All-American honors and was selected as Augsburg's Men's Honor Athlete. He also was the captain of the 1992 team.
Sharol (Dascher) Tyra '92, a professional certified in Life Illumination Coaching and the 2015 President of the ICF Minnesota Charter Chapter of the International Coach Federation, was a semi-finalist for Entrepreneur of the Year by the TwinWest (Plymouth, Minnesota) Chamber of Commerce 2015 Small Business Awards. Candidates were selected on the basis of a number of factors, including their business vision, community service, drive, and risk-taking.
1995
David Boie '95 has been named athletic director at Richfield High School in Richfield, Minnesota. Boie spent 18 years teaching physics and chemistry at the school and 13 seasons as its head baseball coach.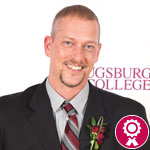 Jeff Kaeppe '95 received recognition for his Augsburg football career with an induction into the Augsburg Athletic Hall of Fame. Kaeppe was a two-time team MVP and holds the school record for the longest reception, a 90-yard catch against St. Olaf College in 1992.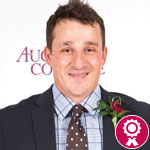 Former men's hockey player Peter Rutili '95 was inducted into the Augsburg Athletic Hall of Fame. Rutili earned MIAC All-Conference honors in 1994 and 1995. He also was selected twice as the team MVP and received a Rookie of the Year honor.
1998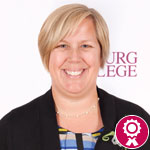 Kerri Kangas '98 had an outstanding pitching career on the Auggie softball team, an accomplishment that earned her induction into the Augsburg Athletic Hall of Fame. She holds career records for both games and innings pitched. She remains in the top 5 for career wins, strikeouts, shutouts, and fewest walks.
Retired alumna Terry Marquardt '98 worked as a temp in the Alumni, Family and Constituent Relations department leading up to Homecoming 2015. She retired from 3M in 2008 after 34 years of service. She and her husband, Gary Donahue, divide their time between homes in Minnesota and Arizona.
2000
Christopher McLeod '00 has joined Connexions Loyalty Travel Solutions in Eden Prairie, Minnesota, as a technology director.
The Rev. Sara Quigley Brown '00 was ordained in 2008 and has switched denominational affiliation from the ELCA to Lutheran Congregations in Mission for Christ, where she is serving as ordained and open to a call. She resides with her husband, Russell Brown, in Anchorage, Alaska. She works as a chaplain with the Alaska Police and Fire Ministries.
Interim Brooklyn Park, Minnesota, City Manager Michael Sable '00 is returning to Hennepin County to work as the director of facility services. Sable worked in the northern Twin Cities suburb for six years and spent most of his tenure as assistant city manager. In addition to the 24-story Government Center downtown, the facilities director oversees personnel matters and operations at numerous facilities countywide. Sable received an MBA from the University of St. Thomas in St. Paul. He and his wife live in Minneapolis with their children.
2001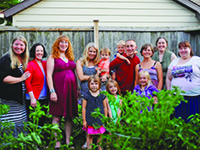 Erica Huls '01 visited Minneapolis-St. Paul for a few days in July and had a mini-reunion with some of her closest friends and former classmates who live in Minnesota. Auggies included: Huls, Amy Carlson '02, Merry-Ellen (Krcil) Bryers '01, Ann (Peterson) Fisher '01, Jason Bryan-Wegner '01, Erica Bryan-Wegner '01, and Katie Koch '01.
2003
Kristen Opalinski '03 traveled to Turkey this summer on behalf of the Philadelphia-based Peace Islands Institute, a peacebuilding think tank founded in the Turkish Islamic tradition of Hizmet or "service." Opalinski provided media support while conducting research on Sufism and feminism in relation to the 21st century Muslim world. After serving the ELCA in South Africa for 4 1/2 years, she's now in her final year of studies at the Lutheran Theological Seminary in Philadelphia. She hopes to return to international peacemaking or social justice work.
2004
"Babylon the Great has Fallen," a book by Franchel Patton '04, was published in March 2014. In the story, President Obama and newly elected President Hillary Clinton meet God face-to-face in this fast-paced, present-day depiction of Revelations and current events.
2005 | Class Reunion Year
Since graduating from Augsburg, Andrea (Ladda) Brown '05 attended law school at William Mitchell College of Law in St. Paul and graduated in 2009. She works as an assistant public defender in Ramsey County and offices out of the Second Judicial District. She was most influenced by James Vela-McConnell, professor of sociology, and his course titled Race, Class, and Gender. She says she uses many of the basic principles from this class in her daily arguments to the court. She would also like to thank Garry Hesser, professor emeritus of sociology, Diane Pike, professor of sociology, and Tim Pippert, associate professor of sociology.
Denise Fossen '05 remembers singing in Masterworks Chorale and performing at Advent Vespers as two cherished memories from her time at Augsburg. She is most proud of receiving a master's degree from Luther Seminary in St. Paul and becoming a grandmother for the first time. She would like to thank David Lapakko, associate professor of communication studies, and Peter Hendrickson '76, associate professor of music, for their influences on her during her time at Augsburg. She's also grateful for her classmates' participation in discussions before, during, and after class. Since September 22, she has served as pastor at Christ Lutheran in Hendricks, Minnesota.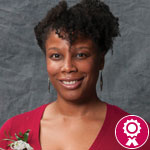 Keme Hawkins '05 was recognized with a First Decade Award at Augsburg's Homecoming in October. She is a freelance writer, independent scholar, and yogi living in Atlanta. She received her master's degree from the University of Wisconsin-Madison and her doctorate in English at Emory University in Atlanta. Studying and practicing various forms of divination and energy work continues to be a lifelong mission for her. Hawkins has completed her first screenplay, based on the lives of her parents; she is pitching the writing to producers.
Ishmael Israel '05 is focused on community development. Israel left his position as executive director of the Northside Residents Redevelopment Council in April, and he now leads the Umoja Community Development Corporation.
Those who influenced Sarah Lahr '05 most at Augsburg were Curt Paulsen, professor emeritus of social work; her advisor Nancy Rodenborg, associate professor of social work; and Michael Schock, associate professor of social work. She also fondly remembers Merilee Klemp, associate professor of music, and Registrar's Office staff members Wayne Kallestad and Linda and Toshimi Smith, who offered a positive work-study experience. She would most like to thank Paulsen for encouraging her to continue with a difficult internship because she still uses that experience to push herself through difficult tasks to promote growth. Lahr works full time at the Wilder Foundation Caregiver Services Program as a care coordinator and part time as a social worker at United Hospital.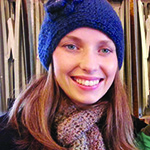 Maureen (Parker) Marradino '05 fondly remembers participating in the Augsburg Choir, attending chapel services, being a resident assistant, singing at a few Auggies' weddings, touring Seattle with the orchestra, performing at her voice recital and the recitals of many close friends, and celebrating graduation day. She would like to thank the students and professors who walked through all the tough courses with her. "We did this together, and it was a pleasure getting to know all of you and building four years of personal development with you. Your talents, passions, and spirits filled me and helped me grow as an individual and ultimately a working professional. Thank you!" Marradino said. "Auggies: Don't forget where you've come from. Allow your past experiences (including your Augsburg degree) to shape your future. God bless you all."
Lucas Olson-Patterson '05 helped to establish the Minneapolis Future Academic Ballers program in 2009 through the Neighborhood Youth Academy, a nonprofit organization that focuses on fostering achievement parity for underserved youth. The program combines academics and athletics through unique strategies to arm student athletes with the tools needed to succeed beyond the basketball court. After an outstanding career at Robbinsdale Cooper High School in New Hope, Minnesota, Olson-Patterson went on to average 22 points per game at Augsburg from 2003-05 and was one of the top Division III players in the country.
Faith (Durham) Perry '05 says her most treasured memories from her Augsburg days are all the girls on seventh floor in Urness and trips to the bogs on Saturday mornings with Bill Capman, associate professor of biology. She was most influenced by faculty members Joan Kunz, associate professor of chemistry, and Dale Pederson '70, associate professor of biology. Perry received a master's degree in agricultural education and a certificate in sustainable community development. She works at General Mills as a sustainability analyst. She is married with two boys: Henry, 5, and Elliot, 3.
Anna (Ferguson) Rendell '05 is most proud of having her children, becoming a contributing author at incourage.me, being a mainstage speaker at the 2014 ELCA Extravaganza, and writing her first book titled, "A moment of Christmas: Daily devotions for the timestrapped mom." Her treasured memories of Augsburg include being a resident assistant in Urness Hall her senior year, late nights with housemates in Anderson, FCA leadership meetings, the Norway band tour, working in the President's Office for several years, and performing with the dance team at football games held in the Metrodome. Faculty members who influenced Rendell most were Bob Stacke '71, professor emeritus of music, who she said always had faith in her and believed in her abilities and gifts, and Mark Tranvik, professor of religion, who poured himself into his students, making sure they were prepared for their real life vocations.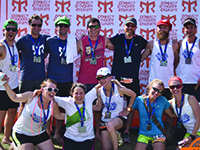 In August, five Auggies were among a team of 12 who ran 200 miles in less than 30 hours as part of the Ragnar Relay Series from Winona, Minnesota, to Minneapolis. Auggies included: Dan Vogel '05, Clint Agar '05, Paul Sanft '05, Riley Conway '05, and Andrea (Carlson) Conway '05.
Anna Warnes '05 is a nurse practitioner at Crete Area Medical Center in Crete, Nebraska. Her fondest memories from her time at Augsburg include Advent Vespers, working in Admissions, and—of course—her lifelong friendships. The faculty member who was most influential to Warnes was Kathy Swanson, professor of English. She would like to thank Bob Cowgill, associate professor of English, for encouraging her to be passionate in her work and life. Warnes and husband, Nathan Erickson, have two children: Gustav, 5, and Knut, 2.
2006
Laya Theberge '06 and her husband, Shomari O'Connor, welcomed a daughter, Nefertiti, in August. She joins sister Hatshepsut, 4, at home.
2010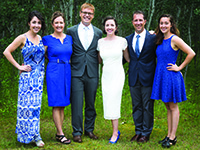 Congratulations to Molly (Ehling) Conover '10 and Ted Conover '11 on their July wedding. [L to R]: Hannah Ehling '15, Becky Ehling, Ted, Molly, Tim Ehling, and Abbey Ehling '12.
2011
The National Institute of Health recently published research conducted by Amanda (Symmes) Mofsen '11, a former participant in Augsburg's McNair Scholars Program. Mofsen joined the McNair program in 2010 and conducted research under the mentorship of Ken Winters, a psychiatry faculty member at the University of Minnesota. Mofsen's work examined the association between Attention-Deficit Hyperactivity Disorder and nicotine use among adolescents and young adults.
Tom Wescott '11 and his wife, Emily (Nelson) Wescott '12, recently moved to Devils Lake, North Dakota, where Tom was called to serve Our Savior's Lutheran Church. Additionally, Tom and Nate Luong '11 wrote an article for Word and World Theological Journal titled, "Coaching as a Model for Pastoral Leadership."
2014
A research paper by Augsburg College Assistant Professor of Biology Matt Beckman and alumni Enrico Barrozo '14 and David Fowler '14 has been accepted for publication in Pharmacology, Biochemistry and Behavior. The paper is titled "Exposure to D2-like Dopamine Receptor Agonists Inhibits Swimming in Daphnia Magna." The paper captured findings from the research team's work during summer sessions and academic year terms, which was supported by Augsburg's McNair Scholars Program and Office of Undergraduate Research and Graduate Opportunity. This is the first study that definitively identified a neurotransmitter receptor signaling pathway involved in Daphnia swimming and will help to establish Daphnia as a model organism in which to study movement disorders such as Parkinson's Disease. Today, Barrozo is studying genetics in a doctoral program at the University of Florida, and Fowler works as a medical scribe in the Twin Cities while applying for medical school admission.
Nakisha Davis '14 has accepted a position with UCare as a transportation specialist. She hopes to attend graduate school in the next few years.
Chad Johnson '14, a two-time NCAA Division III national champion wrestler during his Augsburg career, placed second in the 125-kilogram (275.5-pound) weight class in the freestyle division at the USA Wrestling 2015 ASICS UWW University Nationals, held in June at the University of Akron. Johnson competed for the Minnesota Storm wrestling club. As a collegiate wrestler for the Auggies, Johnson was a four-time All-American, winning national titles in 2012 and 2013 at heavyweight, while finishing third in 2014 and seventh in 2011. Johnson completed his first year as an Augsburg assistant coach in 2014-15, helping to guide the Auggies to their record-12th NCAA Division III team national championship.
Lauren Windhorst '14 is working as a life enrichment assistant at an assisted living facility in Eagan, Minnesota.
2015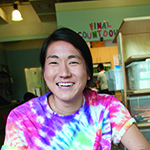 Taylor Kuramoto '15 has been selected to serve as a Fulbright English Teaching Assistant in South Korea for the 2015-16 academic year. Fulbright receives thousands of applications each year, and Kuramoto was selected by both U.S. and South Korean committees. In her time outside of the classroom, Kuramoto plans to create English talking circles like those she participated in at the local Jane Addams School for Democracy as an Augsburg College Bonner Leader. She also hopes to use her experience as an Auggie soccer player to connect with students and peers who also enjoy the sport.
David Langemo '15 would like to thank Frankie Shackelford, professor emerita of languages and cross-cultural studies, for teaching him to speak Norwegian and Kevin Healy, former director of advancement services and prospect management, for allowing him to take the class. Langemo is very proud of this accomplishment. He works as an advancement systems specialist in the Institutional Advancement office at Augsburg. He and husband, Drew Schmidt, enjoy their pets Archie, Mali, Reggie, Stuart, and Trudy.
GRADUATE PROGRAMS
Tracy Keizer '07 MPA is a physician assistant at an inpatient psychiatric intensive care unit at Regions Hospital in St. Paul. She also teaches Augsburg PA students as a guest lecturer during their didactic phase and as a preceptor during their clinical phases. Having emerged as a leader in the PA profession in Minnesota, she has testified at the State Capitol on a bill to increase access to outpatient mental health services. She was honored with the Presidential Award given by the Minnesota Academy of Physician Assistants.
In 1998, Doris Acton '10 MAN moved to Minnesota after completing a parish nurse training program through Concordia University. As a parish nurse, also known as a faith community nurse, she works at the 750-member Normandale Hylands Methodist Church in Bloomington, Minnesota. She has been a camp nurse on mission trips, and her mission work in 2004 took her to Sierra Leone, where she later helped start a clinic in collaboration with the Africa Uplifted organization.
Casey Morris '10 MPA is a board certified physician assistant in an urgent care center at Fairview Range Medical Center in Hibbing, Minnesota. Growing up in Ely, another city in Minnesota's Iron Range, Morris developed a lifelong passion for the outdoors, particularly wilderness and remote medicine. She is a wilderness first responder and is certified by Advanced Wilderness Life Support. She is excited to now live closer to her hometown.
Michael Grewe '12 MSW, Augsburg's director of LGBTQIA Support Services and assistant director of Campus Activities and Orientation, delivered a presentation titled, "Supporting Transgender Communities," at a National Association of Social Workers Minnesota Chapter conference.
Dr. Amit Ghosh '13 MBA, a Mayo Clinic physician, submitted a research study paper for publication with Augsburg College co-authors and faculty members Dave Conrad, associate professor of business, and Marc Isaacson, assistant professor of business. The paper, "Employee Motivation Factors: A Comparative Study of the Perceptions between Physicians and Physician Leaders," was accepted for publication in the International Journal of Leadership in Public Services.
Meghan Peyton '14 MAL, who served as interim head coach for the Augsburg College men's and women's cross-country teams in 2014, has assumed head coaching duties on a permanent basis. Peyton has been a part of the Augsburg cross-country and track and field coaching staffs since 2010, and she will continue serving as an assistant coach for the track and field teams.
Karlie Homann '15 MPA joined the family medicine team at Mayo Clinic Health System-Northland in Barron, Wisconsin, as a physician assistant. Homann previously worked as a nuclear medicine technologist at Mayo Clinic in Rochester, Minnesota.
Terrence Keller '15 MPA joined Lake Region Healthcare in its urology department. Keller has a bachelor's degree in athletic training and exercise science from Minnesota State University-Moorhead. He previously worked for Lake Region Healthcare as an athletic trainer and held athletic trainer positions at Augsburg College, Twin Cities Orthopedics, and Sanford Health.
Graduate student editors Ashley Cardona '15 MFA; Kevin Matuseski '16 MFA; and Amanda Symes '09, '16 MFA helped publish the first book by Augsburg College's Howling Bird Press. The press, housed in Augsburg's Master of Fine Arts in Creative Writing program, chose Marci Vogel's manuscript, "At the Border of Wilshire & Nobody," as the winner of the 2015 Howling Bird Press poetry prize.
AUGGIES HONORED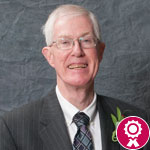 Professor Emeritus of Physics Mark Engebretson was honored with a Spirit of Augsburg Award at Homecoming, recognizing his years as an active teacher-scholar, innovative courses, pioneering research on Earth's space environment, and mentorship of nearly 100 undergraduate research students.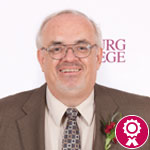 Tom Witschen was recognized with a Distinguished Athletic Service Award at this year's Homecoming for his nearly 20 years serving as the "Voice of the Auggies," broadcasting Augsburg baseball, basketball, football, hockey, and volleyball over the air and online.