1960-1969 | 1970-1979 | 1980-1989 | 1990-1999 | 2000-2009 | 2010-2015 | Graduate Programs
---
1960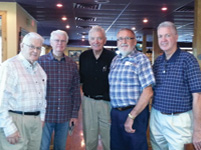 This group of alumni were friends during college but had little contact since graduating. They were reunited at the 2015 Homecoming celebration and barely scratched the surface in terms of catching up. Now retired, the five Auggies plan to get together again soon. [L to R]: The men and their previous careers:
Arden Flaten '60
(science teacher),
Myron Carlson '60
(pastor),
Don Gilberg '60
(band teacher, piano tuner),
Iver Christopherson '60
(high school principal), and
Neuman Berger '60
(attorney).
Lowell "Zeke" Ziemann '60 continues to write. His newest book, "Gunslingers and Baseball," is a collection of Western historical fiction, essays, and baseball stories. It is available on Amazon.
1962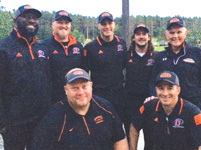 This fall, seven Auggies served on the varsity football coaching staff at Osseo (Minnesota) High School and helped lead the team to its first Class 6A state championship. The group of Augsburg alumni included
Jack Osberg '62
,
Derrin Lamker '97
,
Mark Joseph '01
,
Andy Johnson '04
,
Jordan Berg '09
,
Royce Winford '09
, and
David Tilton '12
.
Read "Coaching with Conviction: From Auggie Pride Comes a Passion for Teaching"
1965
From his time at Augsburg, Allen Anderson '65 fondly remembers his music professor Leland Sateren '35, the Burgundy Singers, dorm life, and choir tours. Today, Anderson is still involved with choral music and enjoys golf, woodworking, activities in his community and at his church, travel, and participation in Lutheran Men in Mission. He and wife, Joyce, have two children who graduated from Augsburg. They travel to New Zealand on occasion to visit their son and his family.
Gary Blosberg '65 says that his current position is "reclined." He is retired after 26 years as a finance manager at General Electric and 23 years in the U.S. Navy. He thanks chemistry professor Courtland Agre for sharing his wisdom when he said: "You don't need to know everything; you just need to know where to find the answers." Blosberg still sings with the Centennial Singers, the Masterworks Chorale, and other groups. He is proud to be a father and grandfather.
Connie (Ekeren) Cameron '65 teaches at Honors Mentor Connection, is on the Fringe Festival Board, sings in the St. Joan of Arc Choir, and is involved in politics, travel, and the League of Women Voters. Her fondest memories of Augsburg include the Kappa House girls, professor Anne Pederson's literature classes, and her roommate of four years Carol (Welch) Langness '65. Cameron thanks the team behind the Christmas smorgasbords; Ailene Cole, speech professor; Orvald Haugsby, math professor; Leland Sateren '35, music department head; and Phil Quanbeck Sr. '50. She and husband, Bill, have three sons and one grandchild.
Eunice (Bergman) Dietrich '65 thanks home economics faculty Ruth Segolson, Ruth Sonsteng, and Katherine Peterson for being wonderful teachers and role models. Among Dietrich's most treasured Augsburg memories are the excellent convocation speakers and the great friendships she made. Today, she and husband, Franklin, enjoy their grandsons, their involvement at Central Lutheran Church, and traveling. She also volunteers with daughter, Kari, at Dakota City, the 1900s village in Farmington, Minnesota. The Dietrichs also have a son, Hans.
The faculty members who most influenced David Dyrud '65 as a student were philosophy professor Paul Sonnack '42 for his intensity; New Testament Greek and Latin professor Mario Colacci for his flamboyance; professor of English Gerald Thorson '43 for his Hush Puppies (Dyrud's favorite shoes); professor of English Anne Pederson, for her affection for literature; and professor of history Carl Chrislock '37 for his effective use of anecdote to enliven history. Dyrud spends his time reading, golfing, and traveling. He and wife, Marilyn, have three children who are all involved with theater, and they enjoy seeing their children's work.
Mark Gjerde '65 retired in 2004 from 3M. He enjoys traveling with wife, Jan (Lunas) Gjerde '68, and spending time with their grandchildren at a lake home. He remembers Gerald "Jerry" Pryd '66 and Paul Dahlen '66, his friends who died in a plane crash while they were Augsburg students. Gjerde was influenced by professor of math George Soberg '26 and professor of philosophy Paul Sonnack '42. The Gjerdes lived in Brussels from 1995-97 while Mark worked for 3M. They have two sons and four grandchildren.
One Augsburg College memory treasured by Glenn Hamberg '65 is the teaching style and effectiveness of W. LaMarr Kopp in German class. Other faculty members who influenced Hamberg as a student were Mario Colacci from the department of New Testament Greek and Latin, Courtland Agre from chemistry, Gerald Thorson '43 from English, and Paul Sonnack '42. Hamberg's present interests include crossword puzzles, computers, movies, Jeopardy, volunteering, travel, and spending time with his grandchildren and wife, Sandra (Edstrom) Hamberg '66.
Jerry Hamlin '65 works part time. He likes to volunteer and to travel in his free time. He treasures his memories of Augsburg basketball games, the convocation with Nobel Prize winner Linus Pauling, and feeling like every day was a good day. He was most influenced by Donald Gustafson and Carl Chrislock '37 in history, and Sheldon Fardig in education. Hamlin and wife, Jari, have four children and 10 grandchildren.
James Harbo '65 has a full-time dental practice in New York. He enjoys visiting his two grandchildren in Pennsylvania, doing church work, reading theology, participating in a book club, and aging well! He fondly remembers his dorm friendships, baseball, Augsburg Choir concerts, and soaking up the culture of Minneapolis. The past 50 years have heightened his appreciation of his years at Augsburg where, he says, there was "much goodness and inspiration." Harbo and wife, Amy, have three children.
Today you can find Peter Jacobson '65 woodworking, volunteering, or traveling. He and wife, Lynne, have two children and two grandchildren. His fondest memories of Augsburg include dorm life all four years, Augsburg basketball, being a resident assistant, and spending afternoons in the physics lab. He was most influenced by physics professor Theodore "Ted" Hanwick.
Sharon (Dittbenner) Klabunde '65 plays in a mountain dulcimer band, and loves to travel and garden. She remembers chapel time from her days at Augsburg and also living in a house as a freshman where, she says, there were three women to a room who shared one dinky closet. She enjoyed working in the cafeteria.
Carol (Welch) Langness '65 and husband, Gary, spend every January to April in the East African city of Iringa, Tanzania, along with their synod partners in the Iringa Diocese. They have two children and three grandchildren.
Julie (Gudmestad) Laudicina '65 and husband, Joe, love to travel and recently celebrated their 30th wedding anniversary with a cruise on the Danube River. She also enjoys gardening, reading, leading a book club, and living in New York City. She has been a civil wedding officiant for 10 years and has married more than 300 couples from around the world. Some of her memories of Augsburg include listening to choir practice, freezing at football games, enjoying her many friends, and participating in student government and chapel. She was most influenced by faculty members Phil Quanbeck Sr. '50, professor of religion; Anne Pederson, professor of English; and Philip Thompson, professor of art. She also remembers Dean of Students Glen Johnson and Dean of Women Fern Martinson. Laudicina would most like to thank her parents, both Augsburg alumni, for encouraging her to live and learn with a strong set of values.
Bette (Bodin) Leeney '65 and husband, Jack, love their home in Florida. They have a pool and use it a lot. She likes to garden and to welcome the family, mostly in the winter! Her treasured memories of Augsburg focus on the good values she learned and kept with her. She remembers the assassination of President John F. Kennedy and how difficult that was. She admired Dean of Students Peter Armacost, who supported her when her father passed away. Her psychology and social work professors inspired her to get her master's degree in social work. She and Marie (Bergh) Sandbo '65 met freshman year and have remained friends for 50 years. They share the same birthday.
As a student, John Luoma '65 was influenced by Mario Colacci, professor of classical languages; Carl Chrislock '37, professor of history; and William "Bill" Halverson '51, professor of religion. He treasures memories of chapel, serving as student body president, and Augsburg's emphasis on vocation, service, and faith active in love. Luoma is a minister of education at Hope Lutheran, The Villages. He is a Via de Cristo coordinator, a Diaconate teacher, and likes to travel and bowl. He and wife, Gracia (Nydahl) Luoma '66, have two sons. Their oldest son, Aaron, passed away in January 2015.
LeRoy Martinson '65 retired in June 1998 after 33 years of teaching math and coaching skiing. Now he stays active with tennis, volleyball, and five grandchildren. He lives with wife, Micki, in Cross Lake, Minnesota. His memories of Augsburg are of his math teachers, his coaches, and student teaching with Ms. Anderson. He was influenced by professor of math George Soberg '26, professor of physical education Howard "Howie" Pearson '53, and Coach Edor Nelson '38. Martinson is a member of the Minnesota State High School Coaches Hall of Fame.
Dan and Mary (Tildahl) Meyers '65 met during their freshman year at Augsburg. The couple celebrated their 50th anniversary, Dan has worked for AdvisorNet Financial for 50 years, and it's been 50 years since he graduated from Augsburg. Dan remembers playing basketball and baseball, and he was influenced most by Ernie Anderson '37 and Edor Nelson '38. He would thank Milt Kleven '46, if he could, for funding his scholarship. Dan keeps busy with work, golf, reading, and basketball. Mary enjoys walking, reading, caring for a grandson, and traveling. She treasures the friendships she made at Augsburg and meeting Dan there. Carl Chrislock '37 and her world history class helped her realize she wasn't a history major. Mary says that Augsburg has been an influence in their lives for 50 years. Whether they return for athletic games, homecoming or concerts, it always feels like coming home. The Meyers have two children and three grandchildren.
Larry Nelson '65 thanks Theodore "Ted" Hanwick, of the Physics Department, for his challenging and thorough classes. Nelson's Augsburg education provided a solid foundation for his career in science education. He enjoyed teaching various areas of biology, in addition to wilderness-based experiential education. His fondest Augsburg memories are of morning chapel, convocations, studying in the library, concerts, sporting events, and social activities. Nelson says Augsburg also prepared him for continued spiritual growth. Today, he likes to travel, read, garden, volunteer, do house maintenance, and spend time with his family. He and wife, Marilyn, have two daughters and five grandchildren.
Becky (Walhood) Nielsen '65 remembers her good friends from Miriam House. She and husband, Steve Nielsen '64, have three daughters, 10 grandchildren, and a great-grandchild. Their granddaughter, Morgan Kenny '17, attends Augsburg.
Lois Peterson '65 would thank Mimi Kingsley, professor of Spanish, for telling her that she had "a gift for language." Peterson is fluent in Spanish, and she visited Mimi in Chile prior to her death. Today, Peterson enjoys traveling and has been to Costa Rica, Mexico, Norway, and Spain. She remembers being in a class Bill Halverson '51 taught in Old Main when the news came of President John F. Kennedy's death, and watching the Beatles for the first time while in The Grill. She loves life in Denver, where her children live nearby. Leland Sateren '35 most influenced Sharon (Bjugstad) Ronning '65, and she has spent her life involved in music. She sings in the Masterworks Chorale, directs a church choir, and teaches piano. Other activities include knitting, spending time at her cabin, and enjoying her four children and eight grandchildren. She met husband, Don Ronning '66, in the Augsburg Choir. Don passed away in 2000.
Marie (Bergh) Sandbo '65 and husband, Hans Sandbo '63, will celebrate 50 years of marriage this year. Marie likes to travel, spend time with grandchildren, and serve on the Heritage Committee at church, all while continuing to run a small business from home. Her treasured memories of Augsburg include the friendships made and her studies in library science. Don Gustafson, Martha Mattson '28, Ruth Aaskov '53, Dick Husfloen '60, and Pat Parker are the faculty and staff who most influenced Marie. Two of the Sandbos' three children graduated from Augsburg.
Terry Simonson '65 and wife, Patricia, live in Saskatoon, Saskatchewan, where he serves as a half-time chaplain at a residence for seniors. Three generations share their home, and his three granddaughters are the joy of his life. The memories of Augsburg that he treasures are good times spent with roommates and learning Greek and Latin (his major). Erwin Mickelberg '54 was influential in Simonson's decision to attend Augsburg. These days, he is interested in quantum physics and continues to explore the subject.
Win Stiefel '65 taught school in Alaska and now lives with wife, Gracia (Olson) Stiefel '66, in Glennallen, Alaska. He spent 10 years teaching at a Bible college and 10 years in Russia helping Evangelical churches. These days he drives a school bus, enjoys 10 grandchildren and a great grandchild, cuts firewood, and volunteers at missions. He remembers traveling with the wrestling team, canoeing on the Mississippi River, and listening to the Basin Streeters. If he could thank someone, it would be the old man outside Cedar Ave. Mission who asked him and others whether or not they were saved.
Steve Strommen '65 likes to spend his days playing "Old Timer" softball, bird hunting, appreciating winters in San Diego and summers at a Minnesota cabin, performing home renovations, and enjoying his family and grandchildren. He has many memories from athletics at Augsburg, including three championship basketball teams and a championship in baseball. The most influential people during his time at Augsburg were Carl Chrislock '37 and coaches Ernie Anderson '37 and Edor Nelson '38. He and wife, Chynne, have two children and five grandchildren.
Sharon (Topte) Taeger '65 and David Taeger '65 recently moved to Camrose—a city in Alberta, Canada—after living for 19 years in Whitehorse, Yukon Territory. Sharon likes to read, paint, and socialize. David likes to listen, watch, and marvel at the growth and development of children, especially their four grandchildren. He also enjoys reading and being with friends. David received his M.Div. from Northwestern Theological Seminary. He was most influenced by Mario Collacci and Carl Chrislock '37 while at Augsburg. Sharon and David have two children.
Virg Vagle '65 would thank Ernie Anderson '37, Edor Nelson '38, and Ed Saugestad '59 for being influential during his time at Augsburg. Vagle enjoys golfing, traveling, and being with his grandchildren. He and wife, Pat, have seven children and 12 grandchildren.
Lyndy West '65 fondly remembers playing in the concert band and in the Basin Streeters, a group that performed for Augsburg basketball games. He entered Luther Seminary after graduating from Augsburg and served parishes in Los Angeles, inner-city Chicago, and Minnesota. He officially retired in 2012. He says the smartest thing he ever did was to marry Diane Haas in 1969. They have four children and four grandchildren. They like to bike, travel, read, participate in music at their church, and lead polka services. He thanks his parents for encouraging him and his siblings to attend Augsburg.
1967
John Schwartz '67 is in his sixth season with the acclaimed Apollo Chorus of Chicago, which was formed in 1872. Schwartz serves as vice president of its board. Auggie singers in the Chicago area can audition to join this 130-member chorus. Details can be found at Apollochorus.org.
1969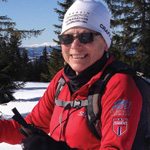 In October,
Janis "Matty" Mathison '69
was honored by the American Planning Association's Wisconsin Chapter as its Citizen of the Year for her leadership in working with local residents and planners to promote healthy living and active lifestyles in eastern Wisconsin's Shawano County. Last year was the third year of Bike the Barn Quilts, an area bike tour that she spearheaded.
Read "Active '69 Alumna Honored with State Award"
1974
The National Tile Contractors Association recently honored
Janet (Durkee) Hohn '74
with its Tile Person of the Year award. Hohn was the third woman to receive this honor in the six decades it has been presented. For more than 20 years, Hohn has operated a one-person, high-end residential tile and stone installation company. She has served as president of the Twin Cities Local Tile Contractors Association, as a board member and technical methods and standards committee member for NTCA, and most recently as chairperson of the NTCA training and education committee.
1975
Glen Teske '75 is enjoying the adjustment to retirement after working for 40 years in the IT department at Hennepin County. Among his treasured memories as a student at Augsburg are business administration classes, tutoring other students, and the friendships he made. He also remembers playing four years of basketball and winning the MIAC conference title in 1975. He thanks professor of history Khin Khin Jensen, adviser and professor of business Keishiro Matsumoto, mentor Jeroy Carlson '48, and coaches Butch Raymond '63 and Erv Inniger for their impact on his life.
1978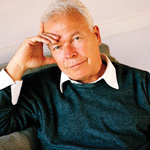 For 12 years,
David Raether '78
wrote for TV comedy sitcoms, including "Roseanne." After building his career, he took a break to focus on his family and found the job market had changed completely when he attempted to return to the field. After struggling and becoming homeless, he says, he discovered that he was far more resourceful and resilient than he had ever dreamed. Raether delivered a TEDxAmherst talk and wrote a book about his experiences titled, "Tell Me Something, She Said."
Read "Life Can Be Funny"
1979
Laura (Rolfe) Matuska '79 has been selected as WeCAB's part-time community outreach fundraiser. WeCAB provides door-to-door supplemental transportation in the Westonka and eastern Carver County service areas for people who are unable to drive to medical appointments, church, social events, the grocery store, or the food shelf. Matuska has significant experience working with seniors and clients, providing case management to support transitions through all levels of senior living. She has launched volunteer programs, developed a hospital-based domestic abuse intervention program, and is a successful grant writer. Matuska also has worked with many volunteers in a variety of positions.
1980
The new Bill Simenson Quintet recently debuted at The Nicollet. Leader Bill Simenson '80 (trumpet) has been performing professionally in the Twin Cities for nearly 30 years. After earning his degree in music and political science at Augsburg, he attended the University of Trondheim in Norway where he studied music at the graduate level. Catch the Bill Simenson Orchestra, a larger ensemble, once a month at Jazz Central in Minneapolis.
1981
Rob Hubbard '81 tells the story of the hilarity, irreverence, and imagination of the Brave New Workshop in his new book, "Brave New Workshop: Promiscuous Hostility and Laughs in the Land of Loons." The book, from The History Press, celebrates the marvelous, unexpected, and absurd history of this one-of-a-kind comedy institution. The owners of Brave New Workshop are John Sweeney and Jenni Lilledahl '87.
1987
Tammy Jo Rider '87 received a 2015 Leadership Award from the Southeast Minnesota affiliate of the National Alliance on Mental Illness.
1991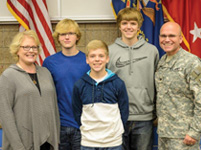 On October 13, 2015,
David Johnson '91
was promoted to Colonel in the North Dakota Army National Guard. He is a senior Army chaplain for the state. Johnson also is an ELCA pastor serving as a full-time chaplain for the North Dakota Army National Guard. He has been serving in this call for the past 12 years. Previous to this role, he served parishes in central and eastern North Dakota.
Bill Koschak '91 was hired as the chief financial officer at YA, which is an industry market leader in delivering omni-channel marketing promotions for the nation's most respected brands. Before joining YA, Koschak was vice president of finance and CFO for the convenience and foodservice business at General Mills.
2000
Lewis Nelson '00 joined the University of Virginia's Darden School of Business MBA for Executives. He blogs about the experience at wanderingveteran.com.
2001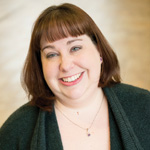 Katie Koch '01 is the new Director of Auggie Engagement at Augsburg College. Koch comes from a diverse background of performing arts management, having most recently worked at The O'Shaughnessy Auditorium at St. Catherine University as an event and administrative manager. Koch worked for nearly five years at the Guthrie Theater as an assistant to former director Joe Dowling, where she supported the Guthrie Board of Directors and high-profile visiting artists. During her time at Augsburg, Koch was a member of The Augsburg Choir, Augsburg Concert Band, and Augsburg Jazz and Gospel Praise. She served as an admissions ambassador, a student coordinator for new student orientation in 1999 and 2000, and wrote for the Augsburg Echo.
2006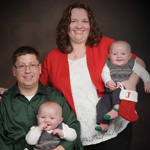 Heather (Nystrom) Finholm '06
and husband, Jeffrey, announce the adoption of their twin sons, Joseph and Matthew, born April 30, 2015, and adopted on July 27, 2015.
2007
Kati (Tweeten) Bergey '07 married Brandon Bergey on October 18, 2014. Kati teaches sixth grade for Mabel-Canton Public Schools in Mabel, Minnesota.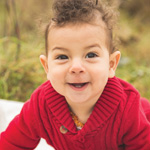 Lázaro G. Payano Stark was welcomed into this world at home with the help of his midwives on April 3, 2015. He is the son of
Jenessa Payano Stark '07
and Geomar Payano Stark. The family resides in south Minneapolis. 
2008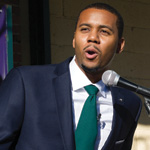 After graduation,
Joshua Harris '08
moved to Baltimore drawn to the service opportunity of working with Alpha Phi Alpha, the oldest inter-collegiate community-service-oriented fraternity founded by African-Americans. Harris serves as managing editor of APA's journal, "The Sphinx." He works with other community leaders in Baltimore on many initiatives, including one to build a network of individuals, businesses, and organizations that can provide internships, scholarships, and mentorship opportunities for high school students. He returned to Minneapolis in fall 2015 to speak on a panel at the Augsburg Young Alumni Council's networking event at Surly Brewing Co. Harris is running for mayor of Baltimore. Learn about his campaign at harrisforbaltimore.com.
Read "Helping the Young to Do Better and Be Better"
2012
Lauren Grafelman '12 graduated with her MBA from Hamline University in August 2015.
William "Billy" Hamilton '12 graduated from the University of Minnesota Law School in May and received news that he passed the Minnesota Bar Exam in July. He began work as a public defender in training at the Hennepin County Public Defender's Office. He has found his vocation!
2013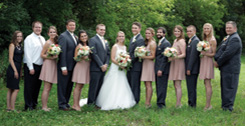 Amanda Rowan '13 and Jordan Lakanen '14 married August 8, 2015. Auggies in the wedding party included: Eric Lakanen '02, Stephanie Nelson '13, Rachel Rixen '13, and Ashley (Carney) Wolke '13.
2014
Enrico Barrozo '14 is pursuing a doctorate in genetics and genomics at the University of Florida, supported by the McKnight Doctoral, UF Graduate School, and Top-Up fellowships. Barrozo is studying the development of novel gene therapy treatments for human diseases caused by persistent viral infections and mutations of the genome. The goal of his research is to develop safe and effective strategies for treating these diseases. He also has worked as a Post-Baccalaureate Research Program Scholar at the University of Georgia.
2015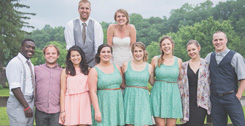 Top row [L to R]:
Tyler Dorn '15
and
Alisha Esselstein '15
were married on June 20, 2015, at Sugarland Barn in Arena, Wisconsin. Many Auggies participated in and attended the wedding. Bottom row [L to R]: Best man
Alex Obanor
, Augsburg Department of Public Safety officer;
Dustin Parks '16
;
Keisha Barnard '16
; bridesmaid
Alia Thorpe '15
; bridesmaid
Lily Moloney '15
; maid of honor
Rachel Shaheen '15
; ceremony musician
Becky Shaheen '11
; and officiant
Rev. Mike Matson '06.
Hannah Frey '15 has an AmeriCorps position in the Community Technology Empowerment Project, which helps bridge the "digital divide" for new immigrants and low-income communities in Minneapolis and St. Paul. She serves at Roseville (Minnesota) Library as a digital literacy coordinator for adult technology programming and outreach.
Heidi Heller '15 has accepted a job as a historian and researcher with Hess Roise Historical Consultants.
GRADUATE PROGRAMS
Ava Beilke '14 MBA formed her own social media consulting business, Paragon Social (paragonsocialco.com or @paragonsocialco on Twitter), with the desire to help individuals and small businesses excel in social media. Beilke studied communications in undergrad and pursued her MBA to round out her business expertise. She now fuses her creative skills with her business savvy to create the most effective social media efforts.